We have a large selection of Animal themed baby gifts that are perfect for any occasion.
Animal prints on offer
We have a variety of different animal prints we use to make our animal themed baby gifts. These are;
Koala
Our Koala themed gift boxes are available in a range of sizes to suit a variety of budgets. Each set has some handmade items that use the gender-neutral Koala design. This print is grey with a number of kolas hanging on to the Eucalyptus tree.
Kangaroo
This print is used in many of our Australiana themed hampers. It is a unisex print that has a cream background with stripes, with kangaroos on it. The Kangaroos gift boxes are perfect for those that want to give an Australian gift.
Rabbit
The rabbit print animal print baby hampers are a popular unisex gift. There is a large selection to choose from and they contain a variety of products any expectant or new parents would love to receive. As 2023 is the chines year of the rabbit it makes for an ideal year of the rabbit baby hamper. This print has a light cream background with tiny rabbits all over it.
Lions
The lion print makes for the perfect baby boy hamper. It has a white background with large cartoon-type lion manes in blue and gold. We have a wide selection of gift sets to choose from in this lion print.
Dinosaur
The Dinosaur print is one of our most popular Animal themed newborn gifts. This has a cream background with large olive-coloured dinosaurs roaming over the print. This print makes for the perfect dinosaur themed baby gift.
Safari
One of our latest designs, the safari print is the perfect animal themed baby gift set. These make the perfect unisex baby hampers and the print has an aqua-coloured background with tiny zebras and giraffes on it.
Butterflies
This butterflies print is perfect for a baby girls hamper. It has a light aqua backing with lots of different-sized butterflies all over the design. We have a few different size sets in the butterfly print to suit a range of budgets and occasions.
Gift Wrapped, Card, and Message
All our animal themed baby hampers come beautifully gift-wrapped and with a card. And if you wish include a message with your order and we will handwrite your best wishes in the card and send it to the lucky recipient.
Made in Australia
The majority of the products included in our baby gifts in animal prints are made in Australia. We also have a wide selection of Australian Made baby hampers that contain 100% Australian Made items.
Online, delivery or in store
Once you have decided what to buy order your baby hamper online or visit us in our shop.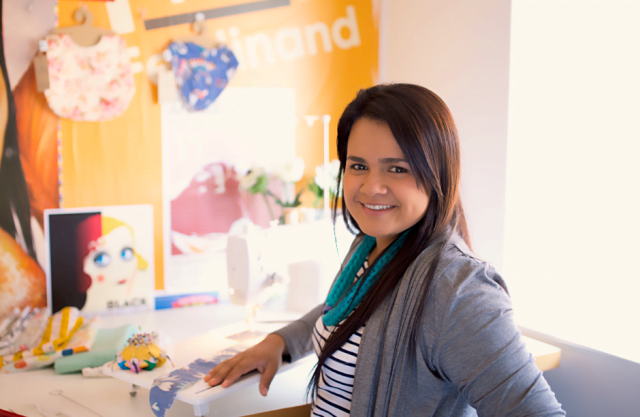 This article was written by Luisa Figueroa. She is the designer, owner and maker and of the My Little Love Heart range of baby presents and accessories.