Our baby bibs are handmade in Australia using eco-friendly and absorbent materials. In this article, we will discuss everything you need to know about them, especially the newborn style pictured below.
What are baby bibs?
A baby bib is an article placed around an infant's neck to keep their clothes clean and dry.
Benefits
The My Little Love Heart range of baby bibs has many benefits over other brands. This includes;
Handmade – All our bibs are handmade and inspected as we make each piece. Making them high-quality and unique.
Two snap fasteners – We use the KAM fastening system so the bibs are hard to remove and long-lasting. Using two fasteners allows you to increase the size of the bib as your baby grows.
Fasteners on the side – Our design has fasteners on the side of the neck. This makes it easier to attach and remove while your baby is feeding. 
Two Layers – Our baby bibs have two layers. This is to stop any milk or spit-ups from seeping through to the baby's clothes and skin.
Eco-friendly materials – We use a printed cotton front and a bamboo cotton mix in the back. Both of these materials are sustainable.
Soft and Absorbent – The bamboo fabric we use on the back is soft to the touch. While both cotton and bamboo are known for their absorbent properties which are crucial for bibs.
Stylish – We have a range of different girls, boys and gender-neutral designs and prints.
Made in Australia – All our bibs are made in Australia. Meaning the money spent is kept and used in the local economy.
Small and Local Business– We are a small and local business, not some massive multinational. Therefore you are helping support our dreams and we can provide customer service second to none.
Types
There are many types available including the newborn, bandana, feeding, toddler, and smock bibs. We have a details article on the different types of bibs but in this one, we will focus on the baby bib style.
Breastfeeding
We are asked regularly if you need a bib for breastfeeding. Although it's not compulsory it is recommended. They will protect you and your baby's clothes from any breast milk that may be spilt. And getting milk out of bibs can be a lot of work.
When looking for a breastfeeding bib buy one that has the attachments on the side of the bib rather than the back. This will make it easier to secure and remove while feeding your baby.
When can you start using bibs?
Baby bibs can be used from the first day they are born. But this will depend on the size of the baby's neck.
At what age do you stop using bibs?
Normally you will stop using bibs by 2 years of age. But your baby can keep wearing them for longer as long as they aren't too tight around their neck. Your baby will most likely hint that they don't want to use them anymore by trying to pull them off.
How many bibs should I buy?
The amount of bibs you will need will depend on the style you use. For the baby bib type, you should start off with buying 2 and purchase more if need be.
Size
These are the smallest size in our range and measure 25cm long x 18 cm wide x 8cm inside the neck. We have a post that goes into more detail about bib sizing.
Materials
The My Little Love Heart range is made with a printed cotton front. And an absorbent bamboo cotton mix material on the back. These materials have been chosen for their sustainability and organic nature as well as their absorbent properties. If you would like to learn more about our bib materials we have a dedicated article.
Prints and Colours
We offer a large selection of prints and colours. These include;
Unisex – Our gender-neutral bibs include prints like the koala, banana, rabbit and rainbow. As well as some solid colour bibs in Indigo, oatmeal, grey, sage, burnt almond, tan brown and mustard.
Girls – For our cute girl's bibs we have the snowy bloom, butterflies, floral dream, snugglepot, blossoms, and floral gumnuts prints. As well as the dusty pink, peach and pink solid colours.
Boys – While the boy's baby bibs include the shadow, space, lions, clouds, and dinosaurs. While the Yale blue and sky blue solid colours are great for boys.
Safety
There are no Australian Standards to govern the safe use of bibs. But a baby should always have adult supervision when wearing a bib and should never sleep with them on. Also, you should never leave a bib on your baby when putting them in the car seat. If you do not have 100% visual contact with them while they are wearing a bib it should be removed.
You should also make sure it fits them correctly. They should be snug but not too tight. You should be able to place a finger between your baby's neck and their bib. And it shouldn't be too tight and cause them discomfort.
Care and Maintenance
We have a detailed article on the best way to care for your bibs. Firstly you should wash your bibs before first use. You should do this by following the manufacturer's label. 
Ours should be washed in the washing machine on a 30-minute cycle using 40-degree water. They can then be tumble dried or hung on a line.
When completely dry they can be ironed if you wish or placed in your clothes drawer. Just ensure that they are kept in a dry environment to prevent mould from forming.
Cost
With most things in life, you get what you pay for and bibs are no exception. You are able to buy bibs as cheaply as a few dollars which are mass-produced and don't work. And since the point of a bib is to keep your baby dry and clean if they don't do the basics they are a waste of money. On the upper side, you can spend as much as $25 on a bib. Ours are $17.95 each and are absorbent, soft and handmade so worth every dollar.
Where to buy
You can buy our range of bibs from our shop in East Perth. Or you can order online and we can have it delivered to you anywhere in Australia or worldwide.
We hope this article has been of assistance, if you have any questions please contact me.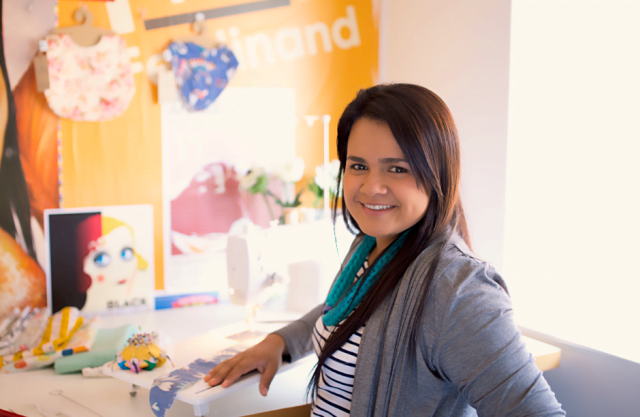 This article was written by Luisa Figueroa. She is the designer and maker of the My Little Love Heart range of bibs and accessories.