We are excited to welcome the stylish and cute newborn baby bows to our range of handmade hair accessories.
The story behind our baby girl bows
This is our latest addition to our range of baby girls' hair bows and came about due to the many requests for a baby girl bows which are smaller and more rectangular in size. In addition, we received lots of inquiries for bows to suit a premature or newborn baby.
We developed the style in the same fashion as our handmade baby headbands and larger headbands where we sew the bow shape and hand-stitched the bow to the nude colour nylon elastic. After a few attempts and trials, we finished up with this stylish and petite bow.
This bow is small enough for it not to look huge on any baby girl's head. Due to our large selection, we are sure to have a print or colour that will compliment any outfit and style.
Handmade Baby Hair Bows
I love putting my sewing and fashions skills to the test so you will find many of the products you find in our online baby shop are handmade by myself. I enjoy making each peace knowing that they will be adorned on a newborn baby. Even before I started my business I actively would seek out handmade clothes for my daughter. The first hair accessory I made was the baby top knots and the range grew from there. Now I have a complete range of handmade baby gifts and accessories.
Material Used for Baby Bows
The materials used to make these are fabric cotton. Depending on the print chosen it will be 100% organic cotton or cotton. The reason why we choose this material is that it is an environmentally friendly material. Cotton is a quick growing and sustainably produced product. The thread we use to hand stitch the bow to the elastic is also cotton. Our elastics are a nylon non-marking nude colour elastic and this has predominantly been chosen for the babies' comfort.
Australian Made Hair Bows
We are proud to be an Australia Made brand and believe it is important to support local and Australian businesses. Where possible we purchase our fabrics for our bow headbands from Australian fabric shops. We also buy the elastics from an Australia based company. We believe in supporting local as much as possible and help to drive the local economy.
Non-marking and Soft elastic hair bows for girls
The most common feedback we receive is how soft the elastic is. This is important as it won't irritate the babies skin and they won't try and pull it off. In addition, as we use a nylon elastic this prevents marking on the babies' skin. Babies come in a range of size, shapes, and ethnicity and although we would love to cater for any babies skin tone we decided to make them with a "nude" colour elastic. We try to cater to as many people as possible so hopefully, in the future, we can increase the choices of elastic colours.
Variety of colours and prints
We pride ourselves in keeping up with the latest trends and styles in all our baby hair accessories and are always updating our range of prints to keep on-trend. We have a selection of bold solid colours which include sage, indigo, navy, grey, black, aqua, pink, purple, off white, mustard, burnt almond, and red. Our floral range consists of the botanical, floral gumnuts, vintage, eucalyptus, blossoms in peach prints. While our prints are the abstract, feathers, dots on peach, black and white stripes, spots on gold, bird perch, navy stripes designs.
Age range
This bow is perfect for premature and newborn babies. As the elastic used is the same for all our baby girls bows they can be used for any girl up to the age of five. We also have an elastic baby headband as well as larger girls' headbands.
Organic
It is extremely important for us to be using organic materials where possible. We hand stitch the Bow to the elastic to ensure no glue or toxins are used in the making process.
They are the perfect head accessory for the babies' first newborn photoshoot or when they are leaving the hospital for the very first time.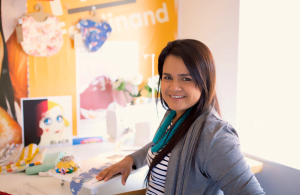 Owner, designer, and maker of the My Little Love Heart range of baby products. I have been working within the fashion industry for over 15 years and specialising in baby accessories for the last 5. My love of fashion has enabled me to work and study around the world.