Searching for an original and unique presents for a little boys? Shop our selection of baby boy presents that are handmade in Australia.
One of the most common questions we are asked is 'do you have anything for boys?" So we have compiled some ideas of our most popular and unique baby presents.Some of these are handmade by ourselves while others are a complementary addition to our online store.
Our products:
We have a large selection of present ideas which we hand make here in Australia.
Bibs For boys
Both practical and stylish this makes for the best baby presents. With a choice of four styles to choose from you have a selection for anyone's styles. We hand make each one and we love that this will be gifted to a baby at the start of their life
The styles of boys bibs are; 
Newborn baby bibs – are the perfect present for any baby boy. With two adjustable snap fasteners, you can make them larger as the baby grows.
Bandana bibs – When style counts, or they are an excessive drooler you can't go past our bandana bibs for boys. The layer between the front and the back captures excess drool while keeping the babies clothes and skin dryer for longer.
Larger bibs – Designed for those messy eaters, our larger bib has greater coverage to keep their clothes as clean as possible.
One year boys bib– Be prepared to celebrate the little guys first birthday in style with our grey boys first birthday bib. This is the same style as the larger bib however screen printed in Australia with the word "one" to let everyone know who's the birthday boy. These one bibs make for the perfect presents for 1 year old boy.
All of our bibs have the bamboo cotton mix backing for softness and it's ability to absorb moisture and drool. Coupled with the cool and on-trend stylish prints these bibs make for the best baby boy presents.
If you are unsure which bib to buy we can help you out.
Burp cloths
Another stylish and practical presents are our boys burp cloths are a hit with new parents. These are also hand made in Australia with the cotton bamboo backing. This is especially important as the parents will be wiping little spit away from the babies mouth regularly. These burp cloths are extremely practical and are primarily designed as burping cloths, however, in desperate times we have heard people use these as a changing mat and a small towel.
Boys teethers
Teething is such a difficult time as a parent, especially a first-time parent. You want to do everything possible to reduce the amount of pain the little boy is in. We, therefore, make a selection of natural teething rings so they can chew and start their teething development. The two styles we make are;
 Bunny Teether – This is a natural alternative for when your baby boy is teething. The bunny ears are designed for him to hold on to while he chews on the wooden hardwood ring.
Love Heart Teether – Show how much you love your little guy with this heart-shaped teether. Our very own design has the pattern on both sides so your baby boy can teeth in style.
We love that they are made with natural materials. The front of the teethers is a cotton fabric while the back is a bamboo cotton mix on the bunny style and cotton print for the Love Heart style. The ring itself is made from a hardwood which is ideal for teething.
We take safety very seriously and have had both our teethers independently tested and approved to Australian standards.
Baby Boy Presents Sets
If you are looking for a present that's unique, stylish and handmade in Australia you will love our selection of boys presents sets. With a choice of three, there is a set to suit everyone's budget.
Newborn presents set – The boys newborn gift sets are a smaller set which comprises of a bandana bib and a bunny teether. Perfect for that little something when visiting the hospital or welcoming the newborn baby boy.
Larger Set – The larger baby presents for boys set comes with the bandana bib and the bunny teething ring, the same as the newborn set. In addition, we have added a baby bib and burp cloth. This set is ideal as a boys baby shower present from yourself or you may want to get the girls together and chip in. This is a popular size present as it is full of practical products that can be used nearly straight away.
Deluxe Baby shower presents – Designed more as a shared or a corporate present, the deluxe set comes complete with beautiful and useful items. As well as our burp cloth, bunny teether, baby and bandana bibs. We have included a baby record book, organic rubber Natursutten dummy and Basics brand dummy chain which are all ideal products to welcome the baby to this world. Read our comprehensive blog on baby shower presents to learn more.
In addition to all these products, these sets come beautifully gift wrapped and complete with a baby boy card. All you have to do is write on the card and start the celebrations.
Baby washcloth
Bath time can be a chore however with our washcloths you will have your little boy clean in no time. It is hand made in Australia from a terry bamboo cotton mix which is perfect for you to use in water and it is soft on your boys' skin. The white neutral colour is ideal for a boy or unisex present. We regularly use this at home and the My Little Love Heart tag is perfect for hanging it up to dry.
Our current boys' prints;
As we hand make a lot of our products our selection of boys prints is crucial. We specifically go out of our way to source prints specifically for boys and have even commissioned a few of our own. Our current list of boys prints is divided into a few different categories.
Animal themed prints – these are some of my favourites. The koala and kangaroos print, along with eucalyptus designs make for an original Australian themed baby presents. Our current animal prints are; 
Koala
Kangaroos
Animals
Whales
Lambs
Sometimes less is more and this is why we have included a large selection of plain boys colour prints. These include; 
Sage
Black
Mustard
Indigo
Grey
Purple
Burnt Almond
And finally our boys' prints which have patterns, shapes and designs include;
Leaf
Eucalyptus
Feathers
Spots in gold
Crosses
Black and white stripes
Navy stripes
Circles
We understand that it can be difficult to buy presents for boys so we have made it easier with this large selection of boys prints.
I hope we have been able to provide you with some ideas and information! Feel free to contact us if you have comments, questions or recommendations.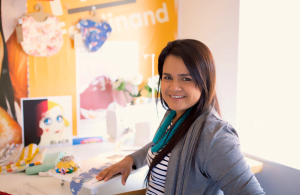 This article was written by Luisa Figueroa. She is the designer, owner, and maker of the My Little Love Heart range of baby products. I have been working within the fashion industry for over 15 years and specialising in baby accessories for the last 5. My love of fashion has enabled me to work and study around the world.