This blog has been updated to include uses, materials, and sizes – Luisa Figueroa,1st January 2020
Ultra-absorbent and super soft, you'll love our baby burping cloths. Available in a range of beautiful designs for both girls and boys.
It's one of the most practical items you can have as new parents and will save you and your clothes from those projectile vomits. We rate this product so highly we have included in our newborn baby essentials list.
Handmade in Australia we use stylish and trendy prints for the modern baby. All the materials we use are ultra-soft and gentle on your babies' delicate skin.
So, a little more about them;
What is the use of burping cloth?
They are one of the most practical items you can have as a new parent. Its main purpose is to protect parents' clothes when feeding and burping. Designed to cover your shoulder and upper torso from spit-ups of milk during and after feeding.
What are the best cloths?
It must fit comfortably over your shoulder and cover a generous amount of your clothing. The materials used should be soft and absorbent so you can gently wipe the babies' faces.
What is are they made out of?
We make them with a cotton front and bamboo/cotton mix towel backing. The backing is absorbent and soft to touch. This will make sure you're not wiping your baby's delicate face and skin with a sandpaper-like fabric.
What fabric is best to use?
The best fabric to use is an organic cotton or cotton front complete with a print. The back should be a soft and absorbent material like a bamboo cotton mix or a terry towel material.
We use a selection of cotton on the front as it is an organic material. The cotton is also soft to touch and can have a variety of patterns for boys and girls. The backing we use is a cotton and bamboo mix which is an eco-friendly and absorbent material. It is also ultra-soft so that you will be able to wipe your baby's face and delicate skin with comfort.
What is the size?
There are many different manufacturers and styles so the size will differ. They should be big enough to cover your shoulder and some of your front and back but not too large. The measurement of ours is 45cm (17.7 inches) in length and 22cm (8.7 inches) width. The contoured section over the shoulder measuring 17cm (6.7 inches) wide.
Patterns and prints
Because they are practical, it doesn't mean they can't be fashionable. There is a huge selection of prints to choose from a variety of Manufacturers.
We source our fabric designs from around the world as well as here in Australia. We are passionate about quality designs and have collaborated with local graphic artists to produce a fabric only for us. The four prints that are specifically designed for us include the Flamingos, Cactus, Whales, and Bird Perch prints. Also, we have specific prints for boys and girls.
Other uses
There are many things they can be used for including;
Changing mat – Perfect for when you are out and about and you forgot your changing mat. Place the burping cloth on the ground and change your baby there and then.
Towels – The terry backing is soft and absorbent so ideal to use as a makeshift town. Ideal to use for those impromptu baths.
Washcloth – Although we recommend our purpose-made washcloth, these cloths bibs can double as a washcloth in desperate times!
Cleaning – If your baby is dirty and needs to have their face or body cleaned just apply a little water on the back and wash away. You can also use it to clean up little messes if you don't have any wipes available.
For Pets – Finally, after the kids have got bigger try using them with your pets. Potentially as a blanket for them to sleep on or as there towel.
Product Guide
These are suitable for a newborn baby through to 1 year old. The front is made from 100% cotton or 100% certified organic cotton depending on the print chosen. The soft absorbent backing is made from a terry cotton and bamboo mixture.
Care instructions
Wash this product with a warm gentle machine wash at 40 degrees Celsius with similar colours. If you iron them please use a cool iron on the reverse side only. Do not bleach, soak, or dry clean.
We hope this information has been helpful and if you have any questions, concerns, or suggestions on any of the above please reach out to me.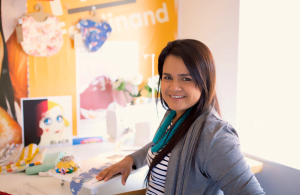 This article was written by Luisa Figueroa. I am the owner, designer, and maker of the My Little Love Heart range of baby products. I am a mum to a beautiful daughter and been working within the fashion industry for over 15 years, specialising in baby accessories for the last 5. My love of fashion has enabled me to work and study around the world.