Bathing a newborn can be an exciting and relaxing experience. When it comes to bathing, below are some bathing essentials and suggestions.
Bath and bath seats
Your choice in baths will depend on many things including space, storage requirements, and price.
The types to choose from including a basic, inflatable, collapsible or tube style. There are also large standalone units complete with changing mat and nappy storage.
The type of bath you purchase may depend on the price. This can vary from $15 to $150. However, the more expensive product is doesn't correlate to a better item.
Another factor in choosing a bath is the size and location of where you plan to place it. Your personal requirements will determine what kind of bath you will need.
We were handed down a bath that came complete with a changing station and storage. This was helpful due to the limited space in our nursery. If you do go for a unit like this choose one with plenty of storage for nappies and pajamas.
If you want to use your existing bath there are a number of options for you.
One option is the baby dam. Just as it sounds. You can install a dam-like product in your bath to use only a portion. The benefits of this are water savings. Another option is the baby bath rings like baby spas use.
Whichever bath you choose make sure you never leave your baby unattended while in the bath or near water.
Bath thermometer
When bathing a baby the temperature of the bath should be 37–38 degrees Celsius. So one of the baby must haves for any baby shopping list is a bath thermometer.
This will give you an accurate reading and piece of mind. However I wouldn't stop there, I'd also suggest the old method of using your hand to feel the temperature of the water. It's always a good idea to swirl the water around to ensure there are no hot spots. Have the water an even temperature before putting the thermometer in the water.
There are a few different styles and shaped thermometers so your selection will come down to personal choice.
Prices can be as cheap as $5.00 while Philip Avent does a room and bath thermometer for under $30.
Bath toys
Toys in the bath are great fun and a good distraction for babies who don't like the water.
When choosing which bath toys to buy make sure they are age-appropriate. The best toys are those that help the baby with their development and motor skills.
Some also have a water temperature indicator. This is a great addition to make bath time safe and enjoyable. Avoid toys with holes and openings as they can trap water which can become moldy. If possible buy bath toys that are easy to store and are dishwasher safe.
When it comes to stylish and eco-friendly bath toys you can't go past the Oli and Carol bath toys range. We are a stockist of these and they are made with 100% natural rubber. They don't have any holes in them so no mold or bacteria can be captured inside.
Baby soaps and shampoos
We recommend that you do not use any soaps or shampoos on your newborn for the first year. However, if you do choose to use soaps our preference would be to use unscented and natural soaps and not before 6 weeks.
When bathing your baby you should wash their face, private parts, and neck every day. While bathing the rest of their body 3 times a week is sufficient.
Washcloth
Baby washcloths are an ideal bath accessory and perfect for newborn babies and adults alike.
We recommend an environmentally friendly cloth made with sustainable materials. The ideal material to use is bamboo. This is soft and gentle on a babies delicate skin and free from chemicals and dyes.
A pack of three washcloths will be enough and can be used by the whole family.
Towels
Bath towels are designed to keep your baby dry and warm after baths. We recommend buying a cotton or flannel towel complete with a hood as this keeps the babies head warm.
There are many cute shapes and styles to choose from. The various animal shapes are adorable and can make bath time fun.
Make sure the towel you choose is machine washable with a size of 80 cm x 80 cm. We recommend buying 3 hooded towels as they will be used on high rotation.
Bathing conclusions
Most of the purchases you will choose will be based on the space you have available. Bath time can be fun so do splash out on some toys. They will be used for many years. Most importantly, whenever a baby is near a bath or water they are to be supervised by an adult and should never be left alone.
This post is part of a series of baby essentials articles that provide a comprehensive list of all the must have items for your baby. In this post, we have covered the bathing essentials. We hope this has been helpful for you to choose the baby products you will purchase. Continue reading our next article on safety and grooming essentials.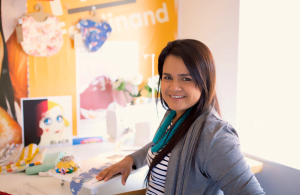 Luisa Figueroa – Designer ProfileOwner, designer, and maker of the My Little Love Heart range of baby products. I have been working within the fashion industry for over 15 years and specialising in baby accessories for the last 5. My love of fashion has enabled me to work and study around the world.