With a newborn it feels like you are feeding constantly. To make life easier we have included some essential items for feeding time.
Breast Pump
Even if you are breastfeeding we suggest buying a breast pump. This way you can express and store milk which you can use later.
The two main types of breast pumps are manual and automatic. We prefer the automatic for ease of use. Most automatic pumps come with a manual setting anyway.
With a huge selection of brands and styles to choose from the cost will vary. Pricing varies from $70 for a manual pump through to $300 for an automatic unit.
There are two well-known brands in Australia and they are Avent and Medela. We had the Avent pump and bottle however I wouldn't favour one over the other. I would however purchase use the same brand of bottles and nipples as the breast pump you choose.
Steriliser
A sterliser is one of the most important products to add to your newborn essentials list. The sterlisers job is to kill any bacterial on bottles, teats, and the breast pump. There are three types of sterilisers, microwave, electric or cold water style.
The microwave sterliser is exactly that. You fill it up with your bottles and teats and place it in the microwave for it to do its thing. This uses steam to work and will hold fewer bottles as it needs to fit into a microwave.
We had the electric sterliser and we found it worked well for us. It also works off steam and it's quick and easy. They are on the expensive side and you do have to descale them. We liked it because we could fill it with lots of bottles and teats.
The final type is the cold water sterliser. The cheapest method and ideal if you are traveling with no electricity source. You add sterilising tablets or liquid to the water and submerge for 15 to 30 minutes.
The major brands of sterlisers are Nuk, Avent, and Tommee Tippee. We don't have a preference for one over the other.
One thing to consider when buying a steriliser is the price. A cold water unit can be cheap and you may be able to use a tub you already have around. The microwave units are roughly $100 while an electric steriliser can cost up to $200.
You also have to consider how many items you wish to sterlise at one time. The electric units generally hold more so would be a better option. You may however be short on kitchen space so a smaller microwave unit might be preferred.
We ended up choosing an Avent electric steriliser. We didn't like the idea of using the microwave and we were too time-poor to use a cold water steriliser.
Bottles
The bottles come in two different sizes. The 120ml and 240ml.
When buying bottles we suggest buying a few more than you actually need. The last thing you want to do is to sterilise a bottle at 2 am. We had 2 of the smaller and 2 of the larger bottles. At around 4 months you can switch from the smaller to the larger size.
When it comes to brands, Avent, Medela and Nuk are the most popular. The cost is roughly $20 for a pack of 2.
One suggestion is to practice putting the bottle together before the baby arrives. It sounds simple in theory however doing it for the first time while sleep deprived is difficult.
Nipples (Teats)
Bottle nipples come in three sizes based on the age of the baby. They are;
Stage 1 Nipple — Designed for newborns from ages 0 to 3 months and have a slow flow nipple
Stage 2 Nipple — Is the next size up and is suitable for babies from 3 to 6 months and have a medium flow nipple.
Stage 3 or 4 Nipples — Are for babies 6 months old and over and have a fast flow nipple.
These stages are broad recommendations. If your baby falls asleep during feeding, tugs at the nipple, or takes longer than 20 minutes for a feed they may be ready to move up a stage.
We suggest buying 3 to 4 of the stage 1 nipples and 2 of stage 2 and 3 nipples. You can always buy more if needed. Each nipple costs between $5 and $10.
Avent, Medela and Nuk are the three well-known brands for teats. We would recommend buying the same brand of teats and bottles so you know they will fit together.
To learn more about baby bottle nipples this buyers' guide goes into great detail.
Milk Poweder Dispenser
If you plan to formula feed we recommend buying the Avent milk powder dispenser. This is ideal for travel or when you will be away from home for a period of time.
The dispenser has 3 separate compartments where you can dispense the powder when needed.
As I breast and formula fed I found this a very simple and helpful device which I packed in my nappy bag each time I left the house.
Burp Cloths
Burp cloths are used for spit ups and spills when feeding. They are also useful for protecting your clothes when burping the baby. They are ideal to clean the baby's face after feeding.
We recommend our own brand of burp cloths. These have been designed with an absorbent back that is soft on the babies face. There are many prints and colours available to suit both boys and girls.
When buying burp cloths ensure they fit nicely over your shoulder. These will be used and washed a lot so suggest buying 2 to 3 for a start.
Feeding pillow
Feeding pillows are a must have item and should be included in any newborn checklist. We have included our recommendations on feeding pillows in the nursery section.
Suction Plate
Although not needed for a newborn, when your baby gets older and wants to try to feed themselves you should get a baby suction plate. They stick to the table so stop the plate from getting knocked over and food all over themselves.
Bibs
Your baby will be wearing bibs a lot of the time. Whether it's during feeding time or just when they start to drool because of teething. We hand make a large selection of handmade bibs and more information can be found in our baby clothes article.
Conclusion
When your baby is a newborn feeding can be a great bonding moment. It can also be frustrating and sometimes painful. With the feeding, essentials prepare as early as possible and practise using the items you buy, especially the steriliser and bottles.
This post is part of a series of baby essentials articles that provide a comprehensive list of all the must have items for your baby. In this post, we have covered the feeding essentials. We hope this has been helpful for you to choose the baby products you will purchase. Continue reading our next article on bathing essentials.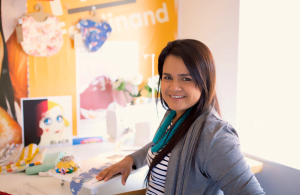 Luisa Figueroa – Designer ProfileOwner, designer, and maker of the My Little Love Heart range of baby products. I have been working within the fashion industry for over 15 years and specialising in baby accessories for the last 5. My love of fashion has enabled me to work and study around the world.