One of the most enjoyable parts of pregnancy is designing and setting up a nursery. There are many themes to choose from and inspiration gained from platforms likes Pinterest and Instagram. So making the perfect nursery will be a fun and rewarding experience.
However, it is not all about designing, you have to think about what will be practical. Therefore we have compiled a list below of everything you will need for a baby nursery and their sleeping arrangements.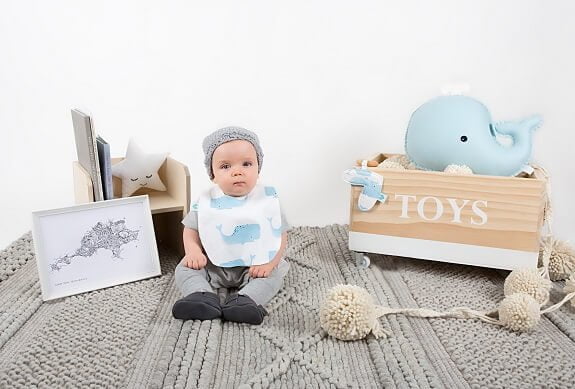 Crib and Cot
As the crib is one of the bigger purchases this one you will most likely choose based on budget.
When purchasing the crib our suggestion is to think long-term. Choose a crib that you will be able to use for the first 3 to 4 years of the child's life. One where you can remove the sides so that it converts to a normal bed.
You should also consider which is the safest crib. No matter which you buy make sure it meets Australian Standards. If you are given a hand me down crib make sure it is also Australian standards approved and is still sturdy and strong.
The baby will be spending a lot of time sleeping so make sure that it is built to last. It should not wobble after being put together and should be made from good quality materials.
Ideally, the crib you should buy will have a retractable side where you can lower it down. This is ideal for when your baby grows so you don't have to lift them over the top of the crib each time.
Some cribs allow you to change the height of the crib. Changing the height allows you to adjust the crib to suit your growing baby. As the baby gets bigger you can make the crib lower. This is so they can not climb out. The higher setting makes putting a newborn to bed a little easier.
When it comes to crib accessories we would recommend not having any. Cribs are for sleeping so make sure when setting up your crib to keep everything else out. Do not place toys, blankets, or comforters in the crib as they are a suffocation risk.
Mattress
The most important thing to check for the mattress is that its safe and meets AS/NZS 8811.1:2013 for mattress firmness. Make sure it fits properly into the crib and there should be no gaps between the railing and the mattress.
There will be times when accidents happen so make sure that the mattress is waterproof. We have also included a protector in our baby essentials list. Never wrap your mattress in plastic or unbreathable material.
Mattress protector
Mattress protectors are designed to protect newborns and babies from bed bugs and allergies. They are also used for protecting your mattress from accidents.
Without a mattress protector, you will have to replace your mattress sooner. We recommend buying two mattress protectors, one to use and one as a spare while the soiled one is being washed.
Sleep solutions offer this informative and thorough guide to buying a mattress protector.
Personally, we like the fitted mattress protector as they don't move around as much. Before buying, ensure it fits the mattress you have purchased.
Crib sheets
Depending on how many times you expect to change the sheets you will need to buy 2 to 4 sets. The first thing you should check is that they fit the mattress you have brought.
Cotton or cotton jersey is the most popular material to use. Silk can be a natural option as it retains heat in colder weather however the price will be higher. With so many fabrics and patterns to choose from the crib sheets can be a highlight of your nursery.
Bassinet
Bassinets are designed for newborns to 4-6 months of age. The benefits of having a bassinet are they are smaller in size and easier to handle than a crib.
We brought a portable bassinet which we placed inside her cot. This was for her to get used to the feeling of sleeping in a bigger bed.
Although there are no Australian safety standards for bassinets make sure you choose one with a sturdy construction. It should also have adequate breathable zones on all four sides. Bassinets are safe for a newborn.
The bassinet should be deep enough so your baby doesn't fall out. There should be no gaps between the mattress and the sides of the bassinet. If you buy one with wheels make sure they have wheel locks that work.
For more information, Choice Australia has an excellent guide on how to buy a bassinet.
Baby Monitor
Another must have baby item is a monitor. There is a large variety of baby monitors to choose from so it's best to choose one that fits your budget, lifestyle, and personality.
The main choice you will have to decide is what type of monitor you should buy. The two main types are audio or video, or a combination of both.
The audio monitor is as it sounds. You will hear the baby cry through the receiver and a light will illuminate. A video monitor has a display where you can watch your baby sleeping and check on them if you hear any noises.
Baby motors can vary in price, ranging from $50 for a cheaper audio-only model to $400 for a video monitor. The price you will pay will be dependent on the features you require.
The size and layout of your house will influence how many receivers you will need. For apartments or small houses, one receiver will be fine. While bigger or spacious houses you might need two receivers
You can also buy movement monitors. I don't think they are essential and would give me paranoia rather than ease my mind. Additionally, the result of research appears there is no benefit and does not reduce the risk of SIDS.
Whichever monitor you choose do not put it in the crib or bassinet. Make sure it's not within reaching distance. For further reading, what to expect have a detailed buyers guide.
After you have purchased your monitor make sure you are familiar with it. We recommend installing and testing well before the baby arrives. Choosing a monitor is such a personal choice so we won't recommend any brands, besides, technology changes so quickly.
Swaddles
A swaddle is near the top of my list for newborn essentials. They assist in keeping the baby cozy and warm while helping them feel safe and secure while sleeping.
When I would put my baby to bed I used two different swaddles. I would use the normal plain wrap around swaddle for small day naps. I would then use a swaddle that comes with Velcro for the big night time sleep. The Velcro stopped the swaddle from coming undone and reduced the amount of movement. It was also my little way of saying to my daughter that this is your big sleep, not nap time.
These days there are many types of swaddles available and the Swaddle Up by Love to Dream is a popular choice. This swaddle allows the baby to sleep in a more natural position with their arms up.
No matter which swaddles you choose, make sure you are putting your baby in a safe environment. They must wear the appropriate clothing and swaddles are no exception. If you are unsure, learn the correct way to swaddle your baby. One risk of swaddling is the risk of Hip Dysplasia so make sure you follow this guide on hip healthy swaddling.
Dummies
There are many benefits for babies to use a dummy. These include helping to soothe the baby to sleep and help them calm down. Studies have shown that they may also reduce the risk of sudden infant death syndrome (SIDS).
If you choose to give your baby a dummy we recommend the Natursutten natural rubber dummy. We are a stockist of this brand and love how it is made from 100% natural rubber. They are an eco-friendly brand that prides itself on making an environmentally friendly product.
There are two main types of teats, the rounded or orthodontic. The rounded teat is the traditional type while the orthodontic is designed to encourage the baby to suck like they do when breastfeeding.
These dummies are an expensive product and they needed to be replaced regularly. If this is a concern you can always opt for a cheaper pacifier.
You should always check the dummy before each use to make sure they are still in good condition. When buying dummies ensure they meet the Australian Safety standard for dummies and dummy chains.
Nursing chair and rockers
My husband says this was the best purchase we made and insisted this must be included in the baby essentials furniture list. They are an expensive item but it is worth it. You will be using this from between 1 to 3 years and even longer if you have more children.
A nursing chair is a personal choice and a great opportunity to style your nursery. However, when purchasing one make sure you have enough room and that it will fit into your nursery. Also, ensure that it is comfortable and wide enough for you and your nursing pillow.
There are three main types of nursing chairs to choose from. These are; nursing, rocking, and gliding chairs.
A nursing chair is a stand-alone chair that doesn't move. They are generally wider than a standard chair with lots of support.
We had the rocking chair complete with a footstool. The rocking chair is on two legs which enables you to move back and forth.
A gliding chair is designed to move forward and back for a smooth ride. This movement prevents feet from getting squashed like the rocking chair can do.
There are a couple of must-have accessories including a footstool and nursing pillow. The footstool is a nice accessory to have and can be helpful when feeding your baby. Make sure you get one the matches your rocking or glider chair.
A nursing pillow is a baby must have. There are many things to consider when buying a pillow so we have detailed these below.
Nursing or feeding pillow
With a newborn baby feeding 8–12 times a day a nursing pillow is an essential purchase. They are designed to keep the baby in position while you are feeding.
There are two types of nursing pillows available, the belted and non belted style.
The belted pillow has a strap around the waist which enables you to walk around with it still connected.
With the non belted pillow there are many different styles and shapes. Two of the most popular ones are the donut and crescent styles.
When researching nursing pillows, ensure they have a washable and removable cover. A pro tip for when you are feeding. Place a burp cloth over the top of the pillow so you can wash the cloth rather than the feeding pillow cover.
A nursing pillow is a personal choice. First off, ensure that it's comfortable. Then choose the style and colour you prefer. This is a perfect opportunity to match with the rest of your nursery decoration.
Nightlight
There are many benefits to having a night light including helping parents to see during late night feeds and changes. For older babies, they assist in helping them find comforters or dummies. And it comforts babies when they are going to sleep.
When buying a nightlight there are a few things to consider. Specifically which type you would like. The main types are powered, portable, lampshade, and soft toy lamps. The type you choose will depend on your room, style, and functionality requirements.
Whether you choose a portable or powered unit will depend on your room set up and your taste.
There are also a number of different functions available so ensure you choose one which meets your requirements. Some of the functionality includes brightness control and room temperature display.
Other types of lights include a standard lampshade, soft toys, and even projection night lights.
Whichever night light you choose make sure that it is kept out of reach from your baby. Definitely do not place in the cot or bassinet.
Draws and changing table
We have added the draws and changing table together as many of the draws come with a changing table as an optional extra. These are a great design as you can still use the draws long after you have stopped changing your baby. You can buy each item individually however we found it useful to have both. Other options are buying a change mat with shelves or a folding mat.
Your budget may play a huge factor in the type of draws and changing table you choose. The basic model will be roughly $200 while the most expensive can reach $1200.
It's important that the chest of draws you buy is solid in construction and well build. Both for safety and longevity. You will be using it for many years so quality draws are worth the investment.
For safety you must fix the draws to a wall so they do not topple over. There have been many cases where toddlers have died or been seriously injured when draws or furniture have toppled on them.
The type of changing table you purchase will depend on where you expect to change your baby the most. You will be changing them a lot both in their nursery and the bathroom. We ended up with two changing tables, one for the nursery and the second in the bathroom. The bathroom changing table was integrated into the baby bath. I have written more about this model under the bathing necessities.
When deciding which table or draws you will buy make sure they have lots of storage space. Enough room for a large number of nappies, wipes, and changes of clothes.
Safety is paramount. Ensure the change table section is fixed suitably. The barrier needs to be at least 100 mm high to prevent the baby from rolling off. However, you should never leave the baby unattended while changing them.
When it comes to accessories there is the changing mat and the cover. You might want to get two of the covers as it's guaranteed that they will get dirty or wet quickly. Choose a cover with a towel fabric as it is soft on the baby's skin.
Baby laundry basket
With the number of times you will change your baby, the laundry basket is a helpful inclusion to any nursery.
We suggest at least a two-compartment laundry basket where you can separate your whites and darks with ease.
There are many types and styles to choose from so pick one that fits the size of your room and the theme of your nursery.
Bookcase
Reading to your baby is an important step in developing a bond between you and your baby. It's good to get into the habit of reading early. It helps them hear lots of words and have a love for the written word. That's why we consider a bookcase as a must have item.
The main features when deciding on a bookcase are storage capacity, style, convenience, and safety.
Ensure your bookcase is big enough to store all your books and room for more. You will find that you will have an ever-growing collection so will need room to store extras.
The style of the bookcase you choose will largely depend on the theme of your nursery. Make sure the size of your bookcase suits the room. They should always be in a convenient location where you can access books.
Make sure it has a low profile and is not too tall. Babies will use bookcases to climb on and pull themselves up so make sure it's fixed to the wall.
We found the best value for money was the IKEA bookcase. Mainly for its versatility and many uses while its price was decent.
Wallpaper and Artwork
There are lots of things to consider when decorating your nursery.
Do you own or rent your living space? If you rent you may be restricted on how you can decorate the nursery. While if you own your own home you can be as extravagant as you wish.
If you choose to have a theme there are many to select from. It will be easier if you know whether a boy or girl is on its way. Pinterest is a great place to start for nursery theme ideas.
Some things to consider for your nursery are wallpaper, mural, or a photo gallery. Other things you may wish to include are wall stickers and a playmate.
Playmat
A playmat makes a stylish and practical addition to any nursery. When purchasing one there are a few things which you should consider.
The mat should be comfortable and well padded to ensure your baby is happy.
It should be washable or at least have a removable cover you can wash. Alternative a mat that you can wipe clean would be suitable. Also, the mat should be stylish and suit your nursery theme or design.
Some playmats have toys attached so you could choose one like this or buy toys separately.
Toys
Variety is the spice of life and when buying toys this should be your moto. Don't go overboard in buying lots as you are sure to be given plenty when the baby arrives.
Make sure they are age-appropriate toys for your newborn. This way you won't be wasting money on something they might not be interested in. They could also be dangerous for your baby.
When buying toys make sure they comply with the Australian standards for toys. Read instructions and safety warnings and inspect each part for potential choking hazards.
Previously some toys were made with dangerous chemicals. Read labels to ensure you are informed on how your toy has been made.
Baby toys should be durable and washable and easy to clean. Ensure there are no sharp edges to prevent cuts.
Make sure all the wrapping is removed and disposed of correctly. These can be a safety hazard and suffocation risk.
Play Gym
Play gyms are an activity center where they can play with toys. They are essential for your baby to improve hand and eye coordination and motor skills. It also encourages movement and freedom and stimulates their senses.
You can start using a play gym from day one however babies over 3 months will get the most benefit. Some gyms come with a mat while others are standalone toy set up. We had an all in one setup with a mat and toys which retailed for $65.00
Nursery essentials overview
This part of the preparation is fun so enjoy yourself and be creative. When buying nursery products think long term as most of these items can be used well after the first year. Think practicality over style and prepare as early as possible. Also, when setting up your nursery and especially sleeping arrangements always follow the red nose safe sleep advice.
This post is part of a series of baby essentials articles that provide a comprehensive list of all the must have items for your baby. In this post, we have covered the nursery furniture and sleeping essentials. We hope this has been helpful for you to choose the baby products you will purchase. Continue reading our next article on nappies and changing essentials.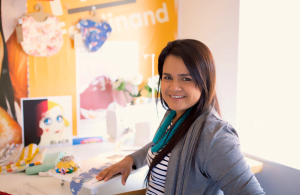 Luisa Figueroa – Designer ProfileOwner, designer, and maker of the My Little Love Heart range of baby products. I have been working within the fashion industry for over 15 years and specialising in baby accessories for the last 5. My love of fashion has enabled me to work and study around the world.