One of the most expensive and often used items you will buy is a pram. This is an essential item in any shopping list and will be used regularly for the first one to two years. Potential, if you have a second baby even longer.
Below I have outlined some things that you should consider when making the decision on buying a pram. Note, everyone's circumstances are different so what worked for me may not be suitable for you.
The first thing to decide on is your budget. Don't waste your time considering the most expensive pram in the market. However, by all means, have a look and see what features they offer what you can't live without.
Safety and security would be on top of the list of things the pram must have. All prams in Australia should meet or exceed Australian standards and have the required harness. Be sure to use these all the time as per the manufacture's recommendations.
Another consideration is comfort. You want your baby to be comfortable and have enough cushioning and support.
It is important to buy a pram that is the correct size. You must be comfortable with the height of the pram. Dimensionally you should check that it will fit into the boot of your car. Also, I strongly suggest making sure you can lift it comfortably. You will be putting it in and taking it out of your car daily, if not more.
As you will be spending lots of time out of the house you will need to take your nappy bag, feeding items, and other things with you. That is why you need to have a large space for storage.
When pram shopping make sure that you chose a pram that is easy to fold. You will be folding and unfolding your pram regularly so make sure you are comfortable in doing this. Practice in the shop and even try opening the pram one-handed as you will most likely have a newborn in your other hand.
When it came to specific features we were looking for we were determined to get one that was reverse facing. One that can face forward and then rotate so your baby can face you too. Not essential by any means but more of a nice to have.
We also made sure that the pram we choose had a reclining function. This way if your baby falls asleep on your walks you can recline the back down so the baby is more comfortable.
We looked for a pram that wasn't too wide as they can be a pain when walking in crowded spaces and through shops. Should you be having twins or planning in advance to have a second baby your priorities will be different. I would steer clear of the prams that are connected side by side. We prefer the style where the baby and child go underneath each other.
Aesthetics also plays a part in which to choose. You want something that is stylish but it shouldn't be the deciding factor in your choice.
Your lifestyle will determine what kind of pram you need. If you exercise a lot and do lots of walking or running you should look at the weight of the pram. Also a more compact unit and one with good solid tyres would be preferable.
If you are mainly going to use the pram for day trips or shopping you may want bigger storage space.
When selecting your pram try putting extra weight in and walking around the shop and see how it handles. Also, try pushing with one hand as you will be surprised how often you will be doing this.
Choosing a pram is a very difficult and personal choice. Our two favourite brands are Bugaboo Bee and the Babyzen Yoyo. I couldn't write this without giving a special mention to the pram and capsule bundles by Redsbaby. If your budget allows you should research this pram. It is very practical and works in conjunction with a car seat.
Some prams offer a bassinet attachment which is ideal for the first few months. I would concentrate on choosing the right pram for you and if it fits within your budget and lifestyle buy the bassinet too.
Pram accessories
You will be inundated with choices and options for pram accessories. Here, we have suggested what we thought to be essential. Before buying any accessories, make sure they are compatible with the style and brand of your pram. There is no need to buy branded accessories as there are many alternatives on the market which are just as good.
Pram Cover — An essential item especially for Australia's climate. The pram cover should be suitable to keep both the rain and sun out. You may need two different types depending on the brand of pram you buy. The babies skin is delicate and should be protected by the elements. When purchasing the cover ensure that it's a good fit and doesn't come off easily. It's frustrating having to stop every minute to re-adjust. If you decide you don't need to have covers you can always buy some pram pegs and use a blanket to cover the pram.
Purse Holder — This ties onto the back of the pram and is designed to keep small items in. Ideal for keeping phone, keys, purse, or a wallet. Make sure you don't overload it otherwise once you pick up the baby the pram can fall over.
Drink holder — Even if you aren't a coffee drinker I recommend buying a drink holder for your pram. They generally can be used for holding a water bottle or coffee cup and even a baby bottle. Ensure the drink holder is facing away from the baby and be careful with hot coffee. Make sure that the baby will not be burnt if the coffee spills.
Phone Holder — The pram equivalent of the car hands-free phone holder. This accessory is ideal for those long walks while the baby is asleep. You can attach to your prams handle and call friends and family while you are both getting some fresh air.
Conclusion
The pram is one of the most important baby essentials items you will purchase and will impact your day to day life.
We recommend trying lots of different styles, shapes, and sizes. Take them for a stroll around the shop and open and close them as much as you wish. When you are down to your final choice, request to placing it in the boot of your car. Finally, although you might want a sleek stylish pram, think practicality first.
This post is part of a series of baby essentials articles that provide a comprehensive list of all the must have items for your baby. In this post, we have covered what you should be looking out for when buying a new pram. We hope this has been helpful for you to choose the baby products you will purchase. Continue reading our next article on car seats essentials.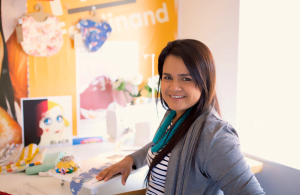 Luisa Figueroa – Designer ProfileOwner, designer, and maker of the My Little Love Heart range of baby products. I have been working within the fashion industry for over 15 years and specialising in baby accessories for the last 5. My love of fashion has enabled me to work and study around the world.