If you've just learned the great news that a friend or close family member is having a child, the perfect way to express your happiness is to give a gift. Make your love, affection and congratulations known by sending a beautiful baby gift hamper delivered right to their front door. If you're looking for the perfect gift, a baby gift hamper is perfect. That is because you can choose a little bit of everything the baby may need.
Learn more about baby hampers and why they make the best gifts below;
What Should I Include In a Baby Hamper
Making up a baby hamper for a new or expecting mother is a thoughtful way to collect some of the things they'll need for their new baby. Don't worry if the items you choose aren't especially expensive or exciting; basics are always welcome. Baby Essentials that need to be replaced regularly will still be appreciated.
It may be a good idea to concentrate on one area, such as important items or toys or clothing, when making your choices. That is particularly true if you know the family is well-stocked in some products. Alternatively, why not give a handmade baby present that is both useful and fashionable? There is an option that matches every budget.
If it's a firstborn, mum and dad are likely to have a lengthy shopping list to tackle. And as first-time parents, there will surely be something they will have forgotten. So, the parents will be grateful for any general selection of items. To make it a bit more special, you could always include a few special gifts for mum as well, such as a bottle of champagne, bubble bath or a scented candle. 
Including a personal keepsake is also a nice gesture. If you're unsure where to begin, we've listed some ideas for what to include in your new baby hamper below.
Hamper With Everyday Essentials for Baby and Mum
There are several things that Mum will require an infinite supply of. These will include:
Baby body wash
Shampoo for babies
Baby wipes
Nursing pads for mum
Nipple cream
Stretch mark cream
Baby powder
Nappy rash cream
Baby thermometer
You have complete control over the contents and price of newborn hamper gifts. You may choose to concentrate on the baby's gender, the season, or, of course, a fantastic personal theme. Since baby gift hampers are typically used to stock up on baby products, they will include general everyday articles. 
Baby Clothes Hamper
Keep to the essentials that a baby wears regularly. Babies grow so quickly that if you buy a fancy party dress for your friend's new little girl, for example, it won't see much use. Instead, give the baby a collection of comfortable basics.
A Baby Toy Hamper
Now here is the fun bit. Babies outgrow the newborn period at about three months old and begin discovering new things for the first time. So send them some toys that will spark their interest.
They'll love snuggly plush toys, something textured or that lights up, rattles, or that they can chew on. Make sure, however, that there are no sharp edges or are heavy so that baby does not get hurt.
Premade Baby Hamper
Don't panic if you're short on time until the big day and particularly can't think of individual items to choose; there are plenty of pre-packed hampers to choose from. You could even buy a baby boy gift hamper or a baby girl gif hamper if you already know the baby's sex.  These hampers are beautifully arranged, so if you are not the arty type, it may be a good choice for you.
Gender-Neutral Hamper
Sometimes parents do not want to reveal whether their baby is a boy or a girl. Alternatively, they want to be surprised and only know when the baby is born. That is when you can send a gender-neutral hamper.  A gender-neutral baby gift basket is a lovely idea for when you want to surprise new parents. Also, they can be delivered right to their door. Gender-neutral hampers with adorable baby designs, such as lifelong favourite Peter Rabbit, will be adored by parents and babies alike.
Hampers From Grandparents
So the day has arrived when you find out you are going to be a new grandparent. On the other hand, you already are one, and you hear you are about to be a grandparent to a new baby. Either way, you will want to celebrate the day and congratulate the parents with a present for the newborn.
There is a multitude of typical items that can be purchased as a gift. If you want to buy the new baby a present that is entirely unique and memorable, you may need to put a little more thought into it. Book themed baby baskets with added baby essentials are beautiful welcome to a baby gift, particularly from a grandparent! Make it memorable by adding a keepsake to an essential baby gift hamper.
Personalise Your Baby Gift Hampers
Nothing makes your one-of-a-kind baby gift baskets more unique than a caring touch. It just adds a touch that says how much you care.
The love with which a gift is given is the most important part of any gift giving. You can handpick various gifts that can be personalised by inscribing baby's name, picture, nickname or date of birth. Typical gifts that can be personalised are:
Baby's blankets
Clothing
Memory boxes
Books, and many more
This personalising of gifts creates a gift that will never be forgotten and can be kept as a memnto for years to come. 
How to Make up Your Own Baby Gift Hamper
You have decided on the gifts you are giving and have bought all your items for the gift hamper. Now What?
Get a basket, or gift box and group the articles neatly and allow smaller pieces fill any gaps. Include layers of colourful soft tissue paper and complete it with a plain gift wrap. Add luxurious sets of ribbons or beautiful paper flowers to make your baby gift hamper even more colorful. Let your creative juices flow. 
Alternatively, shop our online baby shop and select the items you wish. At checkout write a message and we can pack and deliver your hamper to the lucky recipient with a hand written note.
Order Baby Gift Hampers Online
If you live far away from the new parents, the ideal way to send your love is to order a hamper online and have it delivered to their door. Also, it could be that the expectant parents are not having a traditional baby shower. A delivery of a hamper will show that you are in their thoughts! There are many online shops where you can browse for gift hampers. Most of the gift hampers can include special messages and are beautifully presented.
Eco-Friendly Hampers
There is no doubt that gender-neutral colours, sustainability, and high-quality products are prominent trends in today's world! We use eco-friendly products to make our gifts? These include:
Cotton Fabric is a natural fibre. It is chemical-free and does not cause irritation. Cotton is also biodegradable, rendering it an ideal material.
Dummies and dummy chains can be coated with certified organic beeswax. It is well-known for its ability to relieve inflammation and ulcers.
Natural Rubber is used to manufacture rubber dummies. It is an excellent material for use because it has no environmental effect during harvesting, processing, and recycling
The advantages of using silica beads in a dummy chain are that it is recyclable, is tough and is a long-lasting material
These are but some of the many eco-friendly materials used in baby gifts. The eco-friendly baby market is booming with new, recycled fabrics and non-toxic additives you just have to look around for baby gifts that incorporate these.
Celebrate the News With a Special Baby Gift Hamper!
Babies are a precious blessing, so it's important to get the right gift to celebrate their birth. That is why a baby gift hamper makes for the best gift. Baby gift hampers should contain the ideal mix of essential baby presents and memorable keepsakes. Of course, don't forget Mum and Dad!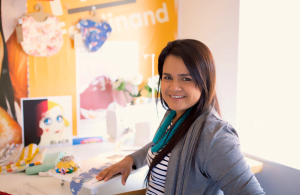 This article has been edited and approved for publishing by Luisa Figueroa, owner, designer, and maker of the My Little Love Heart range of baby products. I have been working within the fashion industry for over 15 years and specialising in baby accessories for the last 5. My love of fashion has enabled me to work and study around the world.