We specialise in baby gifts that are practical and stylish for many occasions.
Above you will find a selection of our baby presents while below we go into detail on;
Gifting Occasions
Who to give a baby present to?
Who should give the present?
How much to spend
What to look for in a baby present
When to give the hamper
Ideas
Where to buy
Wrapping
Baby Gifting Occasions
When it comes to giving gifts for babies there are many occasions where you can spoil them and the new parents. These are;
Pregnancy – A little gift to celebrate a friend's pregnancy is a nice touch. This would be given soon after they have announced that they are expecting. We have a range of gifts for pregnant parents that are perfect for celebrating with them. This bump journal is a favourite and a great way for parents-to-be to document every step of their journey.
Gender Reveal – The gender reveal party takes place at around 22 weeks. This is soon after the parents-to-be have had tests to determine the gender of the baby. Gender reveal presents should be unisex because the sex of the baby won't be known until after the party. This celebration normally takes place with both men and women. To learn more, read our article about gender reveal gift giving.
Baby Shower – The baby shower happens around the 28-week mark and is normally a women-only event. Here the guests play lots of games, give baby shower presents, drink and catch up with the mum-to-be. It is one of the most popular celebrations when it comes to babies.
Baby Q – Baby-Q's are growing in popularity, especially amongst younger people. This is held instead of a baby shower and the guests include both women and men. It's a more relaxed celebration that takes place at home with a BBQ provided for a meal. Presents are given and this is a chance for everyone to celebrate the upcoming birth in a more relaxed and informal atmosphere.
Baby Sprinkle – This is a smaller-scale version of a baby shower and is held for parents who are having their second, third or additional children. The types of presents for a baby sprinkle would be items that are used a lot. Things like nappies, bibs, and wipes would be appropriate.
Maternity Leave — Many companies organise to gift a maternity leave present and this is given to the mum-to-be before she leaves for her maternity break. The timing of this differs from company to company. Gifting a present allows all the colleagues a chance to celebrate one last time before she gives birth.
Push Present – This gift is given from the husband to the wife to celebrate the birth. It is a recognition of the sacrifices, discomfort and hard work the the mum to be has been through. And to celebrate the birth of the newborn from one new parent to the other.
Celebrating a Newborn – It is common that when meeting the baby for the first time you bring a newborn gift. It doesn't have to be extravagant and is normally something the parents will use in the first 6 months. Although most people buy exclusively for the baby, many people like to give a present to mum too. Our bub and mum gift boxes are very popular for this.
Sip and See – A sip and see party is a semi-formal celebration where family and friends gather to see the baby for the first time. It occurs around one month after birth and you usually bring a present. This doesn't have to be extravagant and we have some ideas for a sip and see gift.
First Birthday – When buying a first birthday present consider the age and style of the baby. Some popular first birthday gifts are books, babychino cup or silicone feeding sets.
These are just some of the occasions to buy a gift for a new baby. But when it comes to spoiling the new parents or baby you don't need a reason.
Who to give a baby present to
Once you have decided to buy a gift, who should you buy for? Well, most of the time it will depend on the occasion. Below are some suggestions on who to buy for and the occasion.
Baby – The majority of gifts that are purchased are for the baby. Having a newborn is expensive and can drain a bank account very quickly. So when buying a gift it's primarily to help the new parents with products the baby will need. Presents for the baby can be brought for all occasions but specifically the gender reveal, baby shower and welcoming the newborn baby.
Mum – Mothers sometimes get forgotten in the gift-giving. People like to buy cute little outfits for the baby and forget about the mother. So if you are looking for an occasion to spoil the soon-to-be or new mum the best opportunities are for a pregnancy present, a baby shower, or when welcoming second, third or other babies. Because after the first baby, the parents will already be stocked up with the essential baby items.
Mum and Baby – Our most popular gifts are the hampers for mum and baby. This is because you are gifting for both. The occasion where this is most common is when you are buying a maternity leave present, celebrating a newborn, or attending a sip-and-see party.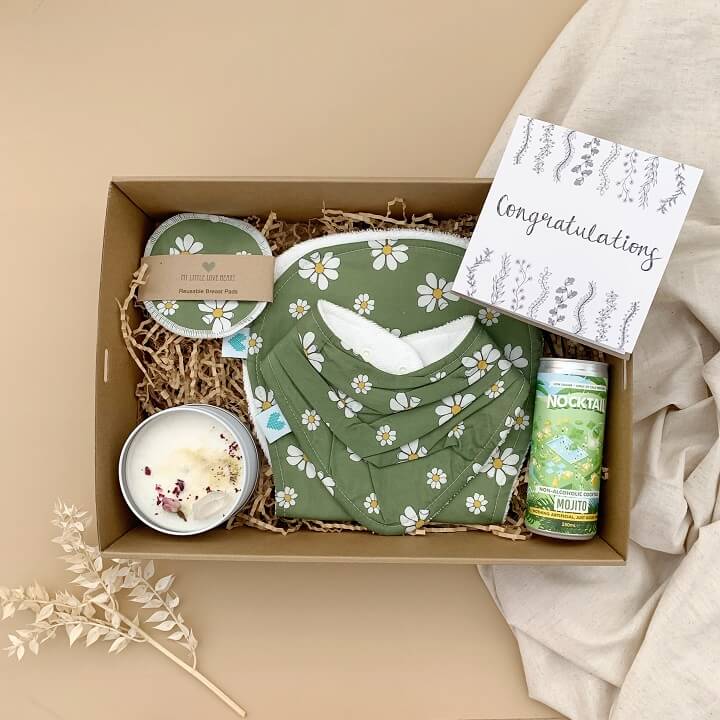 Dad – When it comes to baby presents dads normally miss out. But why not spoil the dad-to-be? And the best time to gift them something is when attending a Baby-Q or celebrating the birth of their new baby.
Family – More people are buying a present for the whole family. This way any siblings are included in the gift-giving and made to feel included in the experience. The best time to give this gift is when celebrating the second or more babies.
Who should give the present?
Firstly it should be noted that it isn't compulsory to buy presents. Everyone's personal and financial situation is different, and the parents-to-be would much rather have your best wishes than put you in financial hardship. But if you are curious as to who normally buys gifts below is a brief overview.
Husband – Over recent years it has become more popular for the father-to-be to buy a present for the mum. These can be in the form of a push present or a baby shower gift from the husband.
Best Friend – The best friends will be a major part of the baby's life. And as the best friend you can buy a meaningful gift to show your appreciation for the baby and new parents.
Friend – Depending on your relationship with the parents-to-be, you could get them a newborn gift. It would be a nice gesture for you to arrive on the first visit to meet the baby with a small gift.
Mum and Dad – In most cases the mum and dad of the parents will contribute heavily with gifts. If possible they help out with the bigger items like the crib or the car seat. My parents-in-law brought us the pram which was very much appreciated as it is one of the most expensive items that is needed.
Sister or Brother – You will want to spoil the newest member of the family. The sister or brother will normally buy lots of little presents along the way as the baby develops.
Aunties and Uncles – Although not expected to buy presents, it's always a nice gesture to get a little something. If you have been invited to the baby shower, expect to buy a small gift. This is also appropriate for when meeting the baby for the first time
Grandparents – If you are a grandparent and have the means to spoil your great-grandchildren by all means do! Make sure they are practical and useful so they don't go to waste.
Work Colleague – Unless you are very close to the parents-to-be, as a work colleague you aren't expected to buy a gift. The company you work for may choose to give a maternity leave hamper from the company. But as a normal work colleague, just your best wishes are enough.
How much to spend
When deciding how much to spend on a baby gift consider the occasion, your budget and your relationship. But on average you should spend between $40 and $90.
The parents-to-be will be happy with any contribution you make, and if financially you are struggling they will understand if you don't give a gift at all.
However, if you choose to give a present, consider the below when deciding how much to spend;
Relationship – The relationship you have with the parents-to-be will determine how much you are willing to spend on their gift. For the mum and dad of the new parents expect to help out with some of the large purchases. While a distant cousin may not buy a gift at all.
Budget – Your budget will be the biggest consideration on how much to spend. Everyone's financial situation is different so make sure to only spend what you can afford. Don't put yourself under pressure to spend more than you can afford and don't try to keep up with others who give more luxurious gifts. The saying 'It's the thought that counts' couldn't be more true.
Occasion – When deciding how much to spend on a baby present consider the occasion. Normally people spend less on a gender reveal or newborn present. But will spend more on a baby shower.
Taking this into account, read our article on how much to spend on a baby shower gift to learn more.
What to look for in a baby present
Once you have decided who to buy for, the amount to spend or even if you should buy a gift at all it's time to go shopping. But what should you look for in a baby present? Below are some of the things you should consider;
Safety and Quality – The most important aspect of any present is that it's safe. In Australia, we have laws about testing and standards. You can't be expected to be an expert on these, so the best way to check is to look at the quality of a product and the company's reviews. If you read lots of comments about poor workmanship or bad packaging it is a sign to stay away from them. A good company will prioritise safety and quality to the greatest detail.
Gender – When selecting the gift make sure it's the correct colour for the gender of the baby. Normally you will find blue for boys' gifts and pink for girls' presents. But as the world becomes more modern people are buying unisex hampers instead. If in doubt choose a gender-neutral gift.
Practical – Everyone wants to buy cute little clothes that look gorgeous. But the reality is they may only be worn a few times before the baby grows out of them. We suggest buying gifts that are useful and the parents will need. Items that will be used regularly and not thrown in the back of a cupboard.
Stylish – Just because the gift is practical it shouldn't be ugly, otherwise the parents won't want to use it. You can find many stylish and practical presents that will be appreciated and used.
Australian Made – When buying Australian Made hampers you know you will be receiving a quality product. It also helps the local economy and keeps the dollars you spent in Australia rather than heading overseas. That's why we recommend buying Australian-made.
Eco-Friendly – Any gift set you choose should be eco-friendly and made from sustainable materials. Check the gift box for plastic items that aren't organic. The packaging should be made with recycled cardboard or similar materials. We have a range of organic baby hampers that are perfect for environmentally conscious parents.
Age Appropriate – You should select the gift based on the age of the recipient. If you are buying a first birthday gift you shouldn't be buying a 0000 size onesie. Likewise, if you are purchasing a present for a newborn we suggest not buying items that won't be used until they are older.
Delivery Options – You should factor in the delivery or collection options, especially if you are buying baby presents online. Make sure you read the vendor's shipping policy and reviews of the company. A good shop will offer you a variety of different delivery options including collection, normal post and express delivery to meet deadlines.
When to give the hamper
Once you have decided what to give when should you gift the present? This will all depend on the occasion. Below we have a rough timeline of when the parties or gatherings take place so you can time your gift-giving to perfection.
Gender Reveals or Pregnancy Present – A gender reveal party normally takes place around 20 weeks. Even if they don't have a celebration this is a great time to give a pregnancy gift.
Baby Shower or Baby-Q – These take place around the 32-week mark. This is so the mum-to-be is visibly showing, while also comfortable, and not likely to be rushed off to hospital to have the baby halfway through the party.
Maternity Leave – If you are charged with buying the maternity leave hamper you should prepare to give this just before the employee goes on maternity leave. In Australia, this is normally around six weeks before giving birth. But this can change from workplace to workplace so best to check with the recipient when they expect to leave.
Push Presents – This is a gift given from the husband to the partner to congratulate them on giving birth. This should occur either just before or after the arrival of the baby.
Newborn, Sip and See, Baby Sprinkle – When giving a gift for any of these occasions it should occur within the first two months after birth. You don't want to leave it too much later than this otherwise the baby's gifting requirements will change. However, this will depend on when the new parents decide to have visitors or have a party.
Baby Gift Ideas
If you are after some baby hamper ideas we have some suggestions below;
Year of the Rabbit – In the Chinese calendar 2023 is the year of the rabbit. We have a variety of beautiful rabbit print hampers that make for the perfect baby present.
Rainbow Baby – Celebrating the birth is a special time for family and friends alike. And this is more so if the parents have had loss in the past. So giving a rainbow themed present is a thoughtful gesture.
Australiana Themes – Whether you are sending the gift overseas or buying for someone local, we have a large selection of Australiana themed hampers for babies. These include our kangaroo, koala, floral and fauna sets.
Dinosaur – Every little boy loves dinosaurs, so our Dinosaurs baby sets are popular for baby boys.
Animal – In addition to the dinosaur theme you could have an animal baby present. We have a selection of animal-themed baby gifts including the Koala, rabbit, butterfly, kangaroo, and safari.
Safari – We have a selection of gift boxes in the safari theme. These are made with the beautiful safari print which which has a light blue background as well as zebra's and giraffe's on it.
Beach – If the gift is for someone in Australia you could give a beached theme present. An ideal gift for this would be a sea-themed baby chino cup. This would be for an older baby or for their first birthday present.
Tropical – Similar to the beach theme, a tropical-themed present would be very cute. Think along the lines of bananas, pineapples, sunsets and palm trees.
Farm – Australia is known for its farming so giving a farm-themed baby gift would be appropriate, especially if they live in the outback.
Space and Astronaut – For those reaching for the stars, a space or astronaut-themed baby hamper would be the perfect gift for any little explorer.
Black and White – Another popular theme is the unisex white and black baby gift. This is a gender-neutral theme that can be used for any occasion.
Voucher – You may not know what to buy or you have run out of time. In this case, the perfect present would be an e-voucher to their favourite baby store.
Where to buy
There are many places where you can find the perfect baby present. But we recommend speaking to experts who make them on a daily basis. Below are the options on where you can buy gifts for babies.
In-Store — This would be our recommendation. When buying in-store you have the option to touch and feel each product. Look at the quality of the items and how it's presented. You are able to ask the staff any questions or queries you have on the spot. If you are in Perth come and visit our baby hamper store to find out more.
Delivery — You may want the ease of ordering a gift box over the phone and having us deliver it for you. We will package it beautifully and even write in the card for you. We can take payments over the phone, making the ordering process quick and easy.
Online — You may not be able to get to the shops or prefer ordering online from the comfort of your own home. If this is the case you should order your baby hamper online. We have a large selection that is stylish, practical, easy to ship and perfect for any occasion.
Packing and Wrapping
Depending on where you buy your gift, you may need to pack it yourself. If this is the case we have a few videos to show you the best way to package gifts.
However, if you purchase one of our sets they all come beautifully gift-wrapped and packed for delivery. They also come with a card which we can handwrite a heartfelt note for you.
We hope this has been helpful for you to choose the best baby gift for your occasion. If you would like further information or have any questions please feel free to contact us.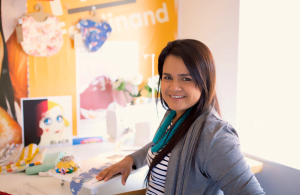 This article was written by Luisa Figueroa. She is the designer and maker of the My Little Heart range of gifts and baby accessories. Her experience as a mother helps her select the best products to include in the hampers. Making sure each is stylish and practical. To learn more about Luisa read her designer profile page.