In this post we tell you everything you need to know about a baby registry and what newborn baby essentials you should include in yours.
When it comes to welcoming a baby, especially if you are a first-time parent it can be stressful and in most cases, extremely overwhelming. Newborns require many essentials that you haven't even considered. These include simple items such as organic burp cloths to more complicated purchases like prams.  Therefore, a checklist is important to make sure you buy the products you need.
What is a baby registry?
A Baby Registry is a list of items parents would like to receive from family and friends, this ensures that parents are well prepared for the welcoming of their baby. It also helps guests choose items that the parents will actually need. Registries are frequently used in conjunction with baby showers.
How do I set one up?
The items on a wishlist vary from different types of products that your baby may need. Many popular brands offer online gift registries, some registries allow you to collaborate lists with different brands. This obviously makes it easier for pregnant parents to pick out the best products for their little ones, from a range of different retailers. These are called universal registries and our favourite is Baby List. Here you can choose items from any store (including ours) and add it to your registry.
When should I set up my registry?
Setting up a wishlist requires a lot of time and thought. It is often recommended for parents to start setting up their registries as early as they can. This ensures that you have had enough time to research each product you are wanting to purchase. If you are thinking about hosting your registry online, you can always add and take things off your list gradually.
Should I add a registry to my baby shower invite?
Some people may think that it's rude to put baby registries on baby shower invitations but on the contrary. By including the registry in the baby shower invite you are sure to get the products that you need.
What are the best baby registries?
Many companies offer baby registries so finding the best one for your baby is vital. Before you decide where to register make your list so you know what to include.
In my option, the best registry is "babylist"
BabyList
Put anything onto your registry from any store
Can include smaller unique and boutique stores
You can make a unique register customized for yourself
David Jones
David Jones has experts on hand to help you, family, and friends when buying what's best for your baby.
You can add a celebration card to the registry which is perfect for baby shower gifts
Delivery of gifts can come all at once on a specified date or one by one, however, you prefer to arrange delivery.
 Amazon
Amazon gives you systemised lists to help you with lists and ideas.
Keeps track of who bought what in case of a Baby Shower present so you can thank the person and to also know what else you need for your Registry.
30-day return policy
You can manage your own "Thank you list"
Your Amazon Baby Wishlist is easily shared with family and friends when you choose to share it.
The Gift Register
Guests mark gifts as purchased, so there are no double-ups.
The Gift Register provides pre-made gift lists that you can edit and make your own.
Makes it so much easier for overseas friends to send gifts from local sites.
What should I put on a Baby Registry?
It's often easier when starting your wishlist to read blogs, ask friends or family who has already got experience in this field for advice. You can also visit baby shops and they will recommend the best newborn products to add to your wish list. We have a comprehensive blog on newborn baby essentials which will cover virtually everything you will need for the first three months of the baby's life.
Your list should contain all the essentials for the arrival of your baby.  This should contain;
Equipment and Other essential items:
Pram
Baby car seat
Baby carrier
Diaper bag
Bottle drying rack
Travel crib
Crib
Feeding/Nursing items:
Baby bottles
Breastmilk Storage bags
Breast shields
Nursing pillow and positioner
Breast pump
Bibs
Baby burp cloths
Teething toys
Bottle cleaning set
Bath time essentials:
Hooded towels
Baby bathtub
Baby hairbrush
Changing essentials:
Nappies
Changing mat
Diaper bag
Baby wipes
Ointment for diaper rash
Baby Clothing:
Classic Bodysuits
Singlets
Leggins
Tops
Baby onesies/pajamas
Socks
Beanies
What should you not put on a Baby Registry?
You can put virtually anything you want on your registry as long as it's to do with the upcoming baby or to help you with the newborn. For instance, I don't think people would appreciate you adding a brand new TV or some nice shoes to your register. If you are struggling for ideas read our newborn baby shopping list for inspiration.
Should you put diapers on your registry?
Yes, most definitely, whether you prefer to use disposable or reusable this is the first thing I would add to a registry. Considering infants may need up to 12 diaper changes a day they are essential to have on your list. I would also add diaper cream and wet wipes as these are highly consumable items.
Is it rude to put expensive items on the registry?
It's not rude to add expensive items to a newborn registry, in fact, it's a way many new parents can receive the big-ticket items they like. Also, through the registry, you can choose products that may normally be financially out of your reach. Your family and friends can then pool some money together to get the more expensive items.
I hope this has helped you in compiling a useful and comprehensive registry. If there are items you think should be included please let me know.
This post was written by Sara Oviedo and has been reviewed and fact-checked for accuracy by Luisa Figueroa.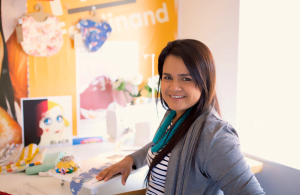 Luisa Figueroa – Owner, designer, and maker of the My Little Love Heart range of baby products. I have been working within the fashion industry for over 15 years and specialising in baby accessories for the last 5. My love of fashion has enabled me to work and study around the world.