We are an online boutique for babies based in Perth, Australia that hand makes and supplies a range of baby products. These include bibs, teethers, handmade burp cloths, and girls' hair accessories. Shop our online store or read about our favourite stores in Australia below.
As I do a lot of baby shopping online I felt it would be helpful to share some of my favourites that have an online presence in Australia. Unfortunately, most of these weren't around when my daughter was born. However, I love the style, products, and ethics of each of these. Most of these brands I've gotten to know through my brand so feel blessed that I can recommend them.
Love To Dream
Love to Dream is an online baby shop which is full of wonderful products to start your baby shopping list with. Known for their sleeping bags, these are ideal for newborns through to four-year-olds.

Mikro Australia
Run by mums Stacey and Kim, Mikro Australia offers a large selection of gorgeous squishy play mats through their store. On purpose, they've removed primary colours from their mats so to the focus can be what's placed on top. This is so the babies centre of attention is on whatever is placed on top of the mat. Their mats are easy to clean, eco-friendly, durable, waterproof, and nontoxic.
Little Rae Prints
Little Rae prints produce original artwork which is then turned into fabric wall decals. Ideal for a baby nursery, these prints are available from their boutique shop and ship around the world and through a selection of wholesalers. They also make a range of affirmation cards, the perfect way to show your love.

Little Rae Prints
Little Rae prints produce original artwork which is then turned into fabric wall decals. Ideal for a baby nursery, these prints are available from their boutique shop and ship around the world and through a selection of wholesalers. They also make a range of affirmation cards, the perfect way to show your love.

Relaax
Perth based Relaax is another store that I love. They sell a range of Raatan bassinets which are made by artisans that support fair trade practices. Their bassinets are cute and stylish. They will be the centerpiece of any new nursery making it the perfect practical accessory.

Alf the label
If you are baby shopping online for nappy or diaper bags, you can't go past Alf the label. Launched in October 2016 by Sophie Doyle the selection of nappy bags is available exclusively through her online shop. Her bags are both stylish and practical and are a sort after accessory for any new mum to be. We have also written a comprehensive blog on what to pack in your nappy bag. Like so many online shops, including ours, they also offer Afterpay.

Lilah and Co
Karly is the founder of Lilah and Co play gyms who have been featured by Inside Out Magazine and My Child Magazine. Her play mats measure 105cm x 90cm. They are durable, soft, padded, and double-sided so you can use them as a cot quilt too.

Baby Noise
Babynoise is home to the original wooden percussion toys. Their range is available through their online baby store and consists of bird whistles, castanets, handheld drums, rainmakers, and barbell shakers. They are ideal for creative play for newborns or as nursery wooden decore display items. Founded early 2017 in Perth, Eve hand paints the pieces personally with nontoxic paint.
Burrow Baby
Burrow Baby started their business in Perth in 2015 and have since moved to Byron Bay. You can purchase their swaddles and wraps from their online store. The Burrow Baby swaddles are made from a lightweight, bamboo fabric that is breathable and can stretch a little. Made in Australia, they are made with sustainable, eco-friendly materials.

My Family Book
My Family Book was established in 2016 with their products being designed in Australia and handcrafted in New Zealand. These soft books have 12 pages that can feature 5 photos and accompanying text. The books are made using luxe cotton materials which is ideal for your newborn to cuddle. These books have been sent throughout Europe, Asia, USA, Australia, and New Zealand. They are ideally suited for babies up to 9 months of age. During this time newborn babies see in a high-contrast black and white. In addition to the books, you can purchase a range of flashcards and stroller cards from their baby store online.

Snap Shades
Living in Australia everyone is well aware of how harmful UV rays can be. So Snap Shades have developed a product for your car to keep your baby safe. The snap shade is a vehicle-specific window shade that is stylish, fits perfectly, practical, and affordable. The lightweight frame is flexible and allows the window to be partially wound down. Quick and easy installation and designed to last, you will have peace of mind when driving in The hot Australia summer.

My Little Gumnut
My Little Gumnut is based in Townsville, Australia, and was founded by Jessica in 2013. She supplies a range of reusable products for both mums and bubs. These include modern cloth nappies, swimming nappies, bamboo wipes, and reusable breast pads like ours.

Beau Hudson
Beau Hudson is an Australian family operated business and fashion label that send their gorgeous range globally. The range comprises of tee's, cardigans, singlets, beans, jeans and much more. Prior to going into production each item is tested for quality by family and friends. This ensures that a high standard of comfort and durability of the garment.
Although this is an Australian list I couldn't help sneak in a few international stores. The final two are personal favourites and we are looking to add Oli and Carol to our online shop.
Oli and Carol
Oli and Carol are based in Barcelona, Spain, and were founded by two sisters. Their range of natural rubber baby toys is available online and can be used as bath toys, teethers, or just for decoration.
They come in a range of styles including fruits and vegetables, origami boats, beetle cars, animals, and bracelets. Each item is handmade and painted one by one using natural food pigments. They are environmentally friendly and made from a 100% natural rubber. None of the products have a hole so they are mold-free and hygienic.
Dockatot One of the few international shops on my list, DockAtot is a Swedish brand that sells beautiful and stylish loungers. There are two sizes to choose from, the 0–8 months Deluxe + and the 9–36 months grand dock. These are ideal for a new baby to lounge, play, rest, or have tummy time. You can purchase additional covers to match the style of your nursery. As a major supplier, they sell to a number of stores around the world.

These are just a few of our favourite baby shops online in Australia. We hope to add additional businesses to this list over the coming years. If you choose to order something from our own shop please remember we can accept Afterpay and ship Australia wide and internationally.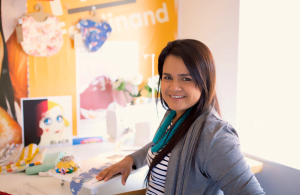 Owner, designer, and maker of the My Little Love Heart range of baby products. I have been working within the fashion industry for over 15 years and specialising in baby accessories for the last 5. My love of fashion has enabled me to work and study around the world.