Buying baby shower gifts can be a daunting task. Here we help answer all your questions so you can give the perfect present.
In this article, we discuss everything you need to know about baby shower presents. This includes;
What is a baby shower?
What are baby shower gifts?
Gift Etiquette
How much should I spend?
What gifts should you buy?
Where to buy baby shower gifts?
Diapers as a baby gift
Giving money as a baby shower present
Baby Shower Gift Ideas
What is a baby shower?
A baby shower is a party to recognise the upcoming birth of a baby. It is a chance to get together and celebrate the pregnancy with the mum to be. It is normally held around the 30 weeks mark. The venue is decorated with a baby theme, drinks and food is provided, games are played and gifts are given.
What are baby shower gifts?
A baby shower gift is a present given to the parents of a yet to be born baby. This is presented at the baby shower and is to show love to the family. It also assists the parents to prepare for the bringing up of the baby with all the essential items they need.
Gift Etiquette
When it comes to baby shower present etiquette there are a few things you should know. Note that everyone's circumstances are different. Guests may not be able to afford to bring a gift. Also, the recipient may request no gifts. Baby showers are about the celebration of the pregnancy and the baby to be. Gifts are not the priority and should never be. But we have answered the most common questions below to assist you with gift etiquette.
Can you go to a baby shower without a gift?
Yes, you can. Although it is common for people to take a present with them. The recipient would much rather have your presence than a gift.
Is it rude to open a baby shower gift at the baby shower?
No, it's not rude to open the present at the shower. In fact, a lot of guests like to see what others have brought.
When do you open baby shower gifts?
You can open them at the party or after everyone's left. People's opinion differs on which is the best. Some people love to see what others have given while others prefer to have their present opened at a later date. It's up to the parents to be to decide.
Do you buy for the mum or baby?
When selecting a present you can choose to buy for the mother, baby or father. But it is normal for people to buy for the baby. This is because the idea of having a baby shower is to help prepare for the arrival of a newborn.
Do you take the gift to the baby shower?
It is custom to bring the gift along to the baby shower with you. If you arent attending or if you are overseas you can always post it beforehand.
How do you ask for gifts for a baby shower?
You shouldn't specifically ask for a baby shower present. The main aspect of having a baby shower is to spend time with friends and family and to celebrate the pregnancy. You can however add a note on the invite about where you're registered. You can also mention on the invite about donations, gift cards or not to bring a present.
What should you not bring as a gift?
There are no hard and fast rules about what you shouldn't give for a present. Keep it age-appropriate and practical and you won't go wrong. Some people prefer not to receive nappies but we cover this further in the section below.
Who should you address the present to?
It's best to address the gift to both the mother and the father, even if the shower is a women-only event. This helps to include all the members of the family in the celebration.
When do you give the present?
It is customary to give a gift when arriving at the baby shower. However, the host would prefer you attend without a gift than for you not to come at all.
How much should I spend?
How much you spend on the present will depend on your relationship with them. We have written a thorough article on how much to spend on a baby shower gift. But below we have outlined the basics. The mum to be will be just as happy with your attendance. Everyones personal and financial circumstances are different so please keep this in mind. All values are in Australian Dollars.
Co-workers should expect to pay between $20 to $40 dollars. This would be enough to get a decent gift without breaking the budget.
Friends of the parents to be should spend between $50 and $80. While a best friend would spend between $60 and $100.
Family and relatives, like grandparents, cousins, and aunts should spend between $60 and $100. Immediate family members can help with the big dollar items and will spend between $100 and $150.
If you are buying a corporate baby gift or maternity leave present, expect to pay between $130 and $150.
Note this spend is a guide only. Everyone's circumstances are different so you should only give what you can afford.
What should you look for when buying a gift?
When buying a baby gift there are a few things to consider. Do you know if the baby will be a boy or girl or are the parents keeping it a secret. Is there a possibility that it could be twins? Do the parents have a certain style they will like? The gift you choose will depend on these answers.
We have written a detailed article on what to look for when buying a baby gift. But below we have outlined some of the things you should consider.
Practical and Useful – You want to choose a gift that is practical and useful. Something that will be used regularly and appreciated.
Unique – You don't want to be turning up to the baby shower with the same gift as everyone else. Look for something which is unique and not readily available.
Stylish – Think of the kind of style the parents like, and try to choose a gift which would fit this style. The parents may like a certain genre, so buying a gift with this theme has shown you have thought about the present.
Australian or Handmade – Giving a gift that has been handmade will guarantee the individuality of the gift. Even better if the gift has been made in Australia.
The sex of the baby – When deciding what gift you will give the sex of the baby will play a major part. In general, boys were blues, greens and plain colours and patterns. While girls normally wear pinks and more colourful items. This is a general rule and in modern times anything goes. Unisex prints are very common with solid earthy colours and patterns. And perfect for a gift when the baby's sex isn't known.
For Twins – When you are buying baby gifts for twins this will be a little different from giving a gift for a single baby. You will have to double the quantity and match their outfits as best as possible.
For mum – You may want to buy a gift for the mum instead. This can be something that she will use like a maternity dress or nursing pads.
Second baby – When parents hold a shower for a second baby this is called a baby sprinkle. The type of present given for this differs greatly from a baby shower. This is because the parents are already set up with the essentials of a newborn. If you are buying for a second baby here are some baby sprinkle gift ideas.
Where to buy baby shower gifts
Once it's time to start shopping for the present there are a few different options on where to buy from. The main options are;
Specialist Baby Gift Shop
A specialist baby gift shop like ours is the best option. Stores like this know exactly what the parents need and can gift wrap and deliver it with ease. Because they live and breathe gifts for baby showers they can recommend something to suit your taste and budget. You can also visit in-store and feel the quality and see the availability for yourself.
Registry
The mum to be may have already set up a baby shower registry. This is where all the gifts the parents would like are put on a list. The guests then go to the shop and select an item off this list. This can also be done through an online registry.
Companies like Baby Bunting, Babyroad, Myer and David Jones all do registries. If you are wanting to do an online registry we recommend the website babylist. Here you can choose to add any product from any shop. So you can even add boutique stores like ours.
Online Baby Shops
There are a large number of online baby shops that offer gifts. If you choose to buy online make sure you read the reviews to make sure you will get what you pay for. A website like productreview.com.au is a good place to start. Also, make sure they can deliver on time and order well in advance.
Visit your local baby shop
You can visit your local baby shop and hand-select a range of products that you feel would be a good gift. When you buy from a local store you are able to inspect the quality of the products. And if you and another guest double up on a gift you will be able to return it easier. It's also a lot nicer to support small local independent stores.
Nappies as a baby shower gift
We get asked a lot about giving nappies (diapers) as a gift for a baby shower. Below are some of the main questions and our responses.
Do you bring diapers to a baby shower?
Parents go through many nappies so yes it is ok to give them as a gift. Newborns need to be changed 10 to 12 times a day so this is a perfect present that is practical and needed. It's best to find out prior if the parents will use disposable or reusable cloth nappies. If you choose to give them try to pack them in a unique and imaginative way.
How do you ask for nappies instead of gifts?
You can add this to your baby registry or drop a few hints to your closest friends. Holding a diaper raffle is also an interesting way of getting nappies. See below for more details.
If you want to receive lots of nappies you can hold a diaper raffle. To do this ask guests to bring a pack of nappies with them. If they do they receive a ticket in the raffle. At the end of the day, you draw the raffle and someone wins a prize and the parents keep the nappies.
How many diapers should you put on your registry?
For the first 6 weeks, a newborn will go through roughly 420 nappies. After which will drop down between 5 and 10 a day. Bringing the total to around 2,500 in the first year. For this reason alone do not be shy to ask for nappies. We recommend requesting 4 jumbo packs which contain 108 nappies per pack. This should see you through the first month. Also, add a pack of each of the larger sizes to cover you for the first 6 months.
How do you request diapers on a registry?
If you are adding nappies onto a registry, and we suggest you do, we would recommend adding various sizes. Ask for the majority in newborn sizes, then gradually step down quantities as the sizes get bigger.
Giving money or a voucher as a present
You may find it difficult to choose an appropriate gift for the baby shower. So one option is to give money or a gift card. Here we answer some of the most asked questions about giving money as an alternative.
Is it ok to give money for a baby shower?
Yes, it is acceptable to give money instead of a present. In fact, some parents prefer to receive cash or vouchers. This is because it gives them the option to buy what they need or weren't gifted at the shower.
How much money should I give for a baby shower present?
There is not a set amount but if you are giving cash or a voucher consider giving between $50 to $80. We have outlined above what you should be spending on a gift so this is a good place to start.
How do you ask for money instead of a gift?
You might be embarrassed to ask for money instead of a gift for your shower. Don't be. Raising a child is very expensive so any financial help will be welcomed. You can ask for money instead of a gift by including the request on the invite. You can mention you already have most things and cash or gift vouchers would be appreciated.
Are gift cards an acceptable baby shower present?
Yes, they definitely are. This gives the parents to be the choice of what to buy. It allows them to buy products that are not normally given at baby showers. Examples are formula and Sudocrem. It also helps with the upbringing of the baby.
Is it tacky to ask for gift cards for a baby shower?
It can be a little so be careful about how you do it. Don't ring up and demand people send you baby gift cards. Include some wording on your invite on how a gift card would be appreciated, but not essential. 
How much should you give on a gift card for a baby shower?
The amount you give may be determined by the shop where you buy the voucher from. For instance, we offer $30, $50, $80, $100, $151 cards. The last card was a special request as giving an odd amount is considered good luck in some cultures.
Baby Shower Gift Ideas
Some of the most common gift ideas are bibs, onesies, swaddles, bouncers, bath toys, bottles, and feeding accessories. While the best are ones that are practical, high quality and age-appropriate.
If you are still unsure what to give, come and visit us or read some of our articles like the baby essentials for first-time parents. Also, the minimalist newborn essentials and baby shopping list are full of good ideas.
If you have any questions please contact us and we hope this has helped you.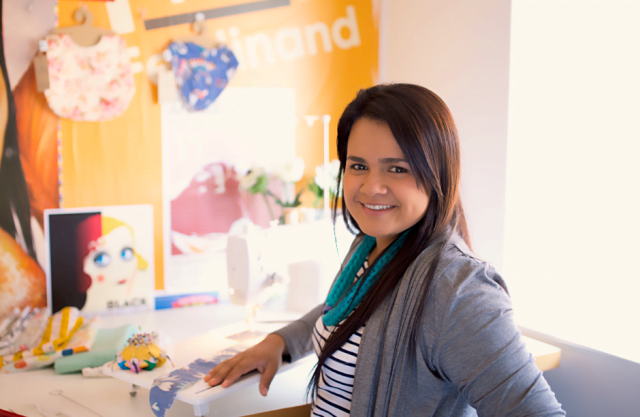 This article was written by Luisa Figueroa. She is the owner, designer and maker of the My Little Love Heart range of baby gifts. She has been working within the fashion industry for over 15 years and specialising in baby accessories for the last 5. Her love of fashion has enabled her to work and study around the world.