Authors Note: This post was updated in June 2021.
Finding out one of your friends is pregnant is such a magical time. Knowing they are bringing a baby into this world and starting a family is an amazing period in a couples life. And it's such a blessing that you will be there to celebrate with them.
So here we will help you decide on what is the best baby shower gifts to buy. No need to scour through hundreds of online baby shops and gift stores to find the ideal present. Or visit countless boutique shops in search of the perfect gift for the parents to be. We have you covered and have provided some pointers on what to look out for.
1. Quality
When choosing a baby shower gift make sure it is of high quality. Some of the things to help you make that decision are;
Materials- A good quality product is going to use good quality materials. For instance, for clothing, it's better to use fabric rather than plastic.

When inspecting the product check there are no defects, stains, shade variations or misprints

.

Construction — Look at the seams to inspect how the products

are made

. Has part of the garment been sewn on with care or glued?

Inside and out — A good way to inspect a product for quality is to look at the back or inside of the garment. Check for loose threads and straight stitches. If a manufacturer has taken as much care as what

is hidden

as what can

be seen

it's a good sign of quality.

Reviews — Read what other people are saying about the products and the business in general. In Australia the most prominent review page is productreview.com.au. Spend a few minutes researching the company and gift to make sure you won't

be disappointed

.
2. Practical
The second thing to look for when buying a baby shower gift is its functionality.
It's essential that any baby shower gift you give is practical and age-appropriate.
Look for a gift that will
be used
in the first six months.
It should be something that is going to
be used
regularly
and is useful. You don't want to be spending money on a gift for a baby shower for it to sit in a cupboard. Think of items like bibs, onesies and swaddles. Although they may seem boring they are practical, age-appropriate and useful. For suggestions on what newborn babies need read our essentials baby list for ideas.
3. Value for money
When it comes to spending money on a gift you want to be getting value for money and not feel ripped off. Because something is more expensive it doesn't mean that it is of higher quality. So be careful in the gift that you choose.
You might want to know how much to spend on a baby shower present. Like anything in life, this depends on each individuals' circumstances.
When looking for a baby shower gift for co-workers spend between $20-$30. For a close friend approximately $60 and for a family member $100.
But the mum to be will be more than happy with your attendance rather than how much you have spent on a present.
4. Unique and original
It's always nice to find a unique and original baby shower gift. You don't want to be turning up to the baby shower with the same gift as someone else. Having an original present will make yours stand out from the crowd. There are many qualities that may make your gift unique. For example, something that is handmade. Or an item you have made yourself. Something thoughtful and meaningful will
be appreciated by
the mum to be.
5. Stylish
There is no point in buying a gift that is so ugly the parents won't use it. Try choosing a gift that is stylish and on-trend. The recipients will love to show it off. When buying a gift for a baby shower ensure to find out the sex of the baby first, if possible. If you can't, or if the parents are keeping it a surprise, it's best to go with
unisex baby gifts
.
6. Organic and Eco friendly
Always keep sustainability in mind. Give a quality
eco-friendly
baby gift that will last a while. Buy from a company that pays its workers
fairly
and gives back to society and local communities. Also, search for companies that recycle. For instance, we use some of our offcuts to make breast pads. While any other fabric offcuts get sent to TerraCycle where they
are recycled
.
7. Safety
One of the most important things to look for in any baby gift is safety. Check that it doesn't have sharp edges or where the baby can cut themselves. Make sure it's made well and doesn't have any loose fluff or parts which can create a choking hazard.
Many products for babies need approval to Australian Standards. Make sure the products you buy meet these high standards and if in doubt ask the supplier.
8. Australian Made
There are other benefits in buying Australian Made. Products made in Australia are generally made to a higher quality. They are also covered by consumer protection laws. These companies are easier to contact if you want a refund, return or have a general enquiry.
In Australia, we also use many sustainable manufacturing methods that other countries don't. And have
minimum
wage requirements which businesses must adhere to.
9. Small Business
There are many benefits of buying from small business. They are a part of the community and willing to give back. They provide better customer service and can adapt their range quicker. And are major employers throughout Australia.
Many are family-owned and rely on their day to day sales to keep afloat. Buy shopping small you are keeping their dreams alive.
Now you know what to look for to find the best baby shower gifts. We hope that this has assisted you. If you have any questions or would like further information please feel free to contact me.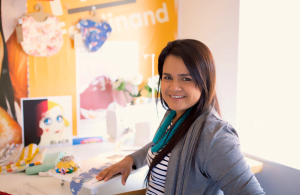 Owner, designer, and maker of the My Little Love Heart range of baby products. I have been working within the fashion industry for over 15 years and specialising in baby accessories for the last 5. My love of fashion has enabled me to work and study around the world.