When buying items for your baby, there are many products you must learn about. And bandana bibs are one of these. Below we have answered everything you need to know and touch on the most common questions.
What is a bandana bib?
A bandana bib is a triangle-shaped garment that's put around a baby's neck. Made from cotton and fastened at the back. This style of bib is also known as a dribble bib or neckerchief bib.
Purpose of the bandana bibs
There are many purposes of bandana bibs. These include keeping the baby's neck warm during winter. Protecting the babies' clothes and bodies from getting wet. Catching the drool, especially during teething. Preventing drool rash under the neck. And adding style to their outfit.
Do they work?
Yes, good quality bandana bibs work. And certain styles of dribble bibs work better than others. Higher quality bibs will have 2 layers of fabric, an absorbent back, 2 snap fasteners and pleats on the front.
Benefits
The main benefit of dribble bibs is to keep the baby and their clothes from getting wet. This is done by having a bib with many layers of fabric. Also adding pleats to the front layer helps catch the excess drool. The bib should fit around the neck to ensure no drool dribbles down, preventing drool rash. The other main benefit is style. The bandana bib is considered more stylish than the newborn bibs. The handkerchief shape is on-trend and thus more popular than any other style of bibs.
When can babies wear bandana bibs?
Although babies can wear this style of bib as early as 2 weeks you should wait until they are at least a month old. The preference for a newborn would be to wear a baby bib, which has the fasteners located on the side. This is easier for the bib to be put on and removed on a sleeping baby. As the newborn gets older they can move onto the dribble bib style.
How long do babies use them?
Babies can use their dribble bibs until they are roughly 2 years old. But this will depend on the size of the baby's neck. Each of the styles of our bibs has two adjustable fasteners. This is so the size can be increased as the baby grows.
How many bandana bibs do you need?
This will depend on whether your baby drools a lot. We recommend starting off by buying 3 good quality bibs before the baby is born. Once the baby arrives and you have tried them you can buy more if needed.
Are dribble bibs safe?
Yes, they are. Although there are no Australian Standards covering bibs, they are safe to use. Always ensure they are inspected for defects before putting them on. And always were them under adult supervision.
Can babies sleep with bandana bibs?
No. Babies should never sleep while wearing a bib. These are considered neck attire and can lead to strangulation. The Red Nose organisation has some good resources on safe sleeping.
How to care, wash, and store bibs
Taking care of your bibs is essential. They should be washed in warm gentle machine wash with similar colours. They can either be hung up to dry or placed in the dryer. Use a cool iron on reverse side if ironing. They should not be dry cleaned. After completely dry they can be stored with your normal baby clothes.
Where to buy dribble bibs
You can buy the My Little Love Heart range of bibs at our East Perth baby shop or from our online store. We also have a range of stockists throughout Australia.
Size of dribble bis
The size of bibs will vary depending on the brand you buy. The dimensions of ours are approximately 20cm Long x 21cm Wide x 12cm inside the neck (Flat).
What are the best bandana bibs?
The My Little Love Heart range of bibs is the best available. Don't take our word for it, read all our reviews on Facebook, productreview.com.au and google.
Thank you for reading this article. If you have any questions please feel free to contact us.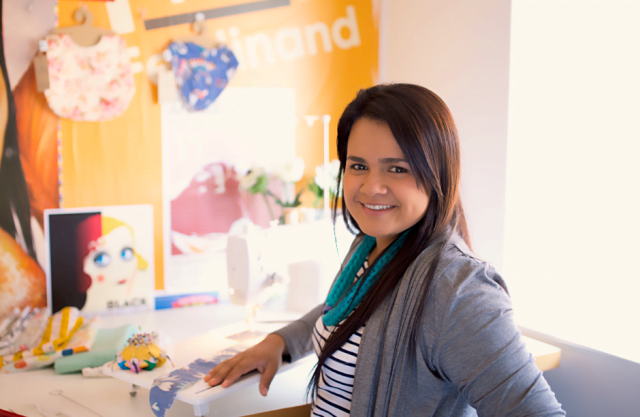 This article was written by Luisa Figueroa. She is the owner, designer and maker of the My Little Love Heart range of bibs and accessories. She has been working within the fashion industry for over 15 years and specialising in baby accessories for the last 5. Her love of fashion has enabled her to work and study around the world.