Bath time is fun. It's a perfect time for bonding, learning and exploring. All the while keeping your baby clean. Here we touch on the benefits of toys during bath time which will make the experience enjoyable.
Benefits of bath time and toys
There are many benefits of bath time and water toys for babies. These include;
Giving you the chance for the family to spend time together. It's a great opportunity to sing, talk and play with your baby.
Improving babies motor skills. They are able to touch, squeeze and splash with the toys.
Learning about movement. As some toys hold water the baby will be able to experience the flow and movement of water.
Exploring new colours and shapes. With the many different types of toys available the baby can experiencing new visual stimulation.
Learning about fruit and vegetables. The Oli & Carol toys which we stock are in these shapes. It gives them exposure to fruits and vegetables at a very young age.
Learning to clean up. When bath time is finished your baby will see you organise the toys and clean up. Hopefully, this will be a habit ingrained with them in later years.
When can I start using them?
You can start using toys in the bath from the very first day. Although your baby might be just as excited by being in the water. You may want to start off with something basic like the floatie or cups. However, when the baby gets to six months they will start to enjoy them more.
Types of Toys
There is a large selection of toys for toddlers and babies to choose from. We have outlined some of the types below;
Rubber Duck – The most famous and recognised baby toy would be the yellow rubber duck. Oli and Carol make this modern-day version which is super cute!
Thermometer – A thermometer toy is a must-have. So much so we have included it in our baby essentials list. The thermometer toys will make sure the water is at the correct temperature before putting the baby in the bath.
Fishing – With toy fish swimming around the bath your baby can practise their hand and eye coordination with a bath fishing set.
Pipes – The pipe toys suction onto the wall of your bath. You can pour water into them and join them together for endless bath time fun.
Bath books – The waterproof bath books are a great introduction to reading. Make sure you wash these thoroughly after use as mould builds up quickly between the pages.
Self-propelled wind-up toys – They generally come in animal shapes and move around the bath themselves. Just wind them up and let them go. We've had our wind-up fish for 7 years now!
Crayons – Personally I'm not sold on the crayon toys. Although they look like a lot of fun the clean up might not be worth the effort.
Whale bath spout cover – This is a genius idea. It is a toy which covers the water tap spout. It prevents your baby from hitting themselves on the hard metal spout.
Bath Scoop – Not only for cleaning up, but the bath scoop can also be used during bath time for playing. You can catch the toys and store them away later for future use.
Storage:
Once you have finished with the toys you have to put them somewhere. Below we have offered some practical storage ideas;
Basket
Dish rack
Peg basket
Scoop
Basket with suction cap
Woven basket
Note you should always dry your toys before storing them. Keep them away from wet or moist areas and do not put in direct sunlight.
Cleaning
The way to clean the toy will depend on what toy you have. Many toys have a hole in them which allows water in and out. Unfortunately, this is the perfect environment for bacteria and mould to grow. When cleaning these toys firstly squeeze all the water out. Then fill the sink and add a cup of vinegar. Add the toys and leave to soak for 30 minutes. Shake well and leave for a further 15 minutes. Then shake well and squeeze the water out. With a soapy cloth wash the outside of the toy then rinse and leave to dry.
We stock the Oli and Carol brand which are far easier to clean. As they don't have a hole you can clean the outside with a soapy cloth, rinse and dry. And if you are wondering how often you should be cleaning them, at least once a week.
Warning
Always make sure the bath and its toys are cleaned regularly. Never leave the baby alone in the bath or around water. Bath time must be supervised by an adult at all times.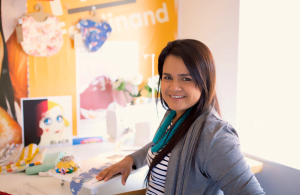 Owner, designer, and maker of the My Little Love Heart range of baby products. I am a mum of one and have been working within the fashion industry for over 15 years and specialising in baby accessories for the last 5. My love of fashion has enabled me to work and study around the world.