We have a selection of Christmas Baby Gifts that are stylish and practical.
These are the perfect gift sets to celebrate a baby's first Christmas and come in a selection of different styles and prices. Each set is different however we can build your own Baby Christmas Gift Box with any of these products;
Bibs
Our X-mas bibs come in a variety of styles and prints. The styles we offer are for newborns, babies and toddlers. The prints are an Australian Animal-themed Christmas print, as well as solid sage and red colours.
Hair Accessories
In some of our Christmas presents for babies, you will find some Christmas-themed hair accessories. These include newborn, baby and toddler-style hair bows in Red, Sage and the Australian animal Christmas print.
Christmas Journal
This Christmas Journal is the perfect item to include with any Christmas Present. Here you can write about your Christmas traditions and journey which you can share with your family for years to come.
Teether
The Australian Animal Christmas themed teether is stylish and practical. This has been tested and approved to Australian Standards for teething toys. We have included this in most of our Baby Christmas hampers and will be used well after Xmas has passed.
Cards
Each one of our baby Christmas presents comes with a Christmas Card. These are handmade and include a kraft envelope. We can write a message in this for you or leave it blank for you to fill out.
If you have any questions on these Baby Christmas gift sets please contact me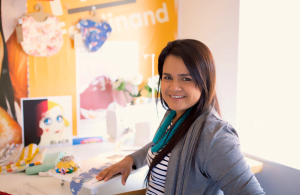 This article was written by Luisa Figueroa. She is the owner, designer and maker of the My Little Love Heart range of products.