Limited Stock Only
As you may know, we hand sew a range of baby accessories from our East Perth Baby Gift Shop and recently have been asked if I can make face masks. So I thought I would go one better and include a DIY face mask pattern and video so you can make your own.
To open the pattern to print click;
Please Note;
Your printer will need to be set to A4 paper
The measurements are the same as our pattern (Otherwise the mask size will be incorrect)
This is an adult mask, we don't have instructions to make childrens masks online hower you can buy kids masks from our store.
What do you Need?
Sewing Machine (If you don't have one, share this page with someone who does)
Iron
33cm x 33cm Cotton Fabric
2 x 28cm of 3mm or 1mm elastic (The colour of your choice)
Scissors
Thread
Pins
Ruler or tape measure
Pen
Follow this video tutorial to assist, note this is for a two-layer mask.
We hope this pattern helps and I would love to see your creation so please tag me on Instagram. 
Warning: This mask is not intended for medical use and is not intended to be a replacement for a surgical mask or respirators such as the N95. According to the Australian Commission on Safety and Quality in Health Care, masks are not recommended for children and people aged under 18 years. Individual families can make their own decisions regarding their children. Children under two years should never wear a face mask due to choking and strangulation risks.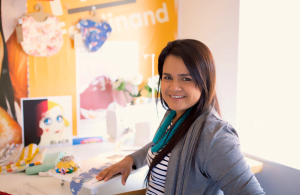 The guide was written by Luisa Figueroa – Designer Profile – Owner, designer, and maker of the My Little Love Heart range of baby products. I have been working within the fashion industry for over 15 years and specialising in baby accessories for the last 5. My love of fashion has enabled me to work and study around the world.