They are the best bibs ever! I LOVE them! I'm constantly washing them because I don't want to use anything else…I'm ordering more so I don't have to wash as often. Thank you for making such beautiful products! — Emily S, Victoria, December 2019
Our absorbent and soft dribble bibs are handmade in Australia and available in a selection of stylish and trendy prints for boys and girls.
This blog was originally published on 7th September 2017 and has been updated to include current prints, additional styles of bibs, the inclusion of testimonials and have added the range of Australiana designs. — Luisa Figueroa, 9th January 2020
History of our Dribble Bib
When we started designing our bibs, we wanted to make sure we were making a product that was practical and stylish. We concentrated on how we could reduce the amount of drool seeping through to the babies' skin. Specifically, how absorbent the materials were and how to minimise contact of the drool with the baby's skin. After trialing a few different materials and styles we decided to add pleats on the front. We found that this produced two benefits. The first being that it gave us the style we were after and secondly, they caught more of the drool and kept the baby dry and comfortable.
Our bibs have two layers, the pleated cotton on the front and the cotton bamboo back. Therefore if the drool passes through the cotton layer it would be absorbed by the bamboo cotton backing before going onto the baby's skin.
Benefits of our bibs
There are many benefits for using a My Little Love Heart bib. Apart from making stylish and super absorbent bibs they are also;
Organic and eco-friendly
We made our bibs environmentally friendly by using the soft cotton fabrics for the front combined with a bamboo backing. Both of these materials are considered Eco-friendly as they are biodegradable, renewable, and sustainable. Bamboo is a material that's quick-growing and requires very little water.
Reduce washing
Parents tell us that when wearing our bibs their babies' clothes remain dry. This minimises the number of times they are changing their babies' clothes which reduces the number of clothes washes they do. As a parent myself, I understand how huge this benefit is.
Longer lasting
Many parents have brought our bibs for their first baby. Due to the high quality, they have been able to keep and use them for their second child. We love receiving photos of our bibs being used and handed down to their baby brother or sister. It's great to know we are making a product which lasts.
Designed to keep your baby dry and comfortable 
Due to the design and quality of materials, our bibs will keep your baby dry and comfortable. We use a combination of cotton and bamboo materials which are chosen for their durability and absorbent properties. The bamboo cotton mix is especially absorbent and designed to soak up the drool before it soaks into your babies skin. They are made with a gap between the front and back which assists in keeping your babies clothes dry. The pleats help to capture the excess drool. The bamboo backing feels like terry toweling, making the back of the bib soft to touch.
Nice fit with adjustable neck
The bib has been designed with comfort in mind. We have made it fit snuggly but not too tight around a babies neck. We use two adjustable fasteners on all our bibs. This enables you to adjust the size as your baby gets bigger. These are a plastic KAM snap that joins at the back. We found that this is the most secure way of attaching the bib and prevents your baby from easily taking it off.
Handmade in Australian 
It is important for us to support small and Australian made businesses and we are passionate about Australian made products. This is why all our bibs have been handmade in Australia.
We know that each product has been made with love and the conditions they have been made under. Our prime concerns are safety and quality and we inspect each product prior to dispatch. Your babies wellbeing is our highest priority.
Testimonials
We are always receiving comments and feedback from our wonderful customers and below is just a small sample. For more reviews visit our Google business page and testimonial pages.
They are the best bibs/burp cloths ever! I LOVE them! I'm constantly washing them because I don't want to use anything else…I'm ordering more so I don't have to wash as often. Thank you for making such beautiful products! — Emily S, Victoria, December 2019
I'd just like to let you know that I love your bibs! When I had my twins 2 years ago I received two of your dribble bibs. I then bought ten more because they are such great quality and they have lasted two years being used every day. So thank you for making such a great quality item. — Anna B, Queensland, February 2019
"Amazing service and the bibs are gorgeous and lovingly made. I will definitely be making more purchases in future" C. Gardner, Western Australia September 2017
Prints
We are always on the lookout for the latest trends and styles. Our materials are sourced from around the world and here in Australia. We go out of our way to offer prints for both girls and boys.
Baby Girl Bibs
Our selection of bibs for girls includes beautiful floral prints, gorgeous designs, bright pinks, and a range of solid colours.
Baby Boy Bibs
Parents tell us how hard it is to shop for baby boys. Therefore, we go out of our way to source prints specifically for boys. Our range of baby boy bibs includes animal prints, solid colours, and simple and adorable patterns.
We try to offer a unique selection of fabrics that would suit a boy or girl and regularly update our prints to keep on-trend. It is important to keep in mind that some of the most beautiful patterns are unisex designs.
Our current unisex prints include Sage, leaf, spots on gold, burnt almond, eucalyptus, mustard, red, rainbows, grey and black.
Australiana Prints
Since we are an Australian brand it was only natural to include some Australiana prints. The Australiana designs we offer are the botanical, floral gumnuts, eucalyptus, kangaroos, and koalas.
All designs are popular as a purchase for themselves or for an overseas gift. We have a selection of Australian baby gift ideas that make for the perfect present for an overseas loved one.
Exclusive Prints
When sourcing our fabrics we search far and wide, as well as next door. We use fabrics from internationally acclaimed designers as well as up and coming students. Recently we have used exclusive designs made especially for us from Western Australian graphic artists.
The prints that have been developed exclusively for us are the Cactus, flamingos, bird perch and whales.
The Cactus print is developed by graphic artist Megan Isabella and transforms beautifully onto our range of products. The flamingos, bird perch, and whales prints are all stunning designs by SAE design students.
It gives us great pleasure knowing that we are helping design students get their start. It is also significant that these designs haven't been mass-produced. Knowing that parents are receiving a unique, stylish, and trendy designer bib is such a thrill.
Here is a sample of our different prints on the bibs.
Making of Dribble Bibs
To give you a bit of an insight into how we make these, below are the steps.
Firstly we measure and cut the front pattern of the bib. Then cut the terry-toweling backing into the shape of the back. From here I pin the front and back together to make the bib shape and sew it together. Attached by hand, the love heart and swing tag have all the safety instructions and product information. We then add the KAM adjustable fasteners which are for connecting the bib around the babies neck. Finally, we put two iron the product ready to pack and send.
Bibs Specifications
We recommend that our bibs are worn by babies between the age of 3 and 24 months. The front is made from 100% cotton while the back is made from an organic cotton and bamboo mix. We use the KAM plastics fastening system on all our bibs to ensure they are easy to connect and remove.
Inclusion in Gift Sets
We love these bibs so much we have included them in all our baby gifts sets. You can read more about the baby shower and newborn gifts on our blog.
Our gift sets are full of stylish and practical items and all contain the dribble bib and bunny wooden teether. The larger gift sets include a burp cloth and baby bib. The baby shower gift set includes all these items and a Natursutten natural rubber dummy, a baby memory book, and stylish dummy clips.
Care, Maintenance, and Warning
To care for these bibs please use a warm gentle machine wash at 40 degrees Celsius with similar colours. Use a cool iron on the reverse side if ironing. Please do not bleach or soak and do not dry clean.
They are designed to wear around the neck. Please do not leave your baby unsupervised when wearing our bibs. They must be removed before they are put into bed or fall asleep. They can be potentially harmful if worn incorrectly and without supervision.
Other types of Bibs
Bibs are the staple of our business and the first product I made when starting My Little Love Heart. In addition to the baby dribble bibs, we offer other a variety of styles to suit any occasion. You will be using bibs regularly as they are an essential baby product. If you are unsure which to purchase read our blog on which is the best newborn bib for your baby.
Baby Bibs
Our newborn bibs are perfect for any baby from newborn through to 12 months. The two adjustable fasteners are located on the side of the bib so they are easy to attach and remove. These bibs are a classic style with no pleats. They are made with an absorbent backing to prevent your baby from getting wet.
Large Bibs
The larger bibs have the cotton front coupled with the soft and absorbent backing. The front is a larger size to cover as much of your babies clothes as possible. The two adjustable fasteners are located behind the babies neck. Perfect for heavy droolers or messy eaters.
One First birthday bibs
Celebrate your babies first birthday in style with our one birthday bib. Available in pink, grey, and gender-neutral cream linen there is a 1st birthday bib for everyone.
Thank you for taking the time and interest in our range of handmade bibs. If you would like further information or have any comments please get in touch.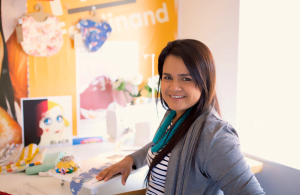 This Article was written by Luisa Figueroa. I am the owner, designer, and maker of the My Little Love Heart range of baby products. I have a beautiful daughter and have been working within the fashion industry for over 15 years and specialising in baby accessories for the last 5. My love of fashion has enabled me to work and study around the world.