I, like you, care about the environment. What we purchase has a huge impact on the world we live in. And as a small business that makes organic baby gifts, we are able to control the materials we use.
When designing and making my Eco-friendly gifts I always had the vision to make them as gentle on the environment as possible. To choose materials that are sustainable and natural. Whether it's for a baby shower or to celebrate the birth of a new baby, these four organic baby gift sets are perfect for those who care for our environment while enjoying giving a practical and stylish gift. The four sets are;
Newborn Gift Set
We named this the newborn gift set as it's the smallest of the four. These sets come complete with;
Bunny Teether
Bandana Bib
Card
Gift Box
Boys gift set
The larger boys set has been designed with prints and fabrics suitable for newborn and baby boys. The sets comprise;
Bunny Teether
Bandana Bib
Baby Bib
Burp Cloth
Card
Gift Box
Girls gift set
The baby girls gift set is full of beautiful and stylish prints just for girls. With lots of florals and bold colours. These sets comprise;
Bunny Teether
Bandana Bib
Baby Bib
Burp Cloth
Headband
Burp Cloth
Card
Gift Box
Deluxe Baby Gift
When you want to spend a little more or perfect for as a joint present, the deluxe gift set comes complete with;
Bunny Teether
Bandana Bib
Burp Cloth
Natursutten Dummy
Dummy Chain
Record book
Card
Gift Box
Materials used in our natural baby gifts
We have selected materials that are eco friendly and sustainable. It is important for you to know exactly what is going into each of our products. Here is a breakdown of each item;
Bunny Teether Toy  — The bunny teether is the ideal toy to give to your baby when they are teething. It's made with a cotton fabric front and bamboo back while the ring is made from natural beech wood. The ring has been finished with organic beeswax.
Bandana Bib — The bandana style bib is a stylish yet practical bib. The front is made from a cotton material that is designed with pleats to capture excess drool. The backing used is an eco-friendly bamboo material that absorbs moisture.
Baby Bib — All our bibs, including the baby bib, are made with a natural cotton material and bamboo backing. Both of these materials are ideal to be used for baby gifts.
Burp Cloth – Like all our bibs, the burp cloth has a printed cotton front and bamboo backing. The bamboo material is a natural product and soft on the babies skin.
Natursutten Dummy — The Natursutten dummy is made from 100% natural rubber. This ensures that the dummy your baby puts in their mouth is as natural as it comes.
Dummy Chain —Made with quality silicone beads with beech hardwood accent beads. The dummy clips are finished in a blend of certified organic beeswax and olive oil.
Record Book — The baby record book is the ideal place for you to record all the memories of your baby as they develop over the first 5 years. It is made with a luxury linen hardcover and 120gsm paper stock internal pages.
Card — We offer a selection of three cards to go with the eco baby gifts. These are the baby shower, baby boy and baby girl cards. Each is 135 x 135 mm and printed on 330 gsm linen paper. They also come with a 150gsm Kraft brown recycled paper envelope.
Gift Box — The gift box we use is a slimline A5 box with a separate lid. It is made from recycled paperboard and is 235mm x 167mm x 50cm.
Benefits of the materials we have chosen in our eco-friendly baby gifts
Cotton Fabric — Natural fibres are free of chemicals, breathable, and do not irritate the skin. Cotton is sustainable, renewable, and biodegradable making it the perfect choice for fabrics.
Bamboo Backing — Bamboo grows rapidly and produces more oxygen than a similar amount of trees. It is carbon neutral and can grow in a wide range of environments. Bamboo is grown without pesticides and requires no irrigation. We use bamboo on the backing of many of our products as it is natural and soft to touch.
Natural beach wood — We use a natural beach wood teether. It's a durable material that's non-toxic, chewable and resistant to mould.
Certified organic beeswax — Beeswax is produced as the bi-product from the worker bee who excretes the wax from their glands in their abdomen. It's also known for helping with swelling and ulcers. The beeswax is used to coat both the dummy chain and the teething ring.
Natural Rubber — The Natursutten rubber dummies are made from 100% natural rubber. It's an ideal material to use as it has little impact on the environment during harvesting, manufacturing and recycling. It also has high resilience, strength, and is tear-resistant.
Silicon beads — Silica beads are made from silica that can be found in sands. The benefits of using silicon in the dummy chain are that it can be recycled and it's a hard and long-lasting product.
Gift Box — Our gift boxes are stylish, practical and eco friendly and have been made from recovered paper collected from recycling. This way you will not only be getting a beautiful gift but you will be helping the environment.
I hope this helps give you a better understanding of what we are doing to be an organic and eco-friendly shop. We are happy to take on suggestions and improvements so feel free to message us your thoughts.
Also, in addition to these organic baby gifts, we have a range of other eco baby products. These include the sensory boards, bamboo plates, wooden milestone discs and the Oli and Carol range of natural mold free bath toys.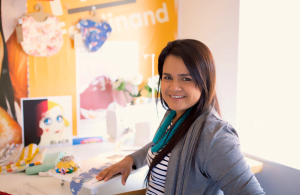 Luisa Figueroa – Owner, designer, and maker of the My Little Love Heart range of baby products. I have been working within the fashion industry for over 15 years and specialising in baby accessories for the last 5. My love of fashion has enabled me to work and study around the world.