Searching for the first birthday present ideas? We have a selection of practical and stylish 1st birthday presents that the parents will love!
One of the babies' biggest milestones is their 1st birthday and a chance to spoil them with plenty of gifts. As we like to think on the practical side so we have compiled a list of possible presents (which are not a toy) that are useful and stylish. These are all age-appropriate ideas for a baby's first birthday and include some of our handmade products as well as some items we stock in our online store.
Our 1st birthday gifts
We make a range of products in Australia including these "One" bib which makes for the ideal first birthday presents and are specifically suitable for a one-year-old
Our handmade first birthday bibs make the ultimate accessories to your babies 1st birthday outfit. With a selection of three to choose from, there is something for everyone. These include;
One year bib in linen – Designed in the style of our larger style bibs, this one year bib made from a linen fabric is suitable for those that want to keep their babies outfit gender-neutral. The linen "one" bib is a beautiful cream colour made with a soft absorbent backing. The large front is ideal for when your baby is making a mess with their first birthday cake.
1st Birthday bib girl – Make your daughter the princess of the party with this beautiful and stylish "one" girl bib. Also in the same style as our larger bib the white writing on the pink. fabric will match just about any of her outfits.
First Birthday Bib Boy – There will be no mistaking who the birthday boy is when he is wearing our "one" grey birthday bib. A stylish handmade bib designed to protect his clothes while celebrating his 1st birthday.
Hair Accessories
You want your daughter to look her best on her 1st birthday so we have compiled a selection of our hand made hair accessories to choose from.
Mini hair bows – Our mini baby hair bows are the smallest of our hair bows and are hair stitched to the nude colour elastic so no chemicals or glue is used in the making process. Designed for babies with smaller heads they are perfect for a newborn gift or first birthday hair accessory.
Baby headband – the medium size headband is our most popular accessory and a perfect addition to your little girls first birthday outfit. Handmade in Australia from a range of beautiful prints and bold colours we have a large selection to choose from. The plain off white colour baby headband is a simple but stylish design that would be ideal for a 1st birthday and christening headband.
Girls Headbands- This larger bow size on our headbands are for those that want to make a statement and her 1st birthday party is the perfect time to do it! The nude colour elastic is the same size we use on all our headbands and is soft and stretchy. This will enable you to get many years of use. All our bows are hand-stitched to the elastic to ensure your boutique bow lasts the distance.
Other first birthday present ideas we offer
In addition to the products your baby can wear on their first birthday we have compiled a list of suitable first birthday present ideas. Below we have selected a range of 1st birthday present ideas that would be perfect for a baby's first birthday.
Koala bamboo feeding plate – Make feeding time fun with this koala shape bamboo plate. This bamboo baby plate would make for a fantastic first birthday present ideas as it is both unique and practical. You can even separate the foods so they don't get mixed in together. And for those fussy eaters, try sharing the food with the koala and see if your baby joins in the fun!
Bamboo Suction Plate – For more 1st birthday present ideas you can't go past this bamboo suction plate. Ideal for messy eaters as the bowl won't be able to be tipped upside down. This eco-friendly plate is made from bamboo, an organic material that is sustainable and durable.
Baby Record Books – For those that love to write, the birth to 5 years journal is the perfect first birthday gift for both boys and girls. Available in a grey and pink option this journal will provide you with many find memories in future years. If you are buying this for the first birthday present you will enjoy reminiscing and filling in the first year with all your babies firsts!
Natursutten Dummies – we care about the environment and where possible use organic and natural products. When it comes to dummies we offer the all-natural Natursutten range. Included in this is the one year and over the rounded and orthodontic dummy, an ideal first birthday gift for those babies which are already using a pacifier. We offer the 12-month Natursutten natural rubber dummy in the rounded and orthodontic style.
Baby washcloths – You will wonder how you coped without this organic washcloth for the first twelve months of your baby's life. Another wonderful one-year-old birthday present, we handmake this with a cotton bamboo mix which is soft and perfect for your babies' delicate skin.
Baby Card – Save yourself the trip to the shops and grab either a baby boy or girl greeting card. We can also gift wrap the first birthday gift for you if required.
Bath Toys – We are a stockist in Australia of the Oli and Carol range of bath toys. They are made from 100% natural rubber in a one piece mold. This design prevents water from entering the toy and making them mould free.
All of the products mentioned above are available online. We offer a selection of payment methods including Afterpay, PayPal, and credit card facilities. We hope you, your family, your friends and most of all your baby has a fabulous first birthday.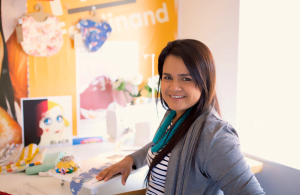 Owner, designer, and maker of the My Little Love Heart range of baby products. I am a mum of an amazing daughter and have been working within the fashion industry for over 15 years, specialising in baby accessories for the last 5. My love of fashion has enabled me to work and study around the world.