Stylish and cute baby hair accessories for girls
We are an Australian company that handmakes a range of baby hair accessories for girls in a range of stylish and prints. Shop our online store above or read our blog below on our complete range of baby girls hair accessories.
Each one is made in Perth, Australia using the latest prints and designs available. We have chosen to make them here in Australia rather than import them, this way we can control the quality and materials used to ensure your little girl is receiving the best quality product available.
Types of girls hair accessories
Whether she is leaving the hospital for the first time, staying at home playing with her toys, going to the park to play kiss chasey or hanging out with her school friends, we have the perfect children's hair accessories for any occasion.
With a selection of five different styles to choose from, your daughter will be spoilt for choice. These include the newborn bows, baby headbands, larger style headbands, top knots and the "mum and me" matching top knot.
From off whites to match their christening gown to floral patterns to suit those summer dresses we have a broad selection of colours, prints and patterns that will match any outfit.
Mini Newborn Hair Bows
These newborn baby bows are the perfect 1st accessory and are ideal for an infant or newborn baby girl.
The mini bow baby hair accessories measures approximately 5cm long and 1.5cm thick making it a beautiful fit. Although they are designed for newborns and infants they are suitable through to 5 years of age.
For our baby girl hair accessories, we use 100% cotton and in some cases 100% organic cotton depending on the print chosen for the bow itself. For the elastic to go around the babies head we use nude colour nylon elastic. This has been chosen for its soft feel, its unique size and that it doesn't leave a mark on your babies head.
We make these by cutting the fabric and the centre fabric together and iron to take out any creases. Then make the fabric into a bow with the use of the centrepiece of fabric and stitch the elastic little girl hair accessories onto the bow. Many kids hair accessories are made by glueing the bow onto the elastic however we believe that this method isn't as good as hand stitching. We find that hand stitching makes the hair bow last longer and more eco-friendly as no glue is used.
Baby Girl Hair Accessories
Our baby girl headbands are the next step up from the newborn hair bows and also made with cotton fabric while the elastic is the same.
The dimension on the bow measure 5cm in width and has been designed for girls from newborn through to 5 years of age.
Headbands
The third style is our slightly larger hair accessories for girls. It is a little bigger than our baby version with the bow measuring 9cm wide. Although the age range for this is newborn through to 10 years of age they make for the perfect toddler hair accessories.
Our fabrics are all made from 100% cotton or 100% organic cotton depending on which fabric is being used. The elastic chooses is a soft nude colour. This is extremely stretchy to make it suitable for newborns, toddlers and older girls.
We make these the same way as the newborn and baby versions, however, use a little more fabric. Once again no toxins or glues are used in attaching the bow to the elastic.
Top Knots
One of our most popular products, the baby knot headband is extremely popular for newborn babies. It is ideal to cover a large selection of the forehead suitable for girls that don't have a lot of hair.
All our baby head wraps are designed for newborns through to 10 years of age. They measure 69cm in length and when laid out flat have curves to make it easier to tie the knot.
We often get asked how you tie the knot on the headband so we have made this video to demonstrate.
To make this we start out by cutting the cotton fabric to shape in two lots. We then sew the two pieces together and turn it inside out and hand stitch it closed. After stitching, iron flat and put it in our packaging and tie the knot ready for the customer.
Mummy and Me
This product has been a long time in the making. I wanted to trial the mummy and me top knot with my daughter first before making it available online. After several design changes I have finally come up with the finished product and I couldn't be happier.
The matching mummy and me top knots are made with 100% cotton. The larger "Mummy" style is suitable for teenage girls or adults.
Prints
We pride ourselves with keeping up to date with the latest trends in fashion and making products that are stylish and current. We purchase our fabrics from both here in Australia and international suppliers to ensure that the prints we use are both modern and fashionable.
In addition to our current suppliers, we have worked with Perth graphic artists to design four exclusive prints. These unique prints are another way we can make sure the product you are receiving is original and on-trend and include the Cactus, Bird Perch, Flamingos and Whales designs.
Solid Colours
Sometimes simple is the best option and this is why we have a selection of solid colours. The solid fabric colours include aqua, navy, indigo, mustard, black, pink, off white, purple and my personal favourite, burnt almond and grey baby head wraps.
Christmas Accessories
We also have a selection of Christmas hair accessories which are simple but stylish. To get in the theme of Christmas we offer the Sage and Red solid colours. These are available in each of our styles of accessories and have something suitable for newborns, babies, toddlers and even adults.
Patterns
With a selection of pattern fabrics, there is something for everyone. These fabrics include blossoms on peach, Aqua abstract dots, Feathers, dots on peach, circles, spots on gold, stripes, bird perch, flamingos, swans and black and white stripes.

Floral selection
Every little girl looks adorable in floral prints and this is why we have hand-picked a range of floral prints. These include the Vintage, Aubrey, victorian vintage, Eucalyptus, olive bouquet, pink blossom Tallulah, succulents and cactus designs.
CONCLUSION
One of the joys of having a baby girl is choosing a cute and beautiful wardrobe for her. We like to help by adding that extra little bit of class with our Australia Made, handmade girls hair accessories. These can be purchased online or from a range of our stockists.
We care for our environment and make sure that our products are as eco-friendly as possible. No glues or toxins used in the making process on any of our products.
Please also note that safety is the most important aspect of any of our products. All our accessories are designed to wear over your baby girls head. However, you should supervise your baby 100% when wearing any of our products and they should not sleep with them on.
Our accessories are handmade in our boutique studio in Perth and we offer our accessories online which excepts Afterpay, credit card and PayPal.  We love to receive feedback and suggestions. So if you have any question or recommendations please feel free to contact us.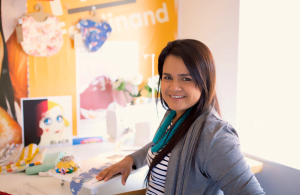 This article was written by Luisa Figueroa. I am the owner, designer, and maker of the My Little Love Heart range of baby products. I am a mum to a beautiful daughter and have been working within the fashion industry for over 15 years, specialising in baby accessories for the last 5. My love of fashion has enabled me to work and study around the world.