Shop our baby and children's hair accessories online or in-store at 17 Wickham Street, East Perth. We are open from;
Tuesday 10 am – 2 pm
Wednesday 9 am – 5 pm
Thursday 10 am – 2 pm
Friday 10 am – 2 pm
Saturday 10 am – 2 pm
There is plenty of on-street parking just outside our front door!
When you come to our East Perth Baby Shop you will find a selection of handmade hair accessories for children and babies. To learn more about our hair accessories read our article below.
When my daughter was born I struggled to find any handmade hair accessories I liked. Especially ones that
were made
here in Perth. So after starting my business one of the first things I began making were girls hair accessories. Here is a little more on each style available.
Newborn Bows
The newborn bows are the smallest of all our hair accessories. They are perfect as a baby first hair accessory and ideal for a newborn. The bow measures 5cm long and is 1.5cm wide. They are hand-stitched in our East Perth shop and
are made
using a nude colour nylon elastic. This is stretchy and non-marking making it ideal for your babies delicate skin.
Baby Headbands
The next size up is the baby headband. The bow is also 5cm but a little wider measuring 3cm in width. These are suitable for newborn babies through to 5 years of age. This is the most popular of our hair accessories and is also made in our Perth baby shop. They are available in a selection of solid colours, floral prints and patterns.
Headbands
The headband style has a larger bow that measures 9cm long. These are the biggest of the elastic headbands. They are suitable for girls aged between newborn and 10 years. Due to the bigger bow size, these look best on toddlers and older kids. All the headband style hair accessories have a nude colour nylon elastic band. They have the bow hand-stitched and not glued. This keeps them
eco-friendly
and more sturdy.
Top Knots
Our top knots are the knot style hair accessory that you tie yourself. They are available in three sizes; baby, toddler and adult. We also offer sets so your baby and toddler can match your adult size. They
are made
with fabric rather than elastic. And like all our children's hair accessories,
are made
in our East Perth store.
To learn how to tie the top knots please see the video below.
Christening or baptism hair accessories 
These are perfect if you are having a baptism or christening in Perth. The off white colour hair accessories are simple yet stylish. These come in our complete range.
Testimonials
We love receiving compliments about our products and our hair accessories. Here are two local happy customers. 
"I've picked up the headbands and I absolutely love all of them!!! I cannot wait to have my daughter wear them!

 — 

Carol N, Perth
"Your products are lovely and very good quality, so thank you! I know my friend will love them"

Sophie C, Perth
Our East Perth Baby Shop
If you would like to know more about any of our products please contact me.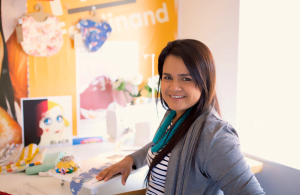 Owner, designer, and maker of the My Little Love Heart range of baby products. I am a mum of one and have been working within the fashion industry for over 15 years. The last 5 of which has been specialising in baby accessories. My love of fashion has enabled me to work and study around the world.