There is something special about handmade bibs. Knowing that there is someone behind the brand that has been working tirelessly to make items with their own hands. They have put their heart and sole into producing a beautiful item which will adorn your gorgeous baby. But this isn't the only benefit of homemade bibs. Other benefits include;
Quality – With handmade products, especially our bibs, each item has been physical inspected before being packed and sent out to our customers. As I am cutting, sewing, ironing and assembling I am always checking to make sure the material and finished product is of highest quality.
Style – As the person who makes the products I am able to add different prints to the collection straight away. This enables me to stay on-trend with the latest fashion and styles.
Uniqueness — Having bibs handmade means they won't be mass produced. You won't be turning up to your mothers group with the same bib as all the other mums. Plus it will give you a talking point on how you are supporting small business and knowing that your bib is unique.
Eco-Friendly – Unlike products that are made in bulk, the priority is to make them as cheap as possible. We care about our impact on the earth and therefore make sure our products are made with eco friendly materials. We also use as much of the fabric as we can and make products out of the smaller scrap pieces. Any leftover material is then sent to a specific company which recycles fabrics.
One final point about the benefits is that you are helping someone fulfill their dream!
We are asked a lot of questions about our homemade bibs so we have tried to answer them here;
What do you make bibs out of?
The front of the bibs are all made from a cotton or organic cotton material, depending on the print. This has been chosen as it is an eco friendly and absorbent material.
The backing is made from a bamboo cotton mix which is a sustainable and also a highly absorbent fabric.
For the fastening system we use a KAM Plastic fastener. All our handmade bibs have two fasteners in them so they can be adjusted in size.
Finally, the thread we use is made form 100% cotton.
What fabric is best for bibs?
The best fabric to use for making bibs is either a cotton, organic cotton or bamboo material. Each one of these fabrics is eco friendly and absorbent.
How much fabric do you need to make a bib?
How much fabric you require will depend on the style of bib you are making. For a bandana style you will need 50cm x 30cm. For the smaller bib you will only need 25cm x 30 cm.
How do you make homemade bibs?
We start by cutting the front cotton print and the bamboo backing. The back and front are sewn together and turned inside out. I then hand sew the hole and iron the bib. The fasteners are then attached and the final touch is adding the swing tag.
Here is a sped up video of how to make handmade bibs.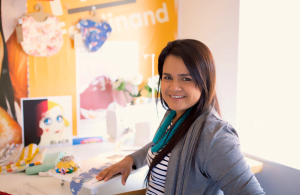 This article was written by Luisa Figueroa. She is the owner, designer, and maker of the My Little Love Heart range of baby products. I have been working within the fashion industry for over 15 years and specialising in baby accessories for the last 5. My love of fashion has enabled me to work and study around the world.