Whether it's for a baby shower present or a newborn, there are many things to consider when selecting baby gifts. These are;
Safety
Age Appropriate
Quality
Practicality
Style
Value for Money
Eco Friendly
Made in Australia
Handmade and Original
Supporting Local
Below we will discuss each of these in more detail to ensure you give a safe, practical and stylish baby gift.
Safety
The most important thing to consider when buying presents is if they are safe.
Not all products are governed by Australian Standards but it is best to check before buying. Items like toys and teethers need to meet Australian Standards while bibs and burp cloths don't. Although it's up to the retailer and manufacturer to ensure product safety, you can do some checks and inspections yourself.
Check to see if the product has had any recall notices. Also, look for subpar workmanship or small loose parts which may fall off.
Look for online reviews of both the product and the business selling the hamper. Read the manufactures instructions and age guides. And be careful when buying second-hand products.
Age Appropriate
When buying presents concentrate on products which are suitable for their age.
A newborn is between birth and roughly 3 months. At this age, they don't have any motor skills but their brain is developing through sight, touch and noise. This article will give you more of an idea about their development. So at this age, the gifts you will look to buy will be based on what the parents need. Not so much on items to play with.
When the baby reaches 3 months old they are becoming more active. During this stage, they have more emotional, communication, and movement development. So a present like teething toys, rattles or even books would be appropriate.
When buying a gift for a newborn it's best to buy an age-appropriate present. For instance, you don't want to be buying complicated toys, puzzles or a bike for a baby. Also think of your audience. Although most gifts are brought for the baby there is no harm in buying a bub and mum hamper.
Quality
This is such an important thing to consider. You want to be giving a high-quality gift that will last. Not something which is cheap and will be thrown out after the first use. When researching the present, have a look at online reviews of the product and the business. You will be able to see straight away what other people think of the quality.
Look for loose parts or incomplete stitching and loose threads. Good manufacturers who care about quality will inspect each item before sending it. It's a good idea to inspect the gift when you receive it too and tell the manufacturer of any concerns you may have.
If possible inspect the shop or manufacturing facility where the product is made. For instance, we have our studio in our shop so it's easy for people to come and look through.
Inspect the item to confirm that the product conforms to the manufacturer's specifications. Also, there should be labels and tags attached.
You can inspect the product for its durability and whether it will meet the expected life span. For instance, our bibs have been designed to last two years. But due to the high quality, parents are able to use them with their second and third babies.
Do the materials look strong and robust? Or flimsy and won't last? The sign of a high-quality gift can be seen in the materials used.
You can also look for extra features on the product to determine its quality. All our bibs have two fastening points. This is so that as the baby grows the bib can be adjusted to suit their neck size.
Finally, look at its reliability. Does the product work over and over again as it should do. Reliability is a great sign of quality.
Practicality
A good baby gift is one that will be used in the first 12 months. It is important that the gift you give is going to be used regularly.
There is no benefit in giving hampers that are full of useless products that will be put in the back of a cupboard.
When we talk about practical gifts it doesn't have to be all about Sudocrem and nappies. It could be products like bath toys, onesies or feeding accessories.
Style
Style is a personal choice but this is something you should try to get right. Always think of the taste of the parents and decide if it's the style they would like. They will be more inclined to use the present if it suits their style.
Packaging plays a huge part in how gifts are received. Make sure they are beautifully wrapped and presented in a professional way. We add a piece of ribbon with a bow for that extra bit of class.
Value for money
The gift you buy should represent value for money. You may pay a little extra for products made in Australia as the quality is better. Also if something is handmade expect to pay a little more. This is because it's an original piece and not mass-produced.
It's important to understand that if a gift is cheap there is a good chance that it's poor quality. Cheap products may mean the manufacturer may not be paying their employees a living wage.
If you are wondering how much you should pay we have written a guide on how much to spend on a baby gift to help.
Eco friendly
When looking for eco-friendly and organic baby gifts it is best to see what the products are made from. Materials like natural rubber, bamboo and cotton are all considered eco-friendly materials. Stay away from plastic and polyester made items.
But it isn't only the products that should be made from sustainable materials. The tags and packaging should be as well. When buying your gift look for packaging and tags that are made from 100% recycled materials.
The recipient will love that you have made the extra effort to buy something which isn't going to hurt the environment.
Made in Australia
When looking to buy baby hampers it's best to buy Australian Made. This can be easily spotted by the green triangle logo with the yellow kangaroo. When you see this logo you can be confident that the product has been verified as made in Australia.
There are many reasons to buy Australia made baby presents. You are supporting Australian businesses and jobs.
Businesses that make their products here are required to meet employment laws. So you know that the workforce is being treated well and that the products aren't being made with slave labour.
For products to have the Australian made logo they must be made to a certain quality and standard. So you will know you are buying a high-quality present.
Also, you are able to contact the manufacturer with ease, ask technical questions and track shipments more smoothly.
Businesses in Australia are a lot more environmentally accountable. Here we have laws about how materials can be used and how they can be disposed of. While other countries don't have the same level of care for the environment as we do.
Australian businesses are more likely to support other Australian companies, communities and charities. For example, we have recently given some baby gifts to HeartKids for their silent auction.
Gender of the Baby
One thing to consider carefully is the gender of the baby. Although these days things are very fluid its something to think carefully about. Whether you are buying a present for a baby girl or something for a little boy, there is always a large selection to choose from. And if in doubt, buy a gender-neutral unisex gift to be safe. And if you are buying for a gender reveal party make sure it's a unisex present.
Handmade and Original
There are many benefits to buying a present which is handmade. There is a feel-good factor in knowing that you have gone out of your way to buy an original or handmade piece. Arriving at the baby shower or hospital with a handmade gift will guarantee its originality. And you know it hasn't been mass-produced and is a one-of-a-kind creation.
Handmade items are of a higher quality. When products are made in bulk the manufacturer makes them as cheap as possible. By doing so they will use cheaper labour and materials. Whereas handmade gifts are inspected while being made.
Businesses that handmake their products can determine which materials they use. This includes choosing eco-friendly, sustainable and higher quality materials. This makes sure the gift is high quality and good for the environment.
Original baby gifts allow the maker to use their creativity. They are able to decide what to include in the hampers. Which materials and prints to use and what will work best for the recipient.
When items are handmade and original there is also a connection to the maker. Knowing that a person has created the gift means they have put the love of their work into each piece.
Support Local
When you do buy a baby gift from a local gift shop you are helping the local economy. Not only the owner but the retail assistants and all the service providers that they use. Your purchase has a ripple effect throughout the whole local community.
Local businesses are the heart of our communities. No one wants to walk past streets of empty shops with "For Lease" plastered on the front window. So when supporting local shops you help to keep the local communities character.
It also helps to keep people's dreams alive. Many local businesses are mums and dads who have dreamed of running their own shops.
Smaller businesses have a small carbon footprint and can directly choose their impact on the environment. Larger businesses aren't as flexible. And decisions on the environment are way down on their priority list.
You will find local businesses are involved in supporting other local companies. They also donate more. So to keep the fabric of the community together support local businesses.
I hope this article has helped you to choose what to look out for when buying baby presents. If you have any questions or comments please feel free to contact me.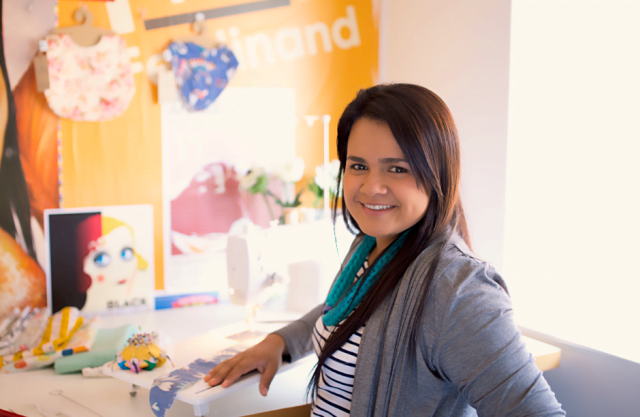 This article was written by Luisa Figueroa. I am the owner, designer and maker of the My Little Love Heart range of baby gifts and products. I have been working within the fashion industry for over 15 years and specialising in baby accessories for the last 5. My love of fashion has enabled me to work and study around the world.