Who should you buy the gift for?
We have a large selection of gifts for many occasions but one question we get asked regularly is do you buy the present for the mum or baby? This will depend on what you are celebrating. Generally, for a baby shower hamper you would buy for the baby. While celebrating the birth of a newborn you could buy for both. In this case, we recommend one of our bub and mum hampers above.
What's in the Baby and Mum Gift Box
These hampers come with items for both Bub and Mum. And come beautifully gift-wrapped with a card. You can include a personalised message. And we can organise to have this delivered for you anywhere in Australia. Each set is different but most contain;
For Mother
These gift sets include a selection of products for Mum. These are;
Candle – A beautifully scented candle that comes in a tin. This is the perfect gift to spoil a new mum and help her to relax.
Reusable Breast Pads – Whether the new mother is bottle or breastfeeding there is a high chance she will leak milk. Therefore these reusable nursing pads are a practical present that is organic and eco-friendly. And can be used over and over again.
Mocktail – A safe alternative to alcohol is a mocktail. And we offer a selection of different types in our mother and bub hampers. This is another special treat for the mum to help her unwind.
If you want more suggestions on what to buy a new mother read our article on gifts for new mums.
For Baby
Our hampers also include products for the baby. These items are;
Burp Cloth – A stylish and practical item that both parents and bub can use. The burping cloth can protect your clothes while burping, can be used as a cover when feeding, or many other alternatives.
Bandana Bib – Our handmade dribble bib is super absorbent and stylish. It's made from sustainable materials and is eco-friendly and practical. This is the perfect bib for drooling babies and ideal during the difficult time of teething.
Gift Wrapped, with Card and Message
Our hampers all come beautifully gift-wrapped and with a card. When adding the set to the cart you can include a message. We will then handwrite your best wishes to the lucky recipient.
Bub and Mum Prints
We have a selection of prints in these baby hampers that are suitable for a boy, girl or gender-neutral gift. These prints are;
Safari – One of our newest prints, the safari design is a light blue fabric with safari animals all over it. And makes for a perfect animal baby gift that's suitable for a boy or girl.
Rabbit – This rabbit print set is another unisex print design. Each item has been made in Australia, making it the ultimate Australian-made baby hamper. The print is especially popular this year as 2023 is the year of the rabbit. Making it an ideal year of the rabbit baby present.
Daisy — A cute print with an olive background and white and yellow daisies. This will make the perfect present for a newborn girl.
Lions – The lion print is a bold design that is perfect as a gift for a baby boy.
Rainbow – This print is perfect to give as a rainbow baby present. It is brightly coloured and simple in its design. It also makes for a great gender-neutral gift.
Snugglepot – The Snugglepot print is a great Australiana themed print based on the May Gibbs books and is one of our Australian floral prints.
Floral Gumnuts — A beautiful print for a beautiful baby girl present. The floral gumnut is a stunning and bold print perfect for any baby girl.
Kangaroo – Our Australiana animals and kangaroo baby hampers are one of our most popular sets. It's a stylish and unisex set that can be given for any occasion.
Online, Collection or Delivery
The bub and mum hampers are one of the many online baby hampers we offer. We also provide delivery throughout Australia. And you are also welcome to visit us in our Perth-based gift shop.
We hope you love our bub and mum gift sets. And if you would like to change the configuration or make your own hamper please contact me.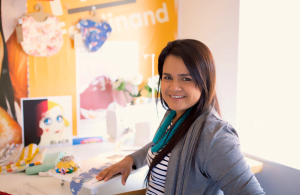 This article was written by Luisa Figueroa. She is the maker, designer and owner of My Little Love Heart baby gifts and accessories.