So you are you ready for your first big outing with your newborn, yet unsure what to pack? Well, we have compiled the ultimate nappy bag essentials checklist.
I've only included items that I've found beneficial and used myself. Some items may not be appropriate for you depending on the age of your baby. Some of these items you should have already. Especially if you have read our newborn baby essentials list.
For ease, we have broken these down into five sections. Changing, feeding, safety, general, and items for you.
Changing
The main reason for having a nappy bag is for changing on the go. And to be able to change nappies anywhere and at any time.
Nappies — Nappies should be the staple of any nappy bag. We recommend fitting as many of these in as possible. Try to keep at least four new nappies in your bag at all times. This is one item you don't want to be running out of.
Nappy rash cream – This will be a well-used item as it will be used during every change. You should only need a small tube and our preferred brand is Sudocrem.
Wipes — We always had 2 small packets of baby wipes packed in our bag. They are compact and fit nicely and were readily available from the local supermarket. Our preference was the Huggies unscented type. However, if you are an eco-friendly option our baby washcloths are a great alternative.
Biodegradable bags – You can buy these from any supermarket chain. As we are an environmentally friendly brand we strongly recommend using biodegradable bags. I picked a small roll as it can be used for a number of things. As you will most likely be passing them out to other mums too.
Change mat – Some nappy bags come with an inbuilt mat designed for changing your baby on the go. If yours doesn't, you can buy a cheap small mat which you can use for emergencies. Another option is to use a burp cloth, especially since you would have packed one for feeding anyway.
Feeding
Your nappy bag checklist should also include items that you will need to feed your baby while out and about. Here are the essential items to pack.
Formula or expressed breastmilk – How you are feeding will determine what milk you will need to pack. Also, consider who will be going out and what milk does your baby prefer. My husband would take out our daughter therefore he would take the formula and some expressed milk
Formula dispenser – If you don't have one I'd recommend buying one. Simple to use and easy to prepare. Our formula dispenser had three different chambers so we could easily mix water with the powder to make a quick and simple feed.
Bottles, nipples, and lids – If you are feeding your baby formula don't forget to add the bottles, nipples, and lids to your bag. One clean one should be sufficient unless you are planning on an all-day trip. We used the Avent brand however this will come down to a personal choice.
Water – Pack lots of water for you to make up a feed. Also if your baby is older than 6 months they can start drinking sips of water. It's also great for you to have plenty of water on hand for yourself too.
Sippy Cup – For babies older than 6 months always pack a sippy cup. You will want to keep your baby hydrated especially in the Australian summer months.
Nursing cover – If you breastfeed and like some privacy pack a nursing cover. You shouldn't need to go out and buy anything specific. A swaddle, muslin, or burp cloth will do the trick.
Feeding Pillow – Although this won't be able to pit in your nappy bag you can easily store it in the bottom of your pram. We stock the Feeding Friend nursing pillow which is self-inflating and compact. 
Bibs – As you know feeding can be messy so I always put 2 bibs in my nappy bag. I'm very biased because I recommend using our brand of bibs. They are adjustable, Australian made, superior quality, and made by me.
Food – For older babies, you will need to pack food. I won't go into specifics in what food to pack as each baby feeds differently and at a varied age. We did however used a thermos to keep her food warm.
Spoon – We always kept a spoon in the nappy bag. The spoon we had would change colour when based on the food's temperature. This way we could tell if the food was too hot.
Snacks – We always put a few different types of snacks in our nappy bag. Depending on your baby's age and taste buds you could include items like rice cakes, rusks, or biscuits.
General
Some items we have included could be considered nice to have while others would see them as essential. This will come down to personal preference.
Dummy – First up you could consider packing an extra dummy if you baby used one. We suggest the Natursutten range of dummies as they are made from 100% rubber and are both environmentally friendly.
Dummy holder – For babies that use dummies putting a spare dummy holder in your nappy bag isn't a bad idea. We recommend the Basics range of dummy chains that have been tested and approved to Australian Standards.
Change of clothing – Recommend for any nappy bag, a change of clothing for your baby is a must. There will be times when the nappy leaks, milk is spilled, or generally gets dirty. These are the times when you will need the extra set of clothing.
Socks- As well as a change of clothes I'd recommend packing an extra pit of socks. Keeping your baby's feet warm, especially in winter should be a priority.
Blanket – In the colder months, you may want to pack an extra blanket. However, you might not have enough room in your bag. Therefore, best to put this at the bottom of your pram.
Entertainment- Once again, you may be short of space in your nappy bag but it is important to keep your baby entertained and using their motor skills. Things like toys, books, sensory boards, crayons, and paper can all be kept in the pram if you don't have enough room.
Teething ring — If your baby is older than three months pack a teething ring. We hand make a range of teethers that have been tested and certified to Australian Standards. They are also ideal as small stand-alone toys.
Burp cloth – The burp cloth will have multiple uses. In addition to burping your baby, it can be used for covering when feeding, used as a changing mat, and for cleaning up any mess. You will only need one for your nappy bag and we suggest our handmade burp cloth.
Safety
You should always be prepared for those thrills and spills. That's why we have included some items to keep your baby safe in our nappy bag essentials list.
Sun protection- It always amazes me how many babies I see being held in direct sunlight on a hot Australian summer day. Must-have items to be included in a nappy bag list to protect them from the elements include a muslin wrap and a hat. However, the best option is to keep them in the shade out of direct sunlight and its harmful rays.
Hand Sanitiser- Keeping those germs away can be difficult. Therefore, keep a hand sanitiser in your nappy bag. This is especially helpful after a messy nappy change.
First-aid kit — As your baby grows up they become more active and get more scrapes and bruises. A small first aid kit with the basics is all you need. St Johns ambulance offers a small portable one kit which is ideal.
Items for you
So you have packed everything you need for your baby but how about you? Here are some suggestions on items you made to include in the nappy bag list.
Spare top for mum — First off you should include a spare top for yourself. If your baby is getting messy you will too. Having a change of tips will help you not smell like baby vomit.
Tissues — Whether it's for yourself or to clean up around you, tissues will be used on every outing. Wiping away boogers or cleaning down tables they will have a hundred and one uses.
Change – Although these days we use cards to pay for almost everything it's always handy to have some cash handy. Especially should you forget to take your card and in dire need of a coffee fix.
A snack for yourself — Being a new mum can be busy. However, it is equally important to look after yourself. Having a little snack tucked away can do wonders for your energy and mood.
Bottle of water – It's important to keep yourself hydrated, always pack a bottle of water with you wherever you go.
Maternity pads — Always keep extra maternity pads in your bag. This way you will have them when you need them.
Breast pads – After feeding and if you are prone to leaking, I recommend that you pack a pair of breast pads. I preferred the reusable style and there is a large selection of brands to choose from.
Nipple cream – Again if you are breastfeeding pack a small tube of nipple cream. This will help ease the soreness of feeding. My preference was the Lansinoh brand however you will have your own.
I hope this list of nappy bag items is helpful. What you pick in your bag will depend on your lifestyle and your baby. If there is something that you feel should be on the list please reach out. I'd be happy to hear from you.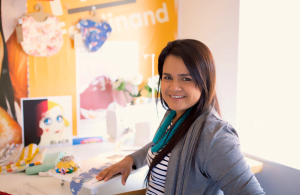 Luisa Figueroa – Designer Profile – Owner, designer, and maker of the My Little Love Heart range of baby products. I am a mum of one and have been working within the fashion industry for over 15 years and specialising in baby accessories for the last 5. My love of fashion has enabled me to work and study around the world.