When it comes to natural teethers for babies its important you choose a safe and natural option. Shop our range of teether our comprehensive blog below!
Below is further information on teething and the type of natural teethers for babies we offer
. We do stress that you should see a doctor at any sign that your baby is in discomfort. What you may think is teething could be something more serious. So please seek medical attention straight away.
What is teething
It is the process when the first teeth, often called the milk teeth or baby teeth emerge through the gums. For a more detailed explanation please read this
Wikipedia article
.
What are the first signs of teething?
Some babies don't show any symptoms while others have a painful experience. Some early signs of teething can be as simple as your baby pulling on their ears or chewing on their fingers. More common signs can be mood changes where your baby becomes more irritable and cranky. They may also have swollen gums and an increase in chewing. You may find your baby is dribbling and drooling more and may have a mild fever. Also, their sleep patterns may change causing restless and sleepless nights for everyone.
When should I give my baby a teether?
The age when teething starts will vary for each baby. Your babies first tooth can start coming through from as early as 3 months. There is no harm in giving them a teether at this age. Most babies have a full set of their first teeth by 30 months.
Natural Teethers for Babies
All parents have a different preference for what they choose to give their baby for relief. As a parent myself, I decided to give my daughter natural and organic
teether
. It was important that she use natural products instead of plastic toys. So, when I started my
baby shop
it was only natural to start making and including our teethers. We hand make
two types of wooden teethers
. These are the bunny and love heart styles. Both of which have
been tested
and approved to Australian Standards.
Bunny Style
The
bunny ear teether
is a stylish and organic option made up of a wooden ring and fabric. The fabric
is cut
, sewn, and presented in a bunny ears shape. The ears help the baby grip while they chew on the ring.
Love Heart Style
The
Love Heart style
uses the same wooden ring as the bunny complete with a cotton fabric heart shape. The heart also helps the baby hold onto the teether.
Materials used in our wooden teethers
These
are made
from several parts including;
Ring- The ring we use is a 65mm beach hardwood ring that's designed for teething. It's coated with natural Australian beeswax.
Bunny Ears- The bunny ears

are made

with a cotton fabric front and cotton bamboo mix backing. It is sewn together using cotton thread.
Love Heart – The love heart

is made

with two cotton pieces cut into a love heart shape. This also has a wadding material inserted to keep the shape. Once again a cotton thread

is used

to close up the heart shape.
All the materials used in these teethers are organic, natural and
eco-friendly
. Making them the perfect teether for your baby.
Other Teething Toys
There is a range of other non-wooden teethers on the market.
Below is a sample of a few;
Natursutten Teether- As a stockist of Natursutten dummies we are a huge fan of this brand. Although we don't stock the Natusutten teether they

are made

from 100% natural rubber.
Sophie la giraffe – One of the most recognised products on the market. Sophie the giraffe

is made

in France and made up of 100% natural rubber. The paint used is also a 100% natural rubber and uses natural pigments for color. Due to its huge success, they have released a variety of different versions.
Panadol ring – This is a very popular remedy as it comes free in the bounty bag you received at the hospital.
Oli and Carol Teethers

 – Oli and carol handmake a range of teethers from natural rubber. These are in the shape of fruits and vegetables.  They are 100% organic and also double as a bath toy.
Glove and mitten – You may wish to try the teething glove. These are cotton gloves with a silicone shape on the bottom designed for the baby to chew on.
Banana teether and toothbrush – A novel idea is a banana-shaped toothbrush. A toothbrush and teether in one.
Other options to assist teething that arent a toy
Here are some other teething options if you don't want a toy. Once again, please consult a doctor or dentist if you think your baby is teething. It's important to receive proper medical advice.
Organic Washcloth – This natural remedy includes an item you may already have. Make sure the baby washcloth has

been washed

first. Then wet and place in the fridge to cool. Then let your baby chew. Once your baby has finished using it for a teether the washcloth can

be used

in the bath.
Massage – I love the idea of massaging your baby's gums. Make sure your hands

are washed

and

gently

massage their sore gums.
Popsicle – If you are feeling inspired make your own popsicles. This can let your baby teeth and eat at the same time. This is a great way for you to experiment with various foods to see what your baby likes.
Mesh Feeders- Another natural way is with a mesh feeder. Think of it as a net through which the baby can suck juices. This is ideal for a baby who hasn't started on solids. It can

be filled

with breast milk, formula, or frozen fruits.
Biscuits- A biscuit is something you can make at home and know what ingredients have

been used

. When baked they create a hard rusk which the baby can chew on. This aids in the development of both teeth and gums.
Teething options to stay away from
Recently it has come to light that some remedies are not as good as they seem. Two popular options that we would stay away from is the gel and amber necklace.
Amber Necklaces — Another product you stay away from is amber teething necklaces.

Potentially

, this could be a choking hazard so this is the main reason why we don't stock them.
Are wood teethers safe?
Yes, wooden teethers are safe, provided they meet or exceed the relevant safety standards
. In Australia, the mandatory standard for teethers is AS/NZ ISO 8124.1.2002
Safety of natural teether toys
There is a range of devices on the market so the first thing you should check is if it's
been tested
and approved to AS/NZS ISO 8124.1.2002
. This is a
Mandatory Australian safety standards for toys
. It goes into great detail on the requirements, testing methods, and labelling guidelines. As this is a mandatory standard in Australia they must
be tested
and certified to be compliant. If in doubt ask the retailer or manufacture for a copy of their certification.
Why do babies drool when teething?
One of the most notable side effects is that your baby may dribble more than usual. This is because the babies' teeth are getting ready to push through the gums. There's a lot more saliva and bacteria around the mouth, neck chin, and cheeks. So try to keep the area as clean as possible. It also helps to keep your baby dry. Use a good quality dribble bib and change
regularly
.
Conclusion
We hope this has been helpful in learning about teethers. Please see your doctor or dentist at the first sign that your baby is teething.
Also, any toy should
be used
under strict adult supervision and must meet Australian Standards
. The baby should never
be left
alone while using any of these items.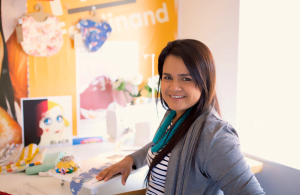 Written By: Luisa Figueroa – Designer Profile
Owner, designer, and maker of the My Little Love Heart range of baby products.
I have been working within the fashion industry for over 15 years and specialising in baby products for the last 5
. My love of fashion has enabled me to work and study around the world.