We are proud to be a stockist of the Natursutten range of pacifiers in Australia. We offer the original shield, in rounded and orthodontic styles in Small, Medium and Large.
This range is environmentally friendly, biodegradable and made from 100% natural materials. To learn more about the benefits, styles, production and care instructions see below;
Benefits of a Natursutten Pacifier
There are many benefits to using this soother. These include;
Made from a single mould, so no grime and dirt can get stuck in the cracks.
Incredible strong and tested with a stretch test.
Environmentally friendly.
Safe and meets Australian standards.
Biodegradable and made from 100% natural rubber.
Made to follow the baby's mouth movements and not leave a mark on their face
Don't use artificial colours and chemical softeners
They are free from hormone-disturbing substances including PVC, Phthalates, and Parabens
Sizes
In Australia, we stock the three most common sizes. These are the small, medium and large.
Small — For Newborns from 0 to 6 months. This has Monkey on the packaging.
Medium — For babies 6 months to 12 months. This has an Owl on the packaging
Large — For 12 months and over. This has a Turtle on the packaging
Shields
The shield is the part of the soother that will gently touch the baby's nose. This has been designed to simulate breastfeeding. In many dummies, the shield and nipples are made separately. And then joined together while the Natursutten pacifiers are made with one single mould. Making sure there are no cracks or joints for dirt and bacteria to sit in. They make two types of shields, the butterfly and the original. In Australia, we only stock the original shield.
Styles
In Australia, we stock the two most common styles. The rounded and orthodontic styles. The style refers to the shape of the teat. The rounded style has a round shape while an orthodontic dummy has a rounded top and flat bottom.
Round pacifier vs orthodontic
Each baby is different. Some newborns take to the orthodontic while others prefer the rounded. We suggest buying one of each to see which the baby prefers.
Production
To produce the natural rubber dummy the rubber seeds are grown for approximately 18 months. It is then grafted and planted on a plantation where it's left to mature for 7 years. After which it is tapped and the white liquid latex is collected. Every second day this process is completed until one side is finished. The alternative side of the tree is tapped with the liquid being shipped to Italy. Natursutten uses Malaysian rubber plantages. These are government-owned and controlled by the Malaysian Rubber Board.
Packaging and Production
Soy ink is used during the printing of the packaging. And different colours are used to identify the types of pacifiers. The rounded dummy comes in a mint green box while the orthodontic dummies are in a purple box. The Manufacturers have minimised the use of their packaging. Please see the instructions on the inside of the box for safe use.
Care Instructions and first use
Please see below for care instructions. This includes the first use and ongoing care. Note, that they should not be sterilised using a sterilising machine or dishwasher.
Before first use, you should sterilise them by;
1. Boil a large amount of water in a pot.
2. Keep the water boiling and place the pacifier in the water for 5 minutes.
3. Ensure the soother does not touch the bottom of the pot.
4. Remove from the boiling water and let cool. Don't let it cool down in the boiling water. Or don't boil again.
After which it should be cleaned daily under running water using a mild liquid soap.
The Naturesutten soother has a life span of 6 to 8 weeks. After which time it should be discarded and replaced. If it gets used for too long it will go darker in colour and may become sticky. If it shows signs of peeling please discarded it straight away.
Safety
The Natursutten range of pacifiers is safe to use. They have been tested and approved to meet Australian Standards. In the United States, they follow all standards set by the Consumer Product Safety Improvement Act. While in Europe, they are manufactured in accordance with EN 1400.
About the Brand
We are an official global brand retailer in Australia.
They are an environmentally friendly company. All their dummies are made in a family-run factory in Italy and designed and tested by ConsumerLab in Denmark.
Their designs and manufacturing are sustainable and aim to create zero waste. They aim to use 100% renewable energy and reduce their carbon footprint. This buyer's guide gives a good overview of the products and brand.
Warning
You should always inspect this item before each use and do not leave your baby unsupervised when they are using this product. Do not tie the pacifier around the child's neck as it presents a strangulation danger.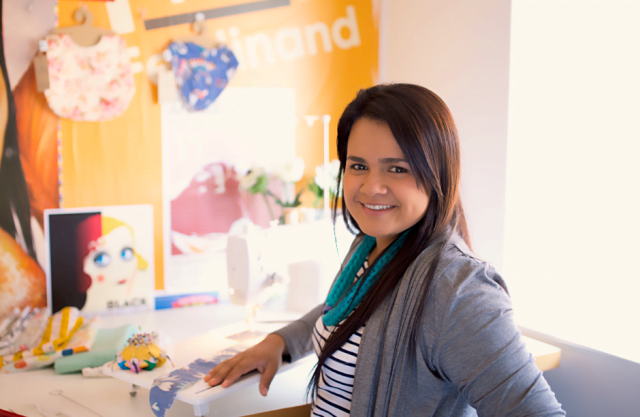 This article was written by Luisa Figueroa. I am the owner, designer, and maker of the My Little Love Heart range of bibs and baby products. I am a mum to a beautiful daughter Natalia. I've been in the fashion industry for over 15 years, specialising in baby accessories for the last 7. My love of fashion has enabled me to work and study around the world.