Whether you are buying for yourself or for a friend we have a selection of unisex bibs that you will love.
All our gender-neutral bibs are made with a cotton front combined with an absorbent and soft backing. This backing is made out of a cotton/bamboo mixed material which is ideal for newborns and toddlers alike.
Print Selection
Our current range of unisex prints includes the following designs. Our unisex plain colour bibs include black, sage, burnt almond, mustard, aqua, grey, and indigo. We have two animal prints which are the Koala and Kangaroo designs. Finally, we have a selection of unisex patterns including the leaf, abstract, feathers, rainbows, circles, spots on gold, eucalyptus, navy stripes, crosses, and black and white stripes.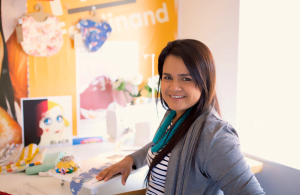 Luisa Figueroa – Designer ProfileOwner, designer, and maker of the My Little Love Heart range of baby products. I have been working within the fashion industry for over 15 years and specialising in baby accessories for the last 5. My love of fashion has enabled me to work and study around the world.