When thinking of a gift for a baby shower there are endless possibilities. There are some items that you shouldn't bring to a baby shower. Here is a list of these and a brief explanation of why it's best not to give them.
Stuffed Toys and Animals– I have read lots of forums and mum notice boards, as well as my own experience as a mum. And stuffed toys and animals were high on the list of unwanted gifts. Due to the amount of space they take up and their age appropriateness. A newborn won't be able to play with a toy for at least 6 months.
Dummies – This is an item that's left for the parents to decide they will give to their baby. Some will choose from day one that they won't give a dummy to their newborn. The only exception is if they have added it to their registry. Then be sure to buy the specific brand they want.
Pacifier Clips – For the same reason as dummies. You don't know if the new parents will choose to use a dummy with their newborn or not. So giving dummy chains could be a waste of money.
Nappies – All babies will use nappies. But there are many different types. The two main styles are reusable and disposable. Some parents will opt for using reusable nappies while others disposable ones. So unless you are certain about the type the parents want, stay away from buying nappies.
Gift Vouchers – Some parents love a voucher as a gift, while others find a gift voucher impersonal. We have an article on the benefits and disadvantages for you to make up your own mind.
Second-Hand Items – No one likes to receive other people's gifts. And especially for a newborn. The only exception would be if it's for sentimental reasons. Like a rattle that one of the parents had as a child.
Breastfeeding Accessories – If you are unsure if they will bottle feed or breastfeed. It's best not to buy breastfeeding accessories. Things like breast pumps can be expensive and may sit idle. Some accessories like reusable breast pads are fine. Because they will be used wether the mum to be breast feeds or not.
Formula and Formula Dispenser – Like breastfeeding accessories, don't buy anything relating to formula. Unless you know the mums' plans.
Shop the Register – Parents put a lot of time and effort into setting up a baby gift registry. They have done the research and know what they want. And for that reason, you should buy off the registry. This way you are guaranteed they will love the present you give.
Nursery Decorations or Wall Art – Parents plan out their baby's nursery well in advance. And know the theme or style they want to achieve. So we recommend not buying wall art or nursery items. Unless they have pointed out that special nursery bunting they have to have!
Age-Appropriate Items – When buying for a baby shower make it age appropriate. The gift should be something they will use within the first three months. For instance, a black and white book for a newborn would be good while a push bike wouldn't be.
Weather Appropriate – Consider the climate when buying the gift. In Australia, the summers get extremely hot. So a baby born in November won't need any 0000-size newborn winter clothes. Likewise, a baby born in winter won't need summer clothing.
Living Arrangements – Another consideration is the recipients living arrangements. Giving a gift of a ride-on truck to a family that lives in a 5th-floor apartment isn't appropriate.
Loud and Bright Toys – When gifting for a newborn, don't buy toys that make lots of noise and flashing lights. Baby shower gifts should be practical. While loud toys are a disruption.
Shoes – Personally I don't have a big problem with people gifting shoes. But after scrolling through mum forums and online communities, this was the number one unwanted gift. It could be a sizing or style issue but many parents warned against giving shoes for a baby shower present.
Lots of Plastic – Giving gifts made with or packaged with lots of plastic is a no-no. You should be looking for and buying eco-friendly and organic baby gifts. The parents-to-be will thank you for it!
Clothing made with course materials – Newborns' skin is very sensitive. So don't buy gifts that will scratch or irritate the baby.
Hard to maintain clothing – Since we are on the subject of clothing. If you are buying clothing, make sure it can be machine washed and dried. This goes for items like bibs, sheets, burping pads, onesies and anything made from fabric. The parents have enough to do. And hand washing and drying individual garments isn't on their priority list.
Feeding accessories needing to be washed by hand – Once again, new parents are busy. And the last thing they need is to wash baby feeding products by hand. You should make life easier for them by buying items that can go on the top shelf of the dishwasher. Like these feeding sets.
Glitter – Don't bring anything with glitter. Glitter is the bain of any parent. Even if you are careful it is guaranteed to go everywhere. Making it a nightmare for tired and busy parents to clean.
Ball Pit – We recommend not buying a ball pit as a baby shower present. Not only does it take up a lot of room, but it can be very messy and not age appropriate. Plus it takes the fun away from the baby when they go to play centres.
We hope you have enjoyed reading our thoughts on which baby gifts you shouldn't bring to a baby shower. It should be noted that every parent is different. Something that one parent might not like receiving will be loved by another. If you feel we have missed something from the list. Or believe we need to add other things. Please get in touch with us and we will update the article.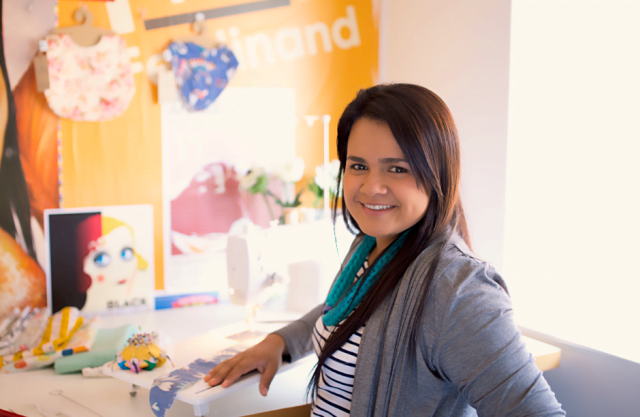 This article was written by Luisa Figueroa – Owner, designer, and maker of the My Little Love Heart range of baby products. I have been working within the fashion industry for over 15 years and specialising in baby accessories for the last 5. My love of fashion has enabled me to work and study around the world.