A few weeks ago I received a call to take my expectant neighbour to the hospital. On arrival at her house, I mentioned grabbing her hospital bag. I was surprised when she said she didn't have one. Saying she wasn't sure what the hospital bag essentials were. So I remember a previous Instagram post where I asked my followers "which three things would you recommend to pack in your hospital bag". The results were surprising so with my first-hand experience and their feedback I wrote this article.
This post includes everything you will need for the hospital bag for mum and baby. I have also included some general questions to assist. If you have read our baby essentials blog post you will be familiar with many of these items already.
When to pack hospital bag
You can start researching what to pack in a hospital bag from 20 weeks and start getting everything ready from 30 weeks. You should be finalised and ready to go at 34 weeks. Although, it doesn't hurt to get everything ready sooner as your baby may come a early.
How many do I need?
It's advisable to take two bags with you to the hospital. The first to keep all your items while the second has all the babies. Ideally not large bags as you will be leaving the hospital with a lot more than what you arrived with.
Hospital bag checklists for mum and baby
We have broken this down into two separate lists. What will be in your bag and what you should pack for your baby.
Hospital bag checklist for mum?
Packing a hospital bag is full of individual choices. However, there are some items that most mums would recommend. We, therefore, asked our followers; "If you could advise a first-time Mumma about the three most important things to include in your hospital bag checklist for mum" what would you say?"
Here is a checklist of some of the recommendations;
Grandma Undies — Virtually everyone recommended these. Make sure you pack a few pairs and the older the better.
Pajamas — There were lots of mentions for pajamas. Whether they are loose-fitting or a top and bottom set make sure they are comfortable. One consideration is a nightgown or loose shorts and a nursing singlet. You never know if you're going to have a cesarian and baggy shorts make it easier if you have a catheter.
Dressing gown or robe — These were another popular item for people's hospital bag checklist. Hospitals can get a little cold so best to pack a comfortable rob or dressing gown.
Footwear — We would suggest wearing the slippers or ugg boots to the hospital so you aren't packing any more than you need. Make sure the footwear you choose to take is easy to put on and don't bring any shoes which will need to be tied up.
Maternity pads — Make sure you pack a lot of maternity pads. This is the one product that I didn't pack enough off and had to send my husband out to buy. The bigger size the better.
Adult diapers — Although I didn't use the adult diapers a lot of Mums have suggested them. Specifically the "Depend" brand so worth packing some just in case.
Lansinoh nipple cream — This cream is used to help prevent and treat dry skin. They should be used in conjunction with the breast discs.
Breast Discs — I used the Hydrogel breast discs that had been pre-cooled in the fridge prior to use. This helps relieves the pain of cracked and sore nipples from breastfeeding. Another mum suggested the Multi mams rather than hydrogel discs. This was because they don't have to be washed off before breastfeeding like hydrogel disks.
Breast pads – If you choose to breastfeed make sure to pack a few packets of reusable breast pads. You shouldn't have to go out and buy them, especially for the hospital as they should already be on your baby shopping list.
Snacks and drinks — Although the hospital provides food and drink it's a good idea to take a little extra. Items that would be easy to carry, won't go off and tied you over until mealtimes are perfect. For drinks, if you have a special favourite drink or beverages that contain electrolytes is a good option.
Phone, camera, and charger — Your phone will be the last item you pack in your hospital bag however it will be the most important. Make sure you include an extra-long charger and have plenty of memory on your phone. You may want to bring a camera too however there's a good chance it won't make it out of the hospital bag.
Perineal bottle — After birth, you may want to use a perineal bottle for cleaning and soothing the perineal area.
Self Care Products — To make you feel a little more human you may want to pack some self-care products. This could include a little makeup, hand moisturiser, face wipes, hairbrush, body wash, and wet wipes.
Stool softener — The hospital may offer this to you however best to take a stool softener with you just in case. Or you could ask in advance. The stool softer will help you pass your first solid.
Entertainment — Make sure you have enough entertainment to keep you going during your stay. Your phone or tablet should do the trick. However, whether it is podcasts, radio shows, music, or Netflix make sure you pre-download them before leaving the house. Wifi and signals can sometimes be unreliable.
Cards, Documentation, and journal — Remember to take your Medicare, private health insurance, and credit card with you. Also, bring any documentation like your birth plan and your baby journal book. You will be able to write your birthing story while it's fresh in your memory.
Thank you card and treats —  Not essential but a nice touch. Over your stay, you will get to know the nurses and midwives well so a little thank you treat to them won't go astray.
Hospital bag checklist for baby
Hospitals in Australia provide most items for your baby while you are giving birth under their care. Therefore, you don't need to pack a lot for your baby. However, here is a checklist of the what to pack in your hospital bag for baby.
Going home outfit — Not essential however you may want to dress your newborn in an outfit for the first time they arrive home.
Onesies — Pack 3 or 4 onesies as your baby will spend a lot of time in them. Choose a combination of long sleeve and short sleeve options depending on the weather.
Singlets — Every newborn hospital bag list should contain singlets on them. You can pack 4 of these as they will be useful in both cold and warm conditions.
Socks — Not only are they cute they are great for keeping newborns warm and comfortable. One pair of socks will be enough for the stay.
Beanie — Keeping a newborn baby's temperature regulated is important. You don't want them to be too hot or cold and a beanie can warm them up.
Mittens — Not only do mittens help the baby keep warm, but they also cover their nails. This prevents them from accidentally scratching themselves. One set of mittens will be fine.
Swaddle or blanket – A blanket or swaddle will help them sleep and make the baby more comfortable. A single blanket or swaddle should be packed in your bag.
Cloth nappies – If you aren't using disposable nappies and have a preference for cloth or modern cloth nappies make sure you pack a large supply.
Car Seat — Technically you won't be able to put this in your bag however a car seat must be correctly fitted into your vehicle before being able to take your baby home.
How many outfits should I bring for my newborn?
You should pack 3 days worth of clothes for your baby for its stay. This should include 3 onesies, 3 singles, 1 pair of mittens, 1 beanie, and 1 pair of socks.
What do babies wear home from the hospital?
What you choose for your baby to wear home from the hospital is your decision. If you would like to dress them up for their first big outing it's your choice. I however would suggest a simple and comfortable bonds wondersuit if the weather permits. Whatever you choose make sure it is suitable for the climate. You want to keep your baby warm but not overheat them.
What should you not bring when having a baby?
There are a few things that are best left at home. These include;
Cute clothes – Don't bring lots of cute clothes for your baby. If you want to dress them up for leaving the hospital or photos select one nice outfit to bring.
Disposable nappies – The hospital will provide you with disposable nappies for your baby during their stay. However, if you plan to use MCN (Modern Cloth Nappies) or cloth nappies bring these.
Dressy outfit – No need to take any beautiful dresses or outfits for you. You will want to be as comfortable as possible before and after birth.
Reading materials – Unless you are an avid reader, leave the novels and magazines at home.
Pre-pregnancy clothes – You won't be sliding into skinny leg jeans the day after giving birth or any of the clothes you wore before pregnancy so best not to pack these.
Lots of food – Don't bring bags and bags of food to last your whole visit. Hospitals are very generous and considering when looking after their patients so they won't let you go hungry. We do however suggest you bring some snacks to keep you going between meals.
Shoes – The number one comment on our Instagram post was comfortable footwear. Definitely bring ugg boots, slippers, or thongs but leave anything at home that requires tieing up or a lot of effort to put on.
What should I pack for birth in Australia?
What we have listed above is suitable for any hospital bag around the world. However, Australia can be a country of extreme weather conditions so you should pack appropriately. One additional item you should bring is your Medicare card.
Do hospitals provide diapers for newborns?
Yes, every hospital in Australia is different however the vast majority provide diapers for the time your baby is in their care. Note, these are the disposable type so if you wish to use a cloth or modern cloth nappies (MCN's) you will have to bring these with you.
We hope this checklist has helped you to prepare your bag for the hospital. If there is something that you couldn't live without during your visit we would love to hear your thoughts.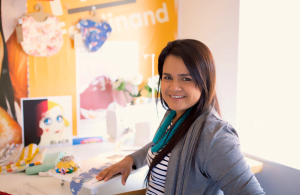 Luisa Figueroa – Designer Profile – Owner, designer, and maker of the My Little Love Heart range of baby products. I am a mum of one daughter and I have been working within the fashion industry for over 15 years and specialising in baby accessories for the last 5. My love of fashion has enabled me to work and study around the world.