Whether you are looking to make your own or choose which is the best bib to use. This guide discusses what materials are available. Keep in mind, there are many types of bibs available for a range of different tasks.
Types of Materials for Bibs
With many types of materials available for bib making we have listed the most popular ones below.
Silicone
Silicone is made by heating large volumes of sand. It can be used for many things including silicone feeding accessories. Silicone bibs are primarily used for feeding and come with an inbuilt trough.
Polyurethane Laminate
This is cotton but has been coated with polyurethane. This material is perfect to use for a waterproof layer. We use this in our nursing pads to stop milk leaking through to the mum's clothes. One negative is that any moisture or food will slide off and onto the baby.
Fabrics
The best material for baby bibs is fabric. But there are many types to choose including cotton, bamboo, and fleece.
• Cotton – Cotton is the best fabric for bibs and there are many different kinds to choose from. For instance organic cotton, plain cotton or a mixture of materials. We use all these in our range of bibs.
• Bamboo – Most have an absorbent material to capture the drool. And bamboo is a popular choice. Like cotton, there is a variety of bamboo fabrics to choose from. You can even have a bamboo cotton mix as we use on our bandana drool bibs. Bamboo is an environmentally friendly, sustainable and absorbent material.
• Fleece – Fleece is made from polyethylene terephthalate or other synthetic materials. It is lightweight and lets moisture evaporate. But it is not environmentally friendly as is made from non-renewable resources. It also needs extra chemicals to coat the fabric. Stay away from this material as it's not as eco-friendly as cotton or bamboo.
Thread
When making or choosing bibs the thread isn't the first thing you consider. But it is important. A good thread will keep the bib from falling apart. And this is why we make all ours with Gutermann cotton thread. We find this easy to work with and high quality.
Types of Fasteners for Bibs
There are many types of fasteners to choose from. The most popular ones include;
• Velcro – This is a common fastener normally found on cheaper items. These are attached to either side and joined together to keep the bib in place. The main problem is that Velcro loses its stickiness. And the baby learns quickly how to remove the bib, making them useless.
• Plastic Fasteners– These are found on the majority of bibs. They are a KAM fastening system and work like a clasp. As they are made from plastic be careful not to iron them. This is covered in more detail in our Care and Maintenance of bibs article.
• Metal Fasteners – These are based on the same snap fastener design as the plastic type. But made from steel. They aren't very popular as they are overkill. Especially since the plastic KAM snap fasteners do such a good job.
• Draw String – You may find a drawstring on vintage-style bibs. We don't recommend using string or cord as this increases the risk of strangulation and choking. Read our article on safe bib practices for more safety tips.
Best Materials for Bibs
The best material to use for bibs is fabric. This is easy to use, eco-friendly and sustainable. Fabric bibs are also absorbent and easy to wash and maintain.
Whether you make your own or are researching materials and sizes for when you buy bibs. We hope this article has helped. If you have any questions please feel free to contact me.
This article was updated in May 2023 to include additional information on the best materials to use.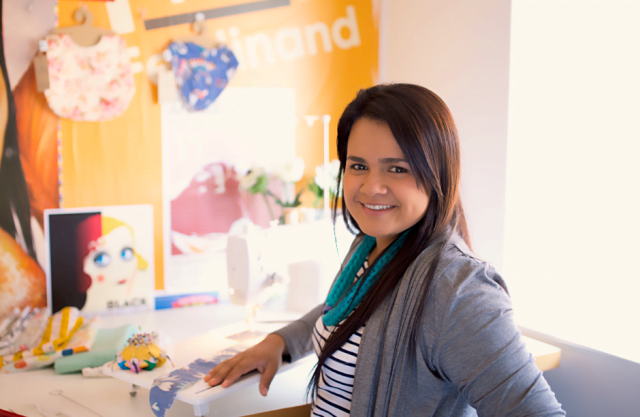 Luisa Figueroa – I am the owner, designer, and maker of the My Little Love Heart range of bibs. I am a mum to a beautiful daughter Natalia. I've been in the fashion industry for over 15 years, specialising in baby accessories for the last 7. My love of fashion has enabled me to work and study around the world.