Luisa
Figueroa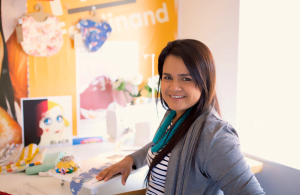 — Owner | Chief Designer
From a very early age, I was always into fashion, always dressing up in several outfits every day. However, it wasn't until later in high school that I decided I would like to make a career out of it. After graduating high school I went on to study fashion design at Arturo Tejada Cano where I continued to gain experience in the world of fashion.
Following on from these studies I gained traction in the fashion industry by obtaining clients who commissioned me to make wedding and cocktail dresses. For several years I was making special event dresses and decided to study abroad and moved to France. Here I studied fashion marketing at Supdemod Fashion Design & Business School in Lyon, France. After four years in France, I wanted to increase my language and decided to learn English. I felt that this would assist me to progress in the fashion world and would complement my Spanish and French. To learn English I moved to Perth, Australia and continued my studies at North Metropolitan TAFE where I studied interior design, continuing with my creative flair.
Perth is where I settled and met my now-husband Mark where we have our daughter Natalia. Early on in Natalia's life, she developed reflux where she would have painful and large vomits after feeding. We found we were going through so many bibs and burp pads yet couldn't find any decent ones. This was the moment that I knew I had to make my own absorbent burp cloths and My Little Love Heart was born. I decided to combine my love for fashion with the need to have quality baby accessories and started making my own products.
The first products I developed were the organic bandana drool bibs and even to this day, it remains my favourite and most popular product. After extensive testing, I started making additional products for Natalia and her friends and soon found myself in markets and expos. I am passionate about bright and vibrant colours and I feel it should be celebrated amongst the styles our little ones are adorned in. Where I am from Colombia, South America, we celebrate colours in all aspects of our culture and life. This along with a background in fashion design; complement my passion for new trends and styles.
I love to share my knowledge on anything baby-related. I have published many in-depth articles on bibs, baby shower presents and newborn baby essentials. I have also been published as an Author on Mamamia and been quoted in Prospa. I have found that tertiary education, both locally and abroad has brought me a wealth of knowledge. In addition to the technical experience, with over 15 years of practical and work-related experience, I have been able to apply this expertise and incorporate it into My Little Love Heart and the baby industry in general. It gives me great joy to be able to say that the products are handmade here in Perth, Australia.
More recently we opened our baby gifts shop in East Perth. Here I am able to make the products and have a place for my wonderful customers to come and see and touch the quality and selection of designs.
Thank you for spending the time to read about our journey.
x
Luisa Figueroa