Shop our absorbent and stylish bandana bibs. Handmade in Australia using organic and eco-friendly prints for boys and girls. See our selection or learn more below;
What are Bandana Bibs?
Bandana bibs, also known as drool or dribble bibs are a cloth material worn around a baby's neck. They are a triangle shape with adjustable fasteners that are situated at the back of the neck. The purpose of the dribble bib is to keep the baby's clothes and skin dry.
Benefits of Dribble Bibs
There are many benefits to this type of bib. The main benefit is to stop drool from wetting the baby's skin. Which helps prevent drool rash. They also keep your baby's neck warm and stop drool from wetting their clothes. Reducing the amount of washing.
When to start and stop using them
Babies start to drool at an early age, but more so when they start to teeth. This is around the 3-month mark. And you will get the most use from the dribble bib at this age. But you can start using them straight after they are born. And are suitable for up to two years. All our bibs have two adjustable fasteners. So it can be increased in size as the baby gets bigger.
Difference between bandana bibs and other types of bibs
With so many types of bibs on the market it's hard to choose which bibs to use. And people ask us what's the difference between a dribble bib and other styles. Well, a dribble bib's main focus is to keep your baby dry. Especially when teething. While other bibs have different uses. Below we outline other types and what they are used for.
Other Types
In addition to these, there are many other types of bibs. These include;
Newborn — This bib is designed specifically for a newborn baby. It's a flat bib with no pleats. And the fasteners are on the side of the neck rather than the back for easy access.
Toddler — The toddler bib has a large front that is suitable for messy eaters and great for playing in. Its main use is to keep your baby's clothes clean.
Special Occasions — Whether it's a first birthday, christening or another celebration, the boho style bib is the perfect bib for a special occasion.
Smock — A smock bib is made from plastic and is long sleeve. Primarily used during feeding it's also good to use when your baby is painting or doing arts and crafts.
Feeding — This style is made from silicone and has a trough to catch dropped food. An ideal bib for toddlers learning to feed themselves.
Teething — Picture a normal dribble bib but with a hard triangle piece of silicone on the tip. This is what a teething bib looks like. The idea is for the baby to chew on the silicone while wearing the bib.
Binky — This is similar to a teething bib but instead of the silicone tip, it has a connection for a dummy.
Best Bibs for Drooling
With so many types of bibs available it's hard to know which is the best bib for a drooling baby. But after trying many ourselves with our daughter. And listening to customers' feedback. The bandana type is the best to use. This style has been developed to capture as much drool as possible And our range has extra features to ensure that your baby is kept dry and comfortable. 
Do you need them?
Yes, you will need these dribble bibs to keep your baby dry when they spit up and drool. But they also reduce the amount of moisture that soaks through to their clothing. In turn, it reduces the amount of washing you will need to do. And in winter or cold days they will keep your baby's neck warm and comfortable. 
Like all products, bibs will come in different qualities. It is essential that you buy one that is high quality, otherwise it will create more work for you, and will not keep your baby dry.
Some of the things you should look for when buying a bib are;
Multiple thick layers – Drool and moisture will seep through thin fabric or bibs only made with one layer.
Snug Fit and Adjustable – Make sure the dribble bib fits snuggly around your baby's neck. Also, make sure you buy one that is adjustable. This way it can increase in size as your baby grows.
Pleats – The best bibs for dribbling and drool have pleats. These capture the drool before it falls off onto your baby's skin.
High-Quality Materials – Make sure you are buying a dribble bib that has been made with high-quality materials. Materials like cotton, bamboo and flannel are soft and absorbent.
These are the main things to look out for. Ideally, they would also be handmade, eco-friendly and Australian Made.
Benefits of the My Little Love Heart Dribble Bib
There are many benefits to choosing a My Little Love Heart dribble bib over others. Some of these are;
Quality of Workmanship — Each bib is handmade to a high quality. And inspected while making and packing. If I wouldn't be happy for my daughter to use them, I wouldn't send them to you for your baby!
Adjustable Fasteners — These will ensure the bib fits snuggly around your baby's neck. So drool won't seep between their neck and the bib.
Pleats — Ours have pleats on the front. This captures the drool instead of it soaking your baby.
Styles — We are constantly updating our styles so your baby is stylish and on-trend.
Materials — We use the finest materials available. To learn more read the section below and watch our product video;
Materials
The fabric materials used in dribble bibs will depend on which Brand of bib you buy. Ours are all made with a 100% cotton front. While the backing is a cotton and bamboo mix. Both of these materials have been chosen for their absorbent nature. And these materials are sustainable, organic and eco-friendly. We source these materials from around the world and in Australia.
The fasteners we use are a KAM-style snap fastening system. And we have added two snaps to each bib. This is so the bib can be adjusted in size as your baby grows. And our swing tags are made from recycled card and are a Kraft brown colour. This is attached to the bib through the logo with brown twine.
Made in Australia — How they are made!
Ours are handmade in Australia at our East Perth studio. We start off by measuring and cutting the front cotton pattern. Then cutting the bamboo backing. This is sewn together along with our logo. We then turn them inside out and brush off the excess materials. We then hand-sew the remaining part of the bib to close it off. At this point, we add the two snap fasteners and then iron them to keep their shape. Finally, we add the swing tag and hang it in our shop or pack it ready for posting.
Prints and Colours
We pride ourselves on keeping up to date with the latest trends and fashions. And are constantly buying new prints to give you more options. Below is our current range of designs but check back as these are being updated regularly.
Girls
 Our range of girls' prints includes Botanical, Blossoms, Floral Dream, Butterflies, Snugglepot, Floral Gumnuts, and Snowy Bloom designs. We also have a selection of unisex and plain prints below that would be suitable for a baby girl.
Boys 
The boys' designs include the Lions, Clouds, and Dinosaurs prints. The unisex and some plain colours are ideal for boys too.
Unisex 
 Our gender-neutral unisex prints include Rabbits, Rainbows, Koala, Leaf, and Bananas. Some of the below plain colours are a good unisex choice.
Plain 
 We have a large selection of plain, solid colour dribble bibs. These include Purple, Dusty Pink, Off-White, Oatmeal, Tan Brown, Mustard, Pink, Peach, Burnt Almond, Sage, Royal Blue, Grey, Sky Blue, Navy, Black, Aqua and Indigo colours.
Size of Dribble Bibs
The size of our bibs will depend on which attachment you use. Below are the measurements for each size.
Small — This is for babies with smaller necks and has a circumference of 34cm. And the dimensions of the neck width laying flat at its widest part is 10cm.
Large — The larger size is for growing newborns or babies with larger necks. Its circumference is 37cm. While its measurements for the neck width laying flat is 12cm at its widest part.
If you would like to know the sizes of all our bibs read this article.
Care and Maintenance
It's important to look after your bibs. This way they will last longer and can be used for subsequent children you may have. The My Little Love Heart range of bibs is easy to maintain.
Washing — Once you receive your bib you should wash it before use. Although we pre-wash all our fabric and keep it stored in a clean environment. And keep our work area and finished product spotless. We can't control what happens during transport and once it arrives to you. So best to give it a wash before use. Simply wash with similar colours in a gentle machine wash at 40 degrees. For more detailed instructions read our article on cleaning and maintenance.
Drying — There are two ways to dry your bibs. Either hang them out to air dry or place them in a tumble dryer. Both ways are suitable. If you tumble dry this will slightly decrease their ability to absorb moisture over time. While air drying will leave the fabric a little harder and not as soft.
Ironing – To keep your bib crisp and in good condition it is best to iron them. But make sure you don't touch the plastic fasteners with your iron as this could damage them and make them unusable. Here is a video on how to iron a drool bib.
Folding — There is no specific way to fold your dribble bibs. But we snap the fasteners together. Fold the sides in and roll neatly.
Storage — Storing your dribble bibs are easy. You can keep these in a drawer, pram or nappy bag. But it's best to keep them in a dry environment. Otherwise, if they are wet mold can grow. They will also lose their ability to absorb drool.
Removing Mold — If your bib develops black spots that's a sign of mold. Unfortunately, if this occurs we recommend throwing them away. If you do want to keep them as a keepsake you can try cleaning them by using a variety of methods.
Remove Milk Stains — If your bibs have yellow stains this is from milk enzymes. The best way to clean this is by blotting the excess milk away. Then with a soft brush clean the stain with a mixture of baking soda, dishwashing liquid and cold water. We have more detailed instructions and other options in a separate article.
Safety
There are no Australian Standards that govern specifications or manufacturing requirements of dribble bibs. So you will need to rely on your own research. The main items on bib safety is;
Adult Supervision – When wearing a bib of any style they must be supervised by an Adult at all times.
Good Fit — They should fit snuggly around the baby's neck but not too tight. You should be able to put a finger between the bib and their neck.
Absorbent — Absorbent and good quality bibs will help stop drool rash.
How to choose a quality dribble bib
Investing in good bibs is essential. It will reduce your washing while keeping your baby dry. You can tell the quality by looking for the following;
Materials Used — The type of materials used is a good sign to determine the quality. A bib that is made with a thin layer of fabric won't absorb drool as much as thicker materials. The type of fabrics used will impact quality too. Dribble bibs made from cotton and bamboo are of higher quality than plastic bibs. The materials should also be absorbent and organic.
Loose Threads and Bad Stitching — If it has an uneven or bad stitch that's an indication of poor quality. Same as if there are loose threads.
Multiple Layers — Bibs that have just one layer of material are less absorbent. Meaning drool will seep through more easily. Always look to see if they have multiple layers.
Adjustable — If the bib has one single fastener this will limit how long you can use it. Quality bibs will have two fasteners so you can adjust the size as your baby grows. The type of fastener is also an indication of quality. KAM snaps are the best, while velcro is the worst. This is because they can be pulled off easily.
Brand Reputation — Check to see if they have any online resources for you to learn more. Look to see if they've recalled any of their products. Also, read about the reviews and testimonials. And make sure they have contact information available should you need to get in touch.
Country of Manufacture — Although not always true, where are bib is made can determine its quality. We have found Australian Made Bibs to be some of the highest quality available.
Pleats — A good bib will have pleats on the front. This captures the drool like a dam rather than seeping through onto your baby's clothes and skin.
Overall Presentation — Packaging is also a good indication of quality. Items packed in plastic bags are a sign that it has been made and sent as cheaply as possible. The packaging is also bad for the environment, showing the manufacturer doesn't care about the world we live in.
How many do I need
The number of bandana bibs you need will depend on many factors. But mainly how much your baby will dribble and how often you plan to do the clothes washing. So we suggest starting off with buying between 3. and 6. This will give you enough coverage to last you a full day without having to wash. This is based on changing the bib every 6 hours. But babies should never wear bibs when they are asleep.
In addition to this style, we recommend buying other types of bibs. There are different styles for different applications so it's best to get a variety.
Where to buy them
You can buy bibs from a variety of locations. These include supermarkets, pharmacies and gift shops. But if you are specifically looking for our range you can buy these online, in our store and limited prints on Amazon.
Wholesale
As My Little Love Heart is the manufacturer of bibs we offer them for wholesale. This is available to anyone who holds a valid ABN and has an online or bricks and mortar store. This can be businesses in Australia or anywhere around the world.
We hope that this article has been helpful. We have a large number of resources on bibs if you would like to learn more.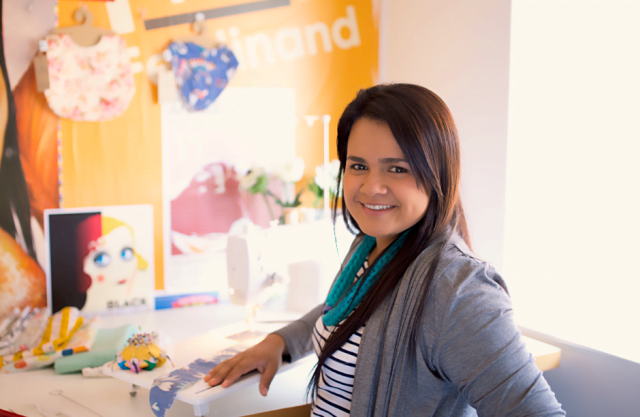 Luisa Figueroa wrote this article. She is the maker of the My Little Love Heart range of bibs and has been making a variety of styles of bibs for over 7 years.