In this article, we teach you how to maintain and care for reusable nursing pads. This includes washing, drying, ironing and storage.
Once Received
Once you receive them you should do a quick inspection. Check the quality of the product and that it is up to standard. We handmake all ours so they are inspected by a person during manufacture and once finished.
Although we prewash the fabrics for all our reusable breast pads. We recommend washing them once you receive them. And before their first use. 
Washing
These should be washed after every use. But how often will depend on how many pairs you have? If you brought a large supply you won't need to wash them straight away. But we recommend it within 48 hours. Otherwise, there is a chance mold will start to grow on them.
The best way to wash them is by rinsing them straight after use in cold water. And place them in the sun to dry. This will help reduce the smell and odour that can occur. Other ways to reduce the breast milk smell are;
Soap — The Medela quick clean soap is a no-scrub soap and is safe.
Baking Soda — Add a tablespoon of baking soda to your wash.
White Vinegar — Pour a cup of white vinegar directly into the wash.
Handwashing — Handwashing and scrubbing before placing in the washing machine.
When you do your next load add the dried pads. Use a gentle machine wash at 40 degrees c with similar colours. Never dry clean or bleach.
Drying
The My Little Love Heart range is made with cotton, bamboo and PUL materials. And is suitable for placing in the dryer. In fact, drying at high heat can help seal up needle holes in PUL Fabrics.
Your other option is to place them on a clothesline in the sun. This will save on the wear and tear of drying. Plus it's better for the environment and your electricity bill.
Ironing
There is no need to, but if you choose to iron them you can. For the best results use a cool iron on the reverse side.
Storage
The benefit of reusable nursing pads is that you can easily store them. Once they are dried and ready to put away. They can be placed in your clothes drawer, feeding station or anywhere that is dry. Don't leave them on damp or wet surfaces as this can cause mold. If you are looking to store for a long period of time place them in vacuum bags. This way you can use them with any more children you may have. Which will also save you money compared to disposable pads.
We hope you have found this article helpful and informative. If you have any questions please contact us.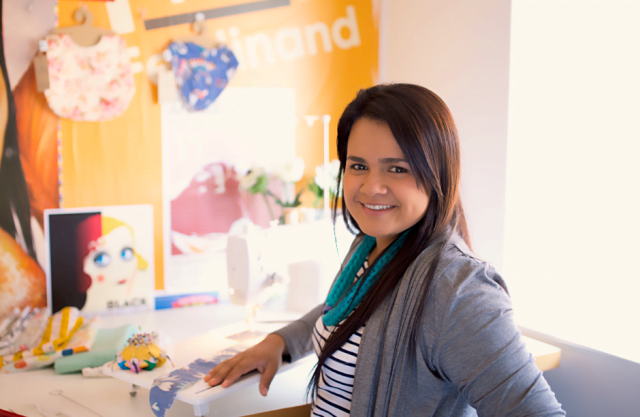 Written by Luisa Figueroa. I am the owner, designer, and maker of the My Little Love Heart range of nursing pads. I've been in the fashion industry for over 15 years, specialising in baby accessories for the last 7.