With so many different types of bibs to choose from, it's hard to know which to buy. In this article, we will discuss the different types and their uses.
The bib you choose will depend on the activity and your preference. But the various types include;
Newborn
Bandana
Toddler
Feeding
Smock
Teething
Binky
Vintage or Special Occasion
Newborn
Also known as baby or infant bibs. These are designed to keep the baby dry while feeding. They are perfect for catching spilt milk or wiping the baby's face.
The age range for this bib is from 1 week to 2 years. We find that these are the best for newborns and infants. This is because of the style, size and materials. They are made from fabric. While the better quality ones have two layers and are made with a cotton front and bamboo backing.
You should buy 4 to start off with. The amount you get will depend on how much they drool and spit up. We suggest purchasing the My Little Love Heart brand. We handmade every bib and check its quality before sending it.
To shop or learn more visit the newborn baby bib page.
Bandana
These are triangle-shaped garments that are put around a baby's neck. Made from cotton and fastened at the back. This style of bib is also known as dribble bibs or neckerchief bibs.
Their purpose includes keeping the baby's neck warm during winter. Protecting the babies' clothes and bodies from getting wet. Catching the drool, especially during teething. Preventing drool rash under the neck. And adding style to their outfit.
Babies can wear this style of bib as early as 1–2 weeks of age. And can use them until they are 2 years old. But this will depend on the size of the baby's neck. We recommend starting off by buying 3 good quality bibs before the baby is born. Once the baby arrives you can buy more if needed.
You can buy the My Little Love Heart range of bibs at our East Perth baby shop or from our online store.
To learn more read our article on bandana bibs.
Large Toddler Bibs
Toddler bibs are bigger than the standard size as they are longer and wider. They are used as a day-to-day bib that provided extra cover. These are good to use when babies start feeding. And work well protecting your baby's clothes.
We make these with a cotton front and terry bamboo backing. They have two KAM fasteners at the back of the neck. This is so the size can be increased as the baby grows.
This size bib is suitable for babies aged 3 months to 2 years. And are the next step up from the newborn bib. They are ideal if you are looking for larger coverage.
You should start off by buying 3 of this style. And when choosing which bigger bib to buy, coverage is the most important factor. Look for a bib that is wide and long. Ours measure 32cm Long x 18cm wide. Also, make sure the materials are absorbent and easily washed and dried.
Feeding Bibs
You can use any bib for feeding. The smaller ones are ok for when you are feeding a newborn. But as the baby gets bigger the messier a designated feeding bib is your best option.
This is made from silicone with a trough at the bottom to catch food. They are used from 6 months through to 3 years of age. And the adjustable neck lets you increase the size as the baby gets older.
These work well for stopping your baby from getting dirty while keeping your floor clean. We like the Little Ray Lane brand. So much so that we stock their range of silicone feeding accessories. Start with two of these as they won't be used as much as the baby or bandana styles. You can use this in conjunction with the smock bib when they want to start feeding themselves.
When looking for a feeding bib the most important thing is they have a trough to catch any dropped food. You should also make sure that they are 100% food grade and are suitable for a dishwasher.
Smock Bibs
A smock bib is a long sleeve bib made from Polyester with a thin Polyurethane coating. Its primary goal is to keep the baby's clothes clean. At around 8 to 12 months, babies like to try to feed themselves. And the smock bib is designed to protect their whole body and all their clothes.
This is used from 8 months through to 4 years of age. But it can be used for many more years, and for other activities. For example, they can be used when playing in the garden, painting, or doing arts and crafts. This style is easy to clean with a little soap and water. Or you could put them in the washing machine.
Buy two of the long sleeves Little Chompers brand. We love that they provide so much coverage and they are an Australian brand. When looking to buy a smock bib coverage is the key. Make sure these are large in size. They must also have long sleeves and an elasticated neck.
Teething Bibs
A teething bib is like the dribble bib but at the bottom, there is a silicone triangle. This is designed to give the baby something to chew on when they are teething.
Babies can start using a teething bib from 3 months through to two years. They are made with a cotton front and silicone teether connected at the bottom.
Out of all the bibs, these would be my last choice for a teething baby. I find that the weight of the silicone triangle pulls down the pleats, making the bib flat. Also, most of the teething ones have a velcro fastener that is easy for the baby to pull off. So our suggestion is to use a normal bib and a separate teething ring.
If you still would like to buy a specific teething bib Nuby make a nice selection. These come in 2 packs so buy two packs of 2. When choosing the best teething bib make sure the teether part is 100% silicone food grade.
Binky Bibs
A binky bib is popular in the United States but not so much in Australia. This is like a newborn bib but has a bit of fabric at the end where you attach a dummy. Because of this design, it needs to meet the Australian Standards for dummies and dummy chains.
This specific bib is ideal for babies that use dummies. It means that if the dummy falls out of the baby's mouth it doesn't drop to the floor or get lost.
The bib is made from cotton and has a plastic KAM fastener on the end to hold the dummy. They can be used from 3 months through to 2 years. And we suggest only buying two until you are sure you like the design and its functionality.
If you are looking to buy a binky bib the first thing to check is that it's approved to Australian Standards. It is important that the fabric holding the dummy is small otherwise this is a choking hazard. If unsure ask the manufacturer whether it's approved for use in Australia.
Vintage or Special Occasion Bibs
Vintage bibs are also known as special occasion bibs. They are more decorative and are worn for various celebrations. This could be a christening, first birthday, wedding or another major event.
This type is more about style and something that will match the baby's outfit. But they should also be practical. Otherwise, their gown or clothes will be getting wet and uncomfortable.
Recently the vintage style has become fashionable. They are a standard bib complete with baubles and lacing. Making it appear to be of vintage appearance, similar to our boho range.
You will only need one of these types. And we recommend our own range.
We hope you have found this article on the types of bibs available useful. If you have any questions please feel free to contact me.
This article has been updated in May 2023 to provide the latest information and bibs available.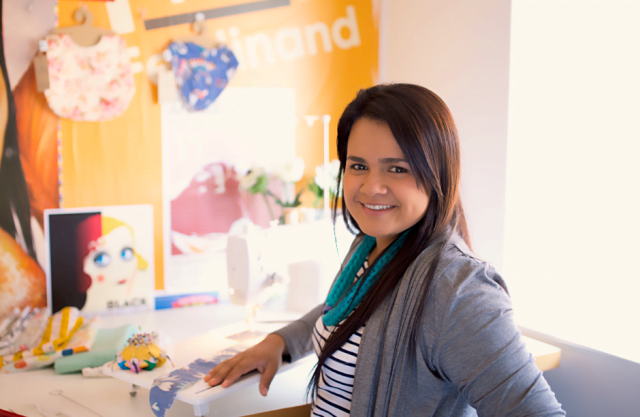 This article was written by Luisa Figueroa — I am the owner, designer, and make of the My Little Love Heart range of handmade bibs and accessories. I am a mum to a beautiful daughter Natalia. I've been in the fashion industry for over 15 years, specialising in baby accessories for the last 7. My love of fashion has enabled me to work and study around the world.