In this article, we will go through everything you need to know about a baby shower registry. This includes products to include, shops where you can register and other online services.
*We have recently added the rainbows bibs, Clouds, and Bananas bib to Amazon. So if you choose Amazon please request one of our bibs on your registry.
How does a baby shower registry work?
This is a list of items parents would like to receive at their baby shower. Parents write down the items and present them to a shop, department store or online service. Here, the parents work with the store to make a list of what items are required. The shop then maintains the list and removes items as guests buy a baby shower gift. The benefits of having a register are so parents receive items they need. This also prevents guests from buying the same gift.
How do I set up my registry?
The first thing to do is to make a list of all the items you want to buy for the baby. This can be a daunting task so we have comprised various resources to assist. These include the minimalist newborn essentials which give you the basics. The baby shopping list post that's a little more thorough. And finally, the newborn baby essentials list which is an in-depth article on what you need and recommended brands. After doing your research and compiling your list find a shop that offers these products. Below I have gone into more detail on various options where you can register. Once you have decided where you will register make contact with the shop to see what they can offer.
When should I set up my registry?
Setting up a wishlist requires a lot of time and thought. It's recommended for parents to set up their registries as early as possible. This ensures that you have enough time to research each product. If you are thinking about hosting your registry online, you can always add and take things off your list.
Should I add a registry to my baby shower invite?
Some people may think that it's rude to put registries on baby shower invitations but on the contrary. By including the registry on the invite you are sure to get the products that you need.
Products to include on a Baby Registry?
It's often easier when starting your wishlist to read blogs or ask friends and family. You can also visit baby shops and they will recommend the most practical products to add to your wish list. We have a comprehensive blog on baby essentials that covers everything you will need for the first three months.
What are the best baby registries?
Many companies offer baby registries so finding the best one for you is vital. Here is a list of shops and companies where you can register;
BabyList
Babylist is an online registry service specialising in gifts for babies. Personally, I love this site as you can add any product from any online store. These can include smaller unique boutique stores like ours or large national chains. You can customise the list and add and subtract items as you go.
David Jones
David Jones is a large department store that has experts on hand to help you choose. Delivery of gifts can come all at once or on a specific date. This is ideal, especially in the time of the COVID pandemic when more people are holding an isolation baby shower.
Amazon
Amazon gives you itemised lists to help you with ideas. They keep track of who bought what so you can thank the person. They also offer a generous 30-day return policy and you can manage your own "Thank you list". Your Amazon Baby Wishlist can easily be shared with family and friends.
My Gift Register
My Gift Registry is another online registry service. Guests can mark gifts as purchased, so there are no double-ups.
Myer
Myer offers a variety of gift registry services. But due to COVID 19 these are temporarily unavailable.
Baby Bunting
Although baby bunting is a competitor of ours they do a good job with baby registers. They offer a baby checklist booklet and gift registry booklet. Creating a registry is easily done online or visit their store for in-person help.
Is there something you should not put on a Baby Registry?
You can put virtually anything you want on as long as it's to do with the upcoming baby or to help you with the newborn. If you are struggling for ideas read our newborn baby shopping list for inspiration.
Should you put diapers on your registry?
Yes, most definitely. Considering infants may need up to 12 diaper changes a day I would definitely add them. I would also include Sudocrem and wet wipes as these are highly consumable items.
Is it rude to put expensive items on the registry?
It's not rude to add expensive items to a newborn registry. In fact, it's a way many new parents can receive the big-ticket items. Also, your family and friends can pool money together to get these.
I hope this has helped you in compiling a useful and comprehensive baby shower registry. If you have any questions please contact me.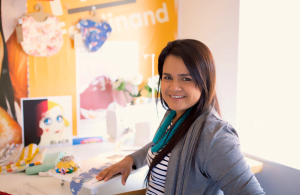 Luisa Figueroa – Owner, designer, and maker of the My Little Love Heart range of baby products. I have been working within the fashion industry for over 15 years and specialising in baby accessories for the last 5. My love of fashion has enabled me to work and study around the world.