We have trawled the depths of Reddit, Quora and various Mum's Facebook groups to find the most forgotten baby gifts no one thinks of.

Here is our list of the best baby shower presents no one remembers to give. We have broken this list into three main categories;
Gift Cards and Cash
Gifts for Baby
Gifts for Mum
Before we get started, one common theme was that if there's a baby registry, you should buy off that. And if you wanted to add an extra gift feel free. But, as the couple has thought hard and knows what they want, you should buy from the registry first.
Gift Cards and Cash
The majority of people said if you were to buy something different from the registry give gift vouchers or cash. Here are some of the top examples;
1. Baby Shop Gift Card — The parents won't receive everything they want. So giving a gift voucher to a baby shop will be helpful. Here, they will be able to stock up on any items they didn't receive at the baby shower.
2. House cleaning service — As new parents, you have very little time to do day to day tasks. And cleaning the house is at the bottom of the list. So giving a house cleaning voucher is thoughtful and unique.
3. A gift card to a spa — After 9 months of pregnancy and a few months of having a newborn baby. A voucher for a massage or day spa will be heaven for the new mum.
4. Grocery delivery service — In the first few weeks you will struggle to get to the supermarket. So a grocery delivery service that drops off fresh vegetables is a wonderful gift that people don't think of.
5. Food delivery service — You could give a gift voucher to one of the many food delivery services. Companies like Uber Eats, Menulog and Deliveroo are the most popular. This way they can order what they like for dinner and have it delivered, without leaving the house.
6. Gift voucher to a supermarket — Finding time to do your weekly shopping is difficult. So giving the gift of a supermarket voucher will let the parents jump online and stock up on nappies, formula or anything else they may need.
7. Cash — Giving cash doesn't seem to be a thoughtful gift. But for parents who have everything, or if you don't know what to give, it can be very helpful. This way they can buy what they need when they need it.
GIFTS FOR BABY
With so many baby items on the market, there will be many gifts that no one thinks of. From snot nose bulbs to feeding utensils.
Here is a list of baby gifts everyone forgets;
1. Thermometer — This is an item that many people forget to add to their baby essentials list. A good quality thermometer is an essential gift but regularly forgotten. Even if you are gifted two, keep them both as they are easily misplaced or lost.
2. Baby Neurofen and Panadol — If you want to buy some baby medicines make sure it's an appropriate age for the baby. A tip to make sure this is a unique gift is to print the dosage charter and laminate it. The parents will love this!
3. Mucus bulb or Nose Frida — This is something you didn't know you need until you need it. A mucus bulb is an instrument used to suck snot out of a baby's nose using a rubber bulb. A Nose Frida is similar except you suck on a tube that sucks out the snot. Don't worry there is a filter between your mouth and the baby's snot.
4. Humidifier — People never think of giving this as a gift. So this gift will be unique and practical. A humidifier adds moister to the air and can help reduce the symptoms of a cold or flu.
5. Newborn laundry detergent — As a baby's skin is more sensitive than adults. Getting a newborn laundry detergent is a gift no one else would have thought of. You could make up a small kit of newborn bath care products.
6. Baby-friendly lotions, shampoos, and soaps — Get together a hamper of baby care products for bath time. Add some lotions, shampoos, and soaps and throw in a bath toy or some bath time accessories.
7. Hairbrush — A baby brush isn't just for brushing a baby's hair. It helps to reduce cradle cap. So giving a gift like this will be helpful and unique.
8. Electric nail filer — From the number of comments I read, this is a game-changer. Its design is a move away from scissors and clips and works on a rotary filing function. This takes the stress away from you trying to cut your baby's nails.
9. Diaper rash cream — This isn't a popular gift to give because it's boring. Yet, when the parents are looking for nappy rash cream and the chemists are closed, you will be the lifesaver.
10. Bum spatula — I must admit, I didn't know these existed until I started researching this article. A bum spatula is used for applying nappy rash cream to your baby's bottom. The idea is that you won't get any cream stuck under your fingernails. Definitely a gift no one will have thought of.
11. Poop Bags — This is a plastic bag to put in your nappy bag. So when you are out you have a way of disposing of the nappies. A very boring gift but one that's practical and unique.
12. Wipe warmer — Imagine wiping your bottom with a cold wipe after going to the toilet. The wipe warmer is designed to make the baby more comfortable when doing a nappy change. This is definitely an original idea.
13. Nappies — When you need them you need them. And the parents will love you for the gift of nappies. You could decorate them in a fun and original way. Add some "Break in case of an emergency tape.
14. Swimming Nappies — These are an essential item for any baby. But since they aren't a popular gift you are safe giving them. And the baby won't be allowed to swim in a public pool without them.
15. Bath thermometer — This is a product that everyone should have on their baby shopping list. As a parent, I always stressed that the water might be too hot or too cold for my daughter. So a bath thermometer is a unique gift. They normally are incorporated into a bath toy like a floaty or duck.
16. Washcloths — Keeping on the bathing theme. Another simple yet practical gift is a set of baby washcloths. As this is such a plain gift it would have to be one of the last things thought about.
17. Baby hangers — Give the parents this gift! It is not a cool or popular gift but it's practical. And after everyone has brought lots of beautiful outfits they will need some way of hanging them. If you would like other practical baby gifts we have written an article on our 17 favourite.
18. Baby Toys — Everyone buys cute outfits but no one thinks of buying baby toys. A newborn needs stimulation to develop their motor skills so toys are the perfect gift.
19. Swaddles — Every parent wants their baby to sleep well. And swaddles and wraps help them. They are becoming more popular but you can never have too many.
20. White noise machine — This is a machine that is designed to help your baby sleep better. It helps by drowning out background and distracting noise. This is definitely a gift no one would have thought of.
21. Feeding utensils — These won't be used straight away but when needed they will be good to have around. As feeding utensils aren't used in the first three months these are forgotten off most shopping lists.
22. Books — One of the many joys of being a parent is for your to read to your baby before bed. Most parents make it part of their bedtime routine. So it would be nice to have a book gifted by a close friend. You can even write a personalised message inside the front cover.
GIFTS FOR MUM
A question we get is can you get the mum a present? And we always say yes! The presents are to help the parents prepare for the arrival of the baby. But giving a gift to the mum is also fine.
Below we provide ideas on some unique presents for the mum-to-be.
1. Postpartum care pack — You could make up a kit with the essentials like maxi pads, peri bottle and disposable underwear. These are sure to be unique gifts that no one has thought of.
2. Home-cooked meal  — We mention above how a food delivery voucher would be a good idea. But a home-cooked meal with a bottle of wine shows you have put some thought into the gift. Make sure you send a message beforehand and drop it at the front door. Don't go in for a "quick visit".
3. Snack basket — Put together a snack basket of the mum's favourite snacks. It doesn't matter if they will be breastfeeding or bottle feeding. They will come in handy during the late-night feeds.
4. Kitchen shears — Yes it sounds like a weird gift. But as the baby gets older they will move on to solid foods. Then everything will need to be cut up into tiny pieces. And the kitchen shears are a gift that no one thinks of.
5. Thermal mug  — Unless the mum likes cold tea and coffee a thermal mug is a must. The thermal mug will mean the drinks that are made will actually stay at the temperature they are meant to. A popular choice is the Yeti mug.
6. Water bottles with straw — A gift that is left off most baby shopping lists is a water bottle. If you want a practical gift that no one else will gift, give a couple of water bottles with inbuilt straws. This will help keep mum hydrated.
7. A nursing robe — A nice new nursing robe to keep mum warm during late-night feeds is a beautiful gift she will cherish.
8. Nursing tank-top — Keeping on the nursing theme, you could give a few nursing tank tops as a small present.
9. Burp cloths — Bibs are to protect the baby's clothes from spilt milk while burp cloths are for the parents. Buy them a high-quality, beautiful burp cloth so they can burp their baby in style.
10. Lactation cookies — Lactation cookies are designed to increase the supply of breast milk. So a thoughtful gift would be to buy a few packets for these for late-night feeds.
11. Nursing breast pads — Keeping on the nursing themes. A gift that no one thinks of is reusable breast pads. These absorb the leaking breast milk the mum has. And being reusable, they are good for the environment.
12. Chapsticks —  Buy a handful of chapsticks or lip balms for the mum's hospital bag. The gas and air in hospitals dry up your lips so these are a great gift to give.
13. Lansinoh nipple cream — This cream is used to help with cracked and sore nipples. It is safe for babies so no need to remove it before breastfeeding.
14. Low watt red lightbulb —  Don't wake up the whole house by turning on the lights in the middle of the night. Instead, give the parents a low watt red lightbulb which will help everyone sleep.
15. Bath salts and candles — Being a mum is stressful so give her the gift of some relaxing bath salts and candles. You could even offer to take the baby for a walk while she has some time to herself.
16. Robot Vacuum — As new parents their time is precious. And anything that can help with the housework will be appreciated. So give them a robot vacuum cleaner. It is unique and you can guarantee no one else will be giving them this.
17. Phone charging brick — This gift isn't exciting but it is unique and practical. A phone charging brick will help the parents out when they least expect it.
18. Extra-long charging cord — Buy the longest charging cord you can find. The longer the better. Its such a practical idea and will be used while in hospital and during late-night feedings. It will be the first thing packed in your hospital bag.
19. WD40 — Sounds crazy right? Well, all those creaking doors will be as loud as thunder once they put their baby to sleep. So a can with a note on what it's for would be a unique gift. You could also add a note saying you will come by and apply it yourself.
19. Photography session — No one thinks of giving a photoshoot as a present. The gift of a newborn photo or the first family photoshoot would be a great gift that will last forever.
20. Time — Give the gift of time. Make up a couple of vouchers for 2 hours of babysitting. This will give the couple time to go for dinner or catch up on sleep. Let them spend some quality time together without having to worry too much about the baby.
I hope these ideas have helped you in your search for giving a gift that no one else has thought of. If you have any questions or have other suggestions please feel free to contact me.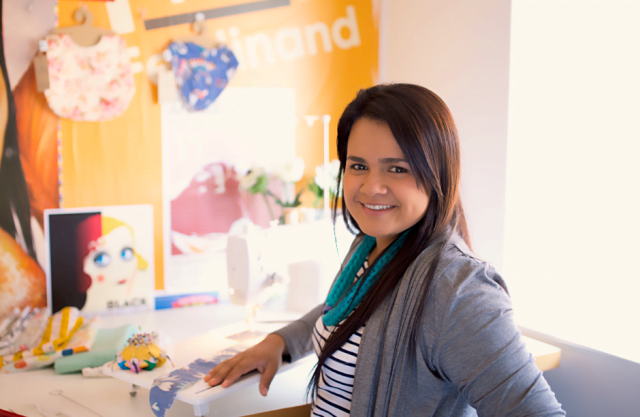 This article was written by Luisa Figueroa. She is the owner, designer and maker of the My Little Love Heart range of baby gifts and accessories. She has been working within the fashion industry for over 15 years and specialising in baby accessories for the last 7. Her love of fashion has enabled her to work and study around the world.