Note: We are a stockist of the Oli and Carol range of mold free bath toys. This is a Spanish brand and we do not make these.
There is nothing quite as terrifying as finding mould on your baby's bath toy. In this article, we discuss what is mould, and how to prevent and treat it. And suggestions on the best mould free bath toys.
What is Mold and how is it formed?
Mold is a fungal growth that can be found on damp or decaying organic matter. Also known as mildew, it comes in different shapes, sizes and colours. And can be indoors and outside.
It grows from tiny spores that are in the air. They grow into mould when they fall onto a wet surface. It is unable to grow without water or moister. In Australia, we spell it both mold and mould. So you will see both being used throughout this article.
Why should you care?
Damp and mold can affect people's immune systems. And can cause respiratory infections, allergies and asthma. Both babies, children and the elderly are more sensitive.
Do they grow mould?
Yes, mould can grow on both the surface and inside. This is the black stuff that can be seen on the outside of toys and other bath accessories. It is harder to see on the inside but you can guarantee it's there. ABC News tested 50 items and found they all had some level of mold.
How do I keep them from getting moldy?
You should drain and shake out all the water from inside the toy. Then dry the outside with a towel or washcloth and place it in a dry area away from moisture.
If you have a toy that has a hole in it cover this up. This can be done by using superglue or a hot glue gun. Our preference is fully sealed ones like the Oli & Carol range. These are made in a single mold without holes and can also be used as a natural teether. We suggest cleaning them once a week. This can be done using vinegar or bleach by following the below instructions.
How to get mould out of the inside of bath toys
If you see mould inside them they should be thrown away immediately. If you want to keep it for sentimental reasons, and not use it again, it can be cleaned. This can be done by putting the toy in 3/4 cup of bleach to every 4.5 litres of water. Soak it overnight and let it air dry the next day. Inspect before using again and watch for regrowth.
You can also use vinegar as a replacement for bleach. Use 1/2 cup of white vinegar to 4/5 litres of water. Soak them for one hour. After, scrub them clean and rinse. Let them air dry and inspect for mould.
How to clean mould from the outside of bath toys
Disinfecting the outside of the toys is the same process as the inside. By using bleach or vinegar. See above for the details. Make sure you regularly inspect to make sure it hasn't grown back.
Can they go in the washing machine?
Some bath toys and accessories are dishwasher and dryer safe. But before putting them in you should read the manufacturer's care instructions. We suggest using bleach or vinegar as per above.
Why is there a hole in bath toys?
Some toys are made with a hole in them. This is to allow water to go inside and be squirted out. Making movement and sounds for the baby. Although this can be both distracting and fun it makes them difficult to clean. So we recommend buying ones without holes.
Storage
Once the toys have been used they should be dried and free of water and moister. They should be kept in a dry place to ensure no mould will grow on them.
What is the best material to use?
When selecting the best bath toys to buy you should consider what materials they are made from. You can choose from wood, foam, stainless steel, and plastics to name a few. We recommend ones made from 100% natural rubber. As they are made from organic and sustainable materials. But whatever materials you choose, make sure that they are made with a single mold with no holes. This will prevent mold from growing inside them.
How do you know if they are safe?
In Australia, children's toys are subject to five mandatory safety standards. This includes toys for baths. So before buying any product make sure it meets the relevant standards.
Warning
Always make sure the bath and its toys are cleaned regularly. Never leave the baby alone in the bath or around water. Bath time must be supervised by an adult at all times.
This article was updated on 10th July to include cleaning instructions and additional products.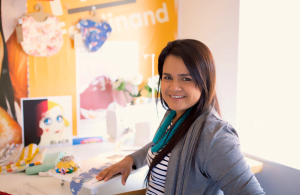 Luisa Figueroa – Designer Profile — Owner, designer, and maker of My Little Love Heart baby products. I am a mum of one and worked in the fashion industry for 15 years, specialising in baby accessories for the last 5. My love of fashion has enabled me to work and study around the world.