We are a stockist of Oli & Carol in Australia for their range of natural rubber teethers and bath toys.
So why choose Oli and Carol?
Oli and Carol are a Spanish brand that handmakes a selection of bath toys and teethers. So why choose Oli & Carol? Here are just a few reasons why;
They are an eco-friendly product made from sustainable materials. Each item is made from 100% rubber sourced from the hevea tree. Making them completely natural and non-toxic.
All products are hand made and hand-painted with natural food-grade dyes.
Mould free, their range is hygienic because they don't have any holes. This stops the water from entering the toy and creating bacteria. Making them a mould free bath toy.
They are a responsible company that supports many social causes around the world.
Most of the toys are fruit or vegetables. This will give your baby an early exposure to healthy foods at a young age.
Certified following international standards of safety regulations. Making them completely safe.
Range of Oli & Carol Teethers and Bath Toys
We love the wide variety of natural rubber toys they produce. We stock these in our Perth baby store and include toys in a variety of shapes, colours and textures. Which is suitable as a bath toy and a teether. They include;
Ana Banana
Ana the banana teether toy is perfect for playing with and holding. It is easy to grip and lifelike in looks. It is hand-painted and soft, perfect for your baby to chew on.
Arnold the Avocado
This looks so realistic. Arnold the Avocado can be used as both a teether and bath toy. The tan-brown seed combined with the green of the avocado makes for a lovely contrast. This can also be used as a toy to play with.
Flo the floaty
A modern-day version of the rubber ducky. This is a unique design that has a white duck incorporated with a white and blue lifeguard ring. This ring makes it easy for your baby to hold onto why teething.
Kendall the Kale
The bright green Kale stands out from the crowd. With a varied texture throughout, it is sensory overload with this toy. Suitable for both bath and teething time.
Wally the Watermelon
This would have to be my favourite. Perfect as a teether but you can also use it in the bath. Your baby will love the bright colours and stylish design.
Origami Boat in Mint
The origami bath toy boat in mint makes bath time fun. This sleek design is unique and ideal for inquisitive minds.
Clemintino the Orange
Clemintino the orange is a sliced orange which is ideal for small hands to grab. There are no wholes in this bath toy so no chance of getting mould inside.
Oli and Carol's range have more products, however, we are not a stockist of them at the moment. The items we don't stock yet include;
Patricio the Pistachio
Nutty the Walnut
Paco the Peanut
Aly the Almond
Valery the Rasberry
Jerry the Blueberry
Spotty the Mushroom
Spot the Mushroom Teether
Hawaii the Flower
Eli the Clover
Ramonita the Radish
Coco the Coconut
Mery the Cherry
Pepita the Apple
Brucy the Broccoli
Manolo the Mushroom
If you would like us to become a Stockist of these in Perth, Australia please reach out and we will add them to our shop.
Uses
The Oli & Carol range is versatile. This includes;
Bath toy
Teether
Sensory Play
Decorative
Standalone Toy
Safety
Each of these is safe for babies to use in the bath and as a teether. They meet the required international standards. They are PVC, BPA, Phthalates and Nitrosamines free.

Care Instructions
They are easy to maintain by wiping soapy water and a damp cloth over them. They should not be sterilised or put in the dishwasher.
After cleaning and use they should be dried and stored in a dry environment. They should never be left in direct sunlight.
Note, The Oli and Carol range of teethers and bath toys are not made by myself.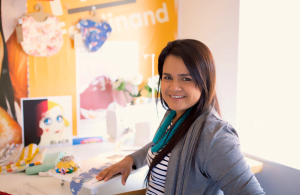 Written by Luisa Figueroa – Owner, designer, and maker of the My Little Love Heart range of baby products. I am a mum of one and have been working within the fashion industry for over 15 years and specialising in baby accessories for the last 5. My love of fashion has enabled me to work and study around the world.