The Wellington Square Playground (Koolangka Koolangka Waabiny)
is located
on the southeast corner of Wellington Square in East Perth
. A few hundred meters from our baby gift shop that will be opening in late July 2021 at 43 / 17 Wickham Street.
Below we go into detail on what you can expect to find at Wellington Square Park. The facilities available and the types of play areas and equipment to use.
We attended on a Saturday in late June with our daughter Natalia and her best friend Wacera. Although it was winter it was a sunny day. It was very popular and estimate there were over 300 people there. Although busy, there was always something you could go on. There were activities for everyone and all age groups. From people having picnics with their newborns to adults on the basketball courts.
Indigenous name and meaning
Koolangka Koolangka Waabiny means Children's Children's Playground in Whadjuk Nyoongar.
There are some floating discs above the playground equipment. This represents the stars and sky from Dreamtime stories. The colours used are from Western Australian native flowers.
These discs are colourful and also providing much-needed shade.
Map
Internal Map
Opened
The Wellington square playground was
officially
opened at a community launch day on Saturday 10th April
. Here is a video from the 27th March, the first day the park was accessible.
Parking
Parking can be a little busy as it's
mainly
on-street parking. But, there are many side streets which can
be utilised
. Depending on when you visit there may be a fee involved. It is best to check the parking signs to avoid a ticket. There is ACROD parking available on Bennett and Wittenoom Streets.
Public Transport
The free Yellow Cat bus stops within 100mtrs of the wellington square playground.
If you are catching the train, you can stop at the McIver or Claisebrook stations. This is a 10-minute walk from both stations to the park.
Facilities
There are many facilities available, these include;
Toilets – They

are situated

in the southeast corner and have recently finished construction.

Water fountains- We sore lots of drinking fountains around the playground. We tried a few and they were all in good condition and worked well.

BBQs — There are two sets of BBQ's. They looked in excellent condition but none of them were being used. Most likely as it is the middle of winter.

Picnic Tables — These were well utilised and were in great condition. Comfortable and lots of room but there was no shade above them.

Grass Areas — The playground area has lots of grass areas. This is perfect for cartwheels, holding picnics or having a party. Note, you can book an area to hold a

social gathering

if you wish.
Food and Drink
When we attending on a Saturday there was no food or drink stalls available. The only exception was an ice cream truck.
Wildlife
One thing which I loved was how much wildlife I could hear. There seemed to be so many birds up in the trees and flying around. Which is understandable. because there have been 350 new trees planted and 268 trees retained.
Playground Areas
There is plenty of things to do at the wellington square playground. These include;
The Water Springs

The River Flow

The Rock Escarpment

The Rock Formation

The

Candle Banksia

Sports Area
These areas have many things to do to suit a variety of age groups and interests. More details on each area are below. Also, note the photos were taken early in the morning to avoided having children in them;
The Clearing
The clearing was one of the first places we found. It's a 1-minute walk to the yellow Cat bus stop and is a beautiful open grass area.
Perfect for having a picnic, playing games or socialising in general. There is a picnic table and BBQ's close by and a set of four swings.
There is an impressive scooter track that surrounds this area. In fact, there is a pathway around most of the playground areas that is ideal for wheeled play.
The sandpits are close to The Clearing. This is the first thing my daughter and her friend played in. The sand was clean and free of rubbish. They loved it and it was hard to get them to leave. 
The Water Springs
After finally getting them away from the sandpit we went to The Water Spring area. Here they washed off the sand while having a great time.
There are many water spouts that can
be activated by
pushing a sensor. With lots of moving parts where you can change the flow of the water.
Even in the middle of winter, it was a popular play area. It caters for a variety of ages, from toddlers through to early teens. I can imagine in the peak of summer the water springs will be very busy.
Note; This was taken before the water was activated for the day.
The River Flow
The River Flow section of the park represents the Swan River (Derbari Yerrigan). Designed as a wheeled play zone that includes scooters, rollerblades, bikes and skateboards.
There are two main areas of The River Flow area. They are a skateboarding area and scooter track. The scooter track is a circular loop with rollers and berms. While the skating area has items to grind and jump off like rails and blocks.
When we were here it was very busy. Both sections were being used by parents and children alike. Scooters seemed to be the most popular toy but we did see a few bikes and skaters too. Although it was busy there was enough room for everyone. People were also being very respectful of each other's space and abilities.
The Rock Escarpment
Next, the two girls went to The Rock Escarpment where there are lots of things to climb and jump off. 
There is a small slide and small rope climb perfect for toddlers.  Although suitable for all ages, it was
mainly
5 to 10-year-olds playing here.
There is an accessible path that leads to the top of this play area. Making it inclusive for everyone. In this area, you will also find a small banksia structure to play and climb on.
The Rock Formation
The rock formation area has a variety of different playground equipment.
There are two mini trampolines that are suitable for toddlers and smaller children. Although they were popular with children of all ages.
The flying foxes were a big hit. One is suitable for toddlers and smaller children and has a bucket seat. While the second is for older kids that can sit and hold on to.
Also, there was a round circular net swing. Kids between 3 years to 13 years were using it but there was a bit of a wait due to its popularity.
The rock formation area had a lot of ropes to climb and climbing structures in general.
The Candle Banksia
The centrepiece of the Wellington Square Playground is The Banksia Candle. This is a 10 Meter high climbing structure in the shape of a Candle Banksia flower. It has a huge climbing sphere with three slides coming out at different points. Suitable for older children and adventure seekers. Make sure you supervise your children carefully in this section. We noticed some got stuck so parents had to climb in and help. Although everyone seemed to be having a great time.
Also in this area, there are parkour and fitness elements. There
are two decent-sized rock climbing walls which both parents and children were enjoying. The clim
bing and monkey bars are made with Aluminium. So in the middle of Summer, they might be too hot to use but perfect for when we went.
Sports Area
Besides the large selection of climbing equipment, there is plenty of areas to play sport.
In addition
to the many grassed opened spaces, there are;
Basketball Courts — There is a full-sized basketball court and a half-court. All the courts were being used and by many people.

Table Tennis — We walked past the table tennis table a few times. Each time it was being used.

Netball — This was a little disappointing.

One of the main reasons we came to Wellington Square Playground was for my daughter to practise her shooting

. Although there was a ring, it

was positioned

on the back of the half-court basketball area (pictured below). There were lots of basketballs flying around and big bodies basketballers. So we felt it was too dangerous for our 7-year-old daughter to use the netball ring.
In this area, there is lots of seating for spectators and a BBQ complete with a picnic table.
Other information
There are a few do's and don'ts to follow while at the Koolangka Koolangka Waabiny Playground.
Firstly
, no dogs
are allowed
in the playing spaces. Also, there are many bins situated around the park so please use them. This park is a no smoking, no alcohol drinking and glass free zone. 
Overall
There were some items which could have
been improved
. The lack of shade was an issue.
Although the floating discs and the natural shade from trees provided some shelter it wasn't enough
. And we went in the middle of winter so Summer will be even worse. There was no shade over the BBQ areas and picnic tables so
hopefully
, this will
be rectified
.
Although there was an ice cream truck there was no other food or drinks available. I liked this as it made the park have a more natural theme. Come prepared with your food and drinks. Also not being able to use the Netball ring was a shame. But, there were so many other things to go on it didn't matter.
The lack of recycling bins was disappointing and hopefully,
this will change
in the future.
If possible use public transport especially the yellow cat. Kids love going on the bus and it stops next to the park.
Also, if your child loves to play with water pack a spare change of clothing. The children can get very wet in The Water Springs area.
Overall
we LOVED this playground and surrounding facilities. There was so much to do and little waiting to use the equipment.
With a variety of different playground equipment and activities, there is something to suit everyone
. The park caters for all different age groups from toddlers through to adults.
HIGHLY
 recommended and we will be sure to come back many times throughout the year.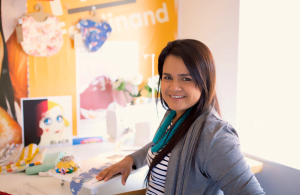 Owner, designer, and maker of the My Little Love Heart range of baby products. I am the mother of a beautiful daughter, Natalia. I have been working within the fashion industry for over 15 years and specialising in baby accessories for the last 5.