Come and visit our boutique baby shop in Perth. We specialise in Baby Gifts and handmade accessories. We are located at 17 Wickham Street, East Perth WA and can be reached on 0405 816 441.
Opening Hours:
Tuesday, Wednesday, Thursday & Friday 10am – 2pm

Saturday 9am – 3.30pm

Sunday 11am – 2pm
Note – There is plenty of on-street parking right outside the front door
Here you will be able to find a large selection of newborn baby gifts and accessories that have been handcrafted in Perth.
This post was originally published on 29th August 2018 and again on 10th April 2022. It has been updated to include editorial changes including opening our new baby shop as well as listing other Perth Baby Shops and others located around Western Australia — Luisa Figueroa, 20th June 2023.
I love supporting other Perth baby stores. As a mum, I am a frequent visitor to buy gifts for the endless baby showers and parties we attend. We opened our own bricks and mortar store in Perth in 2021. Below you can see what we stock. And further down in this article is a comprehensive list of other baby shops you can support throughout Perth and Western Australia.
Baby Store — My Little Love Heart – What can you find in our shop
First here is an overview of what you will be able to find in our store.
Baby Gifts – This is the core part of our business and we offer a huge range of gifts for babies to celebrate any occasion. This includes boys, girls, gender neutral, baby shower and gender reveal gifts.
Bibs – We handmade a range of bibs at our baby store. These include the baby, bandana and toddler styles.
Burp Cloths – Our selection of handmade burp cloths in boy, girl and unisex prints are second to none.
Teethers – We offer two types, the bunny teether and the natural rubber teether. Both are eco-friendly and made from sustainable products.
Hair Accessories – The four styles we make are the newborn, baby, toddler and top knot designs. Something for any little girl to wear.
Reusable Breast Pads – These are absorbent and soft to touch, and handmade in Perth. If you would to learn more read our article reusable nursing pads.
Nursery Bunting – Spice up your nursery with our handmade bunting. These are stylish and versatile and handmade in our store.
Swaddles – A popular baby gift, these swaddles are stretchy and soft. Ideal for swaddling a newborn.
Greeting Cards – Designed and printed in Western Australia. There is a huge selection of greeting cards for you to choose from.
Feeding Accessories– These silicone feeding accessories are a great gift or something to use for your own baby. These include bowls, plates, fork and spoon sets and cups.
Books, Diaries and Journals – We have a range of picture books and journals. These include pregnancy and first-year diaries.
Baby Brush – The baby brush set we stock in our shop is soft and perfect for a newborn. The set comes with three different brushes for different applications.
Baby Washcloths – Handmade in our studio, The baby washcloths are available as a single unit or a pack of 3. Made from soft bamboo they are absorbent and soft on your skin.
Babycchino Cups – We have a selection of different prints for your toddler's baby chino cup. These are super cute and practical.
Dummies – We stock a range of Natursutten dummies made from 100% natural rubber.
Dummy Chain – The basics range of dummy chains have been tested and approved to Australian Standards. Making it a safe and practical product.
Bath Toys – The Oli and Carol bath toys we stock are made from 100% natural rubber. And they don't have any holes. Meaning there is no chance of mould growing inside them.
Milestone Cards and Discs – We stock milestone discs for the first 12 months and the cards for the pregnancy. Perfect to celebrate the firsts of your journey.
We hope there is something that you would like in our baby store. If not please sm contact one of the stores below to see if they stock the item you are after.
Baby Shop in Perth
Perth CBD
29 Lines – 29 Lines started as an online shop by proprietor Helen Mewburn. With the help of Activate Perth, she now has a beautiful modern shop located in the heart of the Perth CBD in Brookfield Place. In addition to our handmade organic baby washcloth, 29 Lines stocks our burping cloths, baby bibs, and dribble bib. They offer a range of Perth and Australian brands including Gingerlilly Sleepwear, Salus Body, and Elk the Label.
Baldivis
Baby Bunting – Baby Bunting is a huge brand that has stores all around Australia. Their Baldivis shop is located at 600 Baldivis Road.
Bicton
The Cuckoo's Nest – Located at 380 canning highway in Bicton. The cuckoos nest stock items like baby hooded towels, bibs, dummy clips, teethers and beanies to name just a few products that they stock.
The Cumquat Tree – Has two locations, one in Cannington and the store at 258 canning highway in Bicton. This isn't a shop just for babies. It has a variety of gifts for any age. For babies they stock a range of toys, books, and feeding accessories.
Booragoon — Myaree
BabyRoad – Located at 271 Leach Highway in Booragoon. This baby store has a large range of products including baby gifts, swaddles, headbands, burp cloths, dummies and journals and books.
Baby Bunting – Located right next door to Babyroad, baby bunting has a high selection of everything you would ever need as a parent.
Cannington
The Cumquat Tree – this is their second store, as an addition to their Bicton Branch. And they stock similar products in both their stores. This shop is located at shop 1252 Westfield Carousel.
Baby Bunting – You will be able to find the Cannington Baby Bunting on 1419 Albany Highway. They stock similar items in all their stores throughout Western Australia and Australia.
Claremont
Little Leasures – Located on Gugeri Street in Claremont. They stock a variety of children's and baby clothing for boys and girls. They also stock bibs, sleep sacks, baby girl presents and baby Boy presents.
Molly and Josh – they can be found in Quentin Avenue in Claremont and specialise in children's clothing.
Petit Bateau – This store specialises in cute and stylish baby clothes and can be located in the Claremont quarter on Bayview Terrace.
Uber and Klein – Located at 9 Bay View Terrace, they offer a wide variety of baby and children's clothes. They also have a shop in Karrinyup.
Cockburn
Room for Two – Located in the cockburn gateway shopping complex. Room for two specialises in maternity wear, teething toys, hair accessories journals, greeting cards and milestone cards.
Ollies Place Kidswear – In addition to the Cockburn location they can be found in Mirrabooka, Cannington, Perth Airport, Midland, Success, Clarkson and Rockingham. Ollie's Place specialises in baby and children's clothing.
Cottesloe
Bebe Boutique – One of our long-standing stockists is Bebe Boutique located in Cottesloe. Jen who is the owner of this gorgeous boutique baby shop stocks more than 100 different brands. These include products and gifts to suit newborns through to 16 years of age for girls and boys. This is such a beautiful shop in the perfect location so make sure you drop in on the way to the beach!
Fremantle
Sunny & Beau – would be the standout baby shop in Fremantle. They stock a range of bibs, swaddles, and teethers. They also stock a selection of feeding accessories and hair accessories. they can be located at 284 South Terrace in Fremantle.
Remedy – Located at 95 high street, offer a small selection of baby items including swaddles, toys, and bath toys.
Joondalup
Nicci and Lu – Their main store is at 420 Joondalup Drive, but they have other shared premises in Wangara. They stock a range of teethers, bath accessories, dummies, silicone feeding accessories and toys.
Baby Bunting – Everyone knows baby bunting and their Joondalup store is similar to all the others throughout Australia. This shop can be found at 11 Injune Way in Joondalup.
Hillary's
Room for Two – Located on the boardwalk on Southside Drive at Hillary's Boat Harbour. This quaint little shop is perfect for you to drop in and visit while exploring all the shops located in Hillary's or before going for a swim. They stock a range of baby headbands, bibs, toys, milestones cards and much more.
Kalamunda and Hills
Hushkids Gift Store – This is a stockist of the My Little Love Heart bibs and accessories. Hushkids gift store has a retail shop located in Kalamunda. Laraine, the owner has exceptional experience as she is the mother of five children. My husband grew up in Kalamunda and Gooseberry Hill so we love visiting the hills and this boutique shop.
Karrinyup
Uber and Klein – In addition to their Claremont store, Uber and Klein have a shop in the Karinyup Shopping Centre. Here we offer a range of toys, shoes and clothing.
Juno Kids Australia – Juno Kids is another shop located in the Karinyup shopping centre. Juno concentrates on selling clothes for babies and children.
Maylands
Max And Hound – Located at 192 Whatley Crescent in Maylands. This boutique shop specialises in clothing, footwear and headwear for baby's and kids.
Midland
Babyzone – Located in the city of Swan at 203 Great Eastern Highway in Midland. Babyzone has a large selection of products including prams, car seats, nursery items and bits and pieces for babies and children.
Baby Bunting – The Midland Baby Bunting is located at 4 Clayton Street in Midland.
O'conner
The Playroom – This shop has locations In Osborne Park and O'Connor. They can be located at 307 Stock Road and are predominantly a toy shop. But they also offer feeding accessories, nursery items, and lots of toys.
Osborne Park
Babyland – Located at 30 Frobisher Street, Babyland has a huge variety of items in their store. They have many of the big ticket items like prams, cots and car seats. As well as smaller day-to-day baby essentials.
Moda Bambini – This baby shop can be found at 222 Main Street in Osborne Park. They specialise in baby and kids' wear for special events and include a range of luxury brands.
Baby Bunting – Located at 505 Scarborough Beach Road. This shop is centrally located and stocks a huge range like all the Baby Bunting stores.
Rockingham
Ollie's Place – This shop is located in the Rockingham Shopping Centre on Council Avenue. Here you will find predominantly clothes for babies and children.
Little Beach Road – This cute store stocks bibs, babycare, bath accessories, swaddles, teethers and much more. They can be located at 7 Railway Terrace, Rockingham.
South Perth
Merchants on Mends – Although typically a homeware store. Merchants on Mend has a baby's section that includes toys, swaddles, and teethers. They can be located at 21 Mends Street, South Perth.
Subiaco
Spoilt – Jo the owner is such a lovely woman and stocks a range of baby gifts and fashion accessories. Her gorgeous shop can be located at 20 Subiaco Square Road in Subiaco.
Swanborne
Merchants of Swanbourne – This is a general store but they do have a section for babies. This includes products like teethers, toys, baby blankets, and swaddles. They can be located at 125 Claremont Crescent in Swanbourne.
Wembley
Peach and Pip – Located at 290c Cambridge Street in Wembley. This cute little store has a range of swaddles, teethers and toys that little ones love!
Baby Stores in Country Western Australia
Here is a list of shops for baby's that are located in country Western Australia.
Albany
Bebe Bits – Can be found in the town of Albany at 370 Middleton Loop. They stock products like nappy bags, slings, dummies, feeding accessories, teething toys, and bibs.
Bridgetown
Puddleton – This is a toys and kid's clothing store in Bridgetown. Located at 119 Hampton Street. They sell rompers, feeding accessories, play equipment and more. So if you are in Bridgetown drop in to see their store.
Broome
Clifton Collective – This is a gift shop that is located in Paspaley Plaza on Short Street in Broome. They offer a small selection of products for babies including teethers, comforters and rattles.
Bunbury
Kidd and Co – Located in the heart of Bunbury at 125 Victoria Street. This baby store has a range of cute things for babies and toddlers. These include books, feeding accessories, rattles and washcloths, and swaddles.
Bibs and Kids – This shop is currently in the process of setting up in Bunbury after moving down from Port Hedland. Check back later for their details after they have opened.
Busselton
Buy for Baby – This cute shop includes major ticket items like prams, cots, and car seats. As well as other day-to-day essentials like bath toys, bibs, and nursery items. They can be located at 57 Cook Street in Busselton.
Collie
Little Blue Door – Located at 82 Steere Street in Collie. Little Blue Door specialises in children's wear from birth to 13 years old. They also have fabrics that you can buy to make your own clothes.
Dunsborough
Coastal Kids – Dunsborough is spoilt for choice for baby shops. And Coastal Kids is the biggest shop in town. Located at 56 Dunn Bay Road it has a range of shoes, dolls, dresses, toys and much more.
Child Boutique – This cute baby store can be found at 216 Naturaliste Terrace in Dunsborough. They stock dummies, toys, swaddles, onesies and a range of clothing.
Varda – Located at 33 Dunn Bay Road in Dunsborough. This boutique shop offers baby shower presents, teethers and wraps.
Esperance
The Toy Station. – This store in Esperance has a range of products for babies. This includes baby gifts, dummies, teethers, swaddles and lots and lots of toys. They can be located at 69c Dempster Street in Esperance.
Geraldton
Tiny Giants. – Located at 128 Marine Terrace. Tiny Giants stocks items from Prams to Bibs and everything in between.
Kalgoorlie — Boulder
House of Babes – Can be found at 100 Hannan Street in Kalgoorlie. They offer prams, Jellycat, feeding accessories, and baby walkers. This is the shop to go to if you are in the Kalgoorlie Boulder area.
Karratha
Hello Little Co. (Wandering North) – Located at 18 Hedland Place in Karratha. Hello Little Co has silicone plates, pacifiers, fork and spoon sets, baby books, bath toys, and swaddles. Make sure to visit this little shop if you are in Karratha.
Margaret River
Margaret River Rascals – Full of wooden toys, baby clothes, books, baby headbands shoes and kids' hair brushes. Margaret River Rascals is a beautiful shop located in the sleepy town of Margaret River and can be located at 129 Busselton Highway.
Northam
Babies Bloom Boutieq – Unfortunately this cute shop has had to close. So you will have to buy your baby gifts online or come and visit our store in Perth.
Port Hedland
Bibs and Kids – This baby store was the staple of Port Hedland. Unfortunately, they have closed down and will be relocating to Bunbury
Why we started our own babyshop
As mentioned in the introduction, for many years we have been actively looking to set up a brick-and-mortar baby shop in Perth. We wanted to showcase our Australian-made products and give people the opportunity to watch us make them.
We have been able to achieve this dream and have set up our baby shop in East Perth. It is just around the corner from the new Wellington Square Playground and Optus Oval. So if you live in East Perth and looking for a babyshop near me. We can be found at 17 Wickham Street near the old East Perth Cemetry which is on Plain Street. Below are some of the reasons why we wanted to open a baby store in Perth.
Meeting mums and dads
As we have a daughter ourselves we love to meet other parents. As a previous member of mothers' groups, I understand how important it is to talk through things and meet other mums. Being a new parent is difficult and sometimes can be lonely so we like the idea of having a shop that people can socialise in.
It is also a great opportunity for them to meet the people behind the brand. We also get the opportunity to meet our customers face to face and their beautiful babies.
Feel the quality and test the products
It's great to have mums and dads able to come and feel the quality of the handmade items. To inspect the stitching and see the patterns we use in person. For products like bandana bibs or girls' hair accessories, your babies can test them and try them on for size and style.
Expert advice and guidance
As a new parent, you are thrust into the world of babies and baby products. It is difficult to know what products are essential and what is nice to have. This is one of the reasons we developed our own baby shopping list to assist. However, sometimes people will need assistance in how to use a product or which item is better. For instance, which infant bib should you choose? We hope that with physical premises people can come in and ask for this advice.
Convenience
When shopping online you will generally have to wait to receive your purchase. However, with a physical retail shop, you can come and pick up your products straight away. No standing by the letterbox waiting for the elusive postman.
Payment is quick and easy
When shopping online there is a range of online forms required to make your purchase. However, with retail space, there is no filling out lengthy billing and address details to make your payment. Most of the time it is just tap and go. For those that do want to order online, we use a range of secure payment systems including Afterpay.
No need to provide customer details
In this day in age, you should be keeping your data secret, especially for e-commerce websites. We go out of our way to protect your data and payment details. With physical premises no need to worry about providing addresses and phone numbers.
No shipping costs
A major benefit of shopping in-store is that there are no additional shipping costs associated with your purchase. On our website, we give people the opportunity to collect from our address in Perth, Australia.
No lost packages or tracking codes
One of the most frustrating things about having an online shop is that on occasion the freight companies lose an order. When you are buying in person you don't need any tracking codes and no lost packages. You simply walk out with your products ready to use.
Returns are easier
Should you not be satisfied with your purchase or it is faulty in any way it's easier to return an item to a physical shop. We have a generous refund and returns policy in place.
Shop Local – Near Me
For our own personal purchases, we try to shop locally near me. And as we are located in East Perth we try and support other businesses in the area. The benefits are huge when you shop locally. You are supporting small mum-and-dad businesses and keeping their dreams alive. You're also helping build a vibrant and social area that can be enjoyed by everyone.
We urge everyone to shop locally and support their suburban stores. These businesses are the hub of our communities. Thank you for supporting my dream.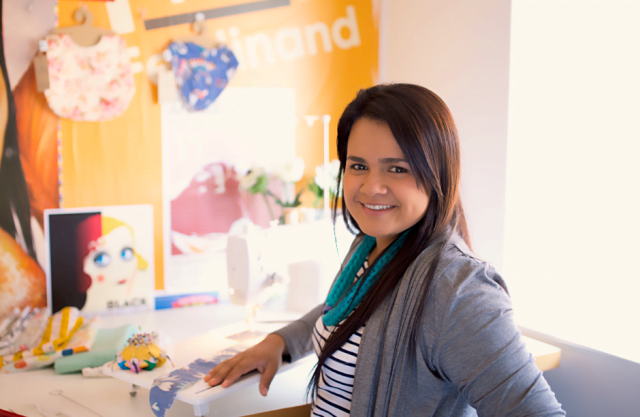 Written by: Luisa Figueroa – Owner, designer, and maker of the My Little Love Heart range of baby products. I have been working within the fashion industry for over 15 years and specialising in baby accessories for the last 7. My love of fashion has enabled me to work and study around the world.