Shop our baby gifts online or visit us in-store where we handmake stylish and practical baby presents that are perfect for any celebration.
Occasions to buy online baby gifts in Australia
There are many occasions when you can spoil your loved ones with a gift. And a lot of these relate to pregnancy and babies. These include;
Pregnancy
Once you find out your friend or relative is pregnant give them a present to congratulate them. This should be done between the 10 to 15 week mark. And should contain products that will be used by mum and for the pregnancy. Items like pregnancy teas and oils are a great idea.
Gender Reveal
Having a gender reveal party is a great way to celebrate finding out the gender of the baby. This is held around the 16 to 22 week mark. When buying a gender reveal present make sure the products are unisex. And the items can be for both mum and baby. We have an article that gives more information about gender reveal present etiquette.
Baby Shower
Whether you are buying a gift for a virtual or in-person baby shower the present will be similar. A baby shower is held between the 28th and 32nd week of pregnancy. And when it comes to presents, the preference is to buy off the registry. If the parents-to-be don't have one you should buy a present for the baby that will be used in the first 3 months. Many people like to buy for the mum-to-be but it's best to leave that for her closest friends.
New Baby
When visiting a baby for the first time it's nice to bring a newborn present but not essential. When you visit will depend on the wishes of the new parents. Some don't mind you visiting the hospital. Whiles others prefer to wait 2-3 months until their baby's immune system is stronger.
Sip and See
This is a celebration where everyone is invited to see the baby and share a few drinks. Many new parents like this type of party so they can see all their friends and family at once. Rather than having people drop in at all times. It's up to the parents when to have this party but normally held in the first two to three months. If you are attending a sip and see we have some gift ideas the new parents will love.
Christening
If you are invited to a baby christening it's nice to bring a small gift. There is no specific age to have a Christening but generally, they occur before the first birthday.
1st Birthday
After the baby is born the biggest milestone is their first birthday. This is a chance for friends and family to get together to celebrate the first twelve months of the baby's life. For this party, it's recommended to bring a present.
Other types of online baby hampers
Besides the above, we offer specific themed sets. These include;
Mum and Baby
Sometimes you want to buy a present for the mum and baby. These sets have practical items for both. This includes some of our handmade items for the baby and a candle and mocktail for Mum.
Girls
We have a large selection of presents for baby girls. These are handmade in our studio and contain practical and stylish products. Our current prints include snowy bloom, floral dreams, snugglepot, butterflies, blossoms, botanical and floral gumnuts.
Boys
Our boy's sets include many cool and stylish designs. These include clouds, lions, leaf and dinosaur prints. And we are always updating our designs to keep them on trend.
Unisex and Gender Neutral
Whether you are unsure of the baby's gender. Or if you want to buy a gift that's gender-neutral we have a large selection. This includes the banana, rabbits rainbows, and koala prints. We also have some gender-neutral solid colours like sage, tan brown, Yale blue, grey and oatmeal.
Australiana
We are very proud of our Australian made gift sets. Especially since we handmake our products in Australia. And are a licensee to the Australian Made campaign. The Australiana themed prints include the koala, snugglepot, floral gumnuts, and botanical designs.
Maternity Leave
These sets are designed as a corporate gift for a parent who is about to go on maternity leave. It's a great way for the company to show how much the employee is valued and to wish them luck in the coming months.
Twins
Whether the parents are expecting a pigeon pair, two girls or two boys, we have presents for baby twins to suit. These are stylish, practical and available online or in-store.
Special Occasions
We make baby gift sets for special occasions throughout the year. These include Christmas gift sets and the Year of the Rabbit presents.
Handmade
There is nothing like giving or receiving a handmade baby present. The recipient will know that it has been created with passion and love. And the fact that it's unique and not mass-produced will be appreciated.
Grandparents
It's such a magical time when your children have babies. And as grandparents you want to give your granddaughter or grandson a baby gift. We have a large selection of items that they will love to receive that are practical and stylish.
Organic
One of the things to look for is that the baby gift you buy online is environmentally friendly. We go out of our way to source materials that are organic and eco-friendly. As we hand-make these gift sets ourselves, we can control which materials are used. For all our handmade items we use cotton and bamboo fabrics. And when adding other products we make sure they are made from eco-friendly materials. Also, our packaging, cards and promotional materials are made from recycled materials.
Gift Vouchers
After looking through all the different baby boxes and you're still undecided. You can always choose an e-voucher. This is easy for the recipient to receive and use.
How to choose the perfect gift
As you can see there are many different occasions to buy for. And a large selection of presents to choose from. So how do you know what to look for? The main things are;
Safety
Age Appropriate
Quality
Practicality
Eco-friendly
Value for money
Style
Handmade and original
Australian Made
Locally purchased
For more information on each point read our article what to look for when buying the best baby gifts.
Wrapping, Cards and Presentation
Once you have selected your online baby gift you want to make sure it's presented beautifully.
It doesn't matter whether you come into the shop or buy online. We wrap and present in a beautiful way.
Included in each set is a card that we will write in on your behalf. If you are sending this present for a baby shower we have some suggestions on what to write in the card. When you add this item to the cart it will give you the option to write a message. Just fill this out and we will write in the card for you!
Benefits and Disadvantages of buying your baby gift online
If you are trying to decide if you should buy online or come into the shop. Here are the pros and cons of shopping online.
Benefits
There are many benefits to buying your baby presents online. These include;
Location – Not only can you buy from anywhere in the world. You can do so from the comfort of your own home.
Opening Hours – You don't have to wait until the shops are open to buy your baby gift box. When buying online you can make a purchase any time of the day or night.
Travel and Car Parking – One of the most frustrating things about going to the shops is driving and parking. With online shopping, you don't have to worry about this.
No Pressure – When buying online you don't have sales staff watching your every move. And being asked millions of questions. You can take your time and browse for as long as you want.
Saves Time – In a world where we are all time poor. Shopping online makes sense. Instead of driving, parking and walking to the shops. It's quicker to jump online and order your baby present.
Better Prices – When shopping online you have the ability to see the prices of other shops. You are able to compare the same products from a variety of different outlets. This means you can get the best deal and save money.
More Variety – If you are unsure what to buy, shopping online can give you ideas. And can offer you a large variety of products. Whereas if you go to a physical shop your selection is limited.
Convenience – There is nothing more convenient than sitting on the couch in pyjamas. Ordering your baby gift box online. And you can do this at your leisure when it's suitable for you.
No Crowds – When ordering online you don't have to fight your way through the crowds. Especially during the Christmas rush.
Payment Options – If you visit a store you are limited to what payment option the shop has. But when ordering online you can buy from the shop that has your preferred payment method.
Don't have to write in the card – One of the benefits of ordering online baby hampers is you don't have to write in the card. If you order from us we will write in the card for you!
Disadvantages
There are disadvantages to ordering online too. These include;
Lost and Delivery Shipments – It is frustrating when you have ordered a gift and it doesn't turn up in time for a baby shower. And even worse when it doesn't arrive at all.
Pop-Ups – If you are like me, pop-ups are what your worst nightmares are made of. Just as you are trying to view the various hampers an intrusive pop-up keeps appearing.
Out of Stock – Although this can happen in physical stores. It is annoying when you have found the perfect present for it to be out of stock.
Shipping Charges – When buying online you will most likely have to pay delivery charges. Increasing the cost of the present.
Privacy and Personal Data – When ordering online some companies capture, store and distribute your personal data. Make sure the website you are buying from doesn't do this by reviewing its privacy policy.
See the Gifts – When ordering online you don't get to physically see the product to touch it and check for quality. And you rely heavily on the manufacturer's photos. In-person, you are able to inspect the product, wrapping, packaging and presentation.
Human Interaction – If we all only shopped online we wouldn't have any human interaction with people and our community. Being in communities is important for our mental well-being.
Staffs Expertise – When you are ordering a baby hamper online you are relying on the supplier's product description. But, when you shop in the store you can ask the staff for help. And have them explain anything you don't understand.
Delivery Options
We have a variety of delivery options depending on your requirements. Or alternatively, you can collect from our store in East Perth.
Locations
Although we are an Australian-based company we can ship anywhere in the world. So if you are in Australia you can send your friends a piece of Australia to them no matter where they are. Our Australiana-themed baby presents are perfect for this. You can also send your colleague a baby gift if they are in another state. We also deliver to hospitals but this isn't recommended. The new parents have enough to think about when leaving the hospital. So best to deliver it to their home and let them open it in the comfort of their own house.
Services
We offer a variety of different shipping methods depending on how quickly you need the gift box. We use Australia Post for the majority of our deliveries. And this can take between 3 and 14 days depending on where you live. We also offer express shipping that can be between 1 and 4 business days. And finally, international shipping which will be between 2 to 4 weeks. See our shipping policy for more information. Note our products are handmade so this is in addition to the time it takes to make. But we try to send all orders within 24 to 72 hours.
If you have any questions relating to our online baby gifts please contact me.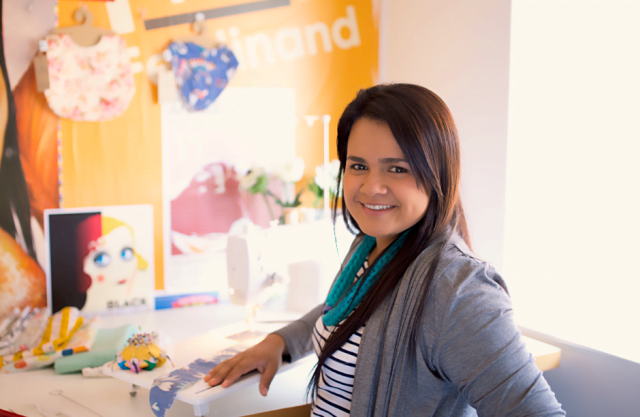 This article was written by Luisa Figueroa. She is the maker of the My Little Love Heart range of baby presents and hampers.