Baby washcloths are a piece of fabric designed to wash the newborn's face and body. It can be used to clean them while in the bath or after meals. It is not essential to have them but it does help to keep your baby clean and germ-free.
How to use them
The best way to use a facecloth is to wet the cloth and squeeze out excess water. Then wipe off any dirt or grime from your baby. Rinse the cloth again to get rid of any dirt from the cloth and start the process over again until they are clean. It's best to start from their head and move down their body. Continually rinsing the cloth as it gets dirty. Do not use soap as this will dry out the newborn's skin.
Types
There are two main types, the square-shaped and the mitt type.
Square Shaped — This is the most popular and is in a square shape. Our cloths measure 17cm x 17cm and we find this is the perfect size when bathing a newborn.
Mitt — Think of these like an oven mitt but to use when washing your baby. The mitt-type washcloth is one where you can slide your hand between the two layers of material. These are more expensive and cost around $15. I find these hard to use and thus don't do a great job in cleaning the baby.
Alternatives to Wash Cloths
You may not want to buy a new facecloth when you have items around the house that can do a similar job. Here are some suggestions on what can be used;
Burp Cloths and Bibs — You could use the back of a bib or burping rag as an alternative to a washcloth. We use the same organic cotton and bamboo materials in the infant bibs and burp cloths as we do on the washcloths.
Towels — Although towels aren't as soft as facecloths, they will work. The downside of using a towel is their size. It's a lot easier and more energy efficient to clean and dry a smaller cloth than a large bath towel. If you do buy a towel we recommend a hooded bath towel as this keeps the baby's head warm.
Handmade washable nursing pads — These will work well as they are made of the same materials. They might be on the smaller size as they measure 10cm but they make a good alternative.
Other Uses for Baby Washcloths
Washcloths can be used for many other things apart from washing your newborn. These include;
Wipes — One of the most useful things you can use them for is as a wipe. Spray some disinfectant on the cloth and wipe down the surface. But don't use the same cloth on your baby until after you have washed it. Make sure it's thoroughly washed after being used as a wipe.
General Cleaning — You can use these as a general cleaning cloth. Anywhere from drying the dishes, cleaning surfaces, or even washing the car. They are versatile and easy to use.
Reusable Nursing Pad  — As these are made with similar materials, you could use them as a nursing pad. They might be too large so you will have to cut them down into a more manageable size.
Panty Liner — If you have run out or you are looking for an eco-friendly alternative. These can double as a panty liner.
Small Burp Cloths — Burping cloths are designed to go over the parents' shoulders. Covering their clothes from spit-ups and vomit from a newborn. You can use a wash cloth to cover your shoulder. But you might need to separate the stitching to make it large enough.
Teether — When your baby starts to teeth, instead of a teether you can use a washcloth. Place this in the freezer and give it to your baby when they are teething. This will soothe their gums and relieve the pain. Make sure to wrap it in a teatowel first so it's not too cold on their skin.
Baby Washcloth Buyers Guide
When choosing to buy the best baby washcloths take these factors into consideration;
How many does a newborn need — You won't need too many, in fact, start by buying a pack of 3. This will be a good place to start and you can buy more if you find you need them.
Soft — Make sure the type you buy is soft to touch. The last thing you want is to use something course and tough on your newborn's delicate skin.
Size and Shape — The size is important. If it is too large it will be harder to maintain and use. While if it is too small you won't be able to use it effectively. We suggest a square shape measuring 17cm x 17cm.
Cost — The cost will vary depending on the brand, materials used, and quality. You can get a cheap, imported pack of 6 for $13.00 while our pack of 3 is handmade in Australia and costs $26.95.
Organic — It's important to choose washcloths that are organic. When washing your baby you want to use natural products as much as possible.
Quality — Make sure the product is made to a high standard. You can do this by researching the materials used. Also, look at the stitching to make sure there are no loose threads.
Materials — Look for products made of soft, eco-friendly and organic materials. Better quality wash cloths are made with cotton or bamboo.
Materials and Manufacturing of Face Washers
Any time you are buying for your baby, it's important to know where, how and with what materials things are made. And newborn washcloths are no different. You should look carefully at how they are made and from what materials. The best baby washcloths are;
Australian Made —  Buying products made in Australia helps the local economy. It also means that the company must meet safety, quality, and legal requirements. Some products from overseas are not required to meet the same standards as in Australia. This also includes how they treat their people. We make these at our East Perth baby shop so people can inspect our premises and the quality of our work.
Cotton and Bamboo — Look for washcloths made from cotton or bamboo. These are the perfect materials to use on the newborn's skin. They are soft, absorbent, strong and hypoallergenic. These are low maintenance and odour free. The best thing about these two materials is they are eco-friendly and sustainable. They are fast growing and don't need a lot of water.
Care And Maintenance
Washcloths are very easy to maintain. After buying them it's best to machine wash and place them in the dryer before use. We find machine drying them makes them a lot softer than hanging up to dry.
Ours are white so you may choose to only wash them with white colours. Otherwise, these can be washed with any of your, or baby's laundry. These should be changed and washed daily. This will prevent mould from building up on them. A damp washcloth can be unsanitary and grow mould.
They can be stored wherever you keep your baby clothes or bath toys and accessories. As long as they are not in a damp location.
I hope you have found this article interesting and informative. If you have any questions please feel free to contact me.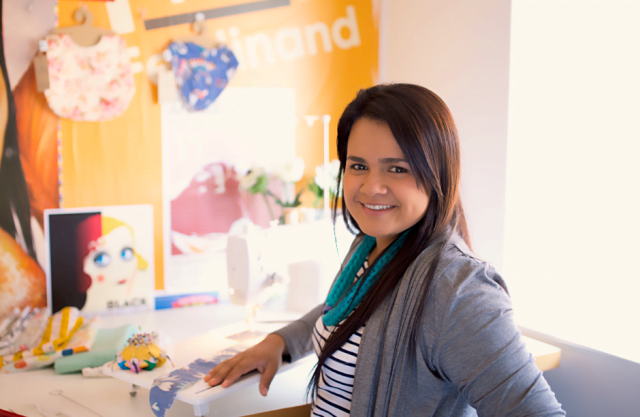 This article was written by Luisa Figueroa. I am the owner, designer, and maker of the My Little Love Heart range of baby products. I am a mum to a beautiful daughter Natalia. I've been in the fashion industry for over 15 years, specialising in baby accessories for the last 7. My love of fashion has enabled me to work and study around the world.