In this article, we discuss how to care for and maintain cotton burping cloths. Why it's important. How to keep them soft, absorbent and in good condition. And how to store them for future children.
Why it's important to take care of them
Having a baby is expensive. So it's important to take care of all their items. Otherwise, you will be throwing money away. And if you look after them you will be able to use them for any other children you have. Or you can pass it on to family or friends. It also stops products from ending up in landfills. In short, it saves you money, it's helpful and is good for the environment.
What to do when you receive your burping cloth
Once you receive them check for any imperfections. Like loose thread or bad stitching. Then read the manufactures label. Burping pads must be washed before use. Follow the washing instructions on the label. If there isn't a label see below for cleaning instructions.
Washing Burp Cloths
How you wash them will depend on the materials the spit-up cloths are made from. For our handmade burp cloths they should be washed using the following steps;
Sort into similar colours
Wash with a gentle machine wash at 40 degrees set for 30 minutes
Once finished, remove and tumble dry or hang on a clothesline.
Getting out stains and sour smells
Dried milk stains and smells may not come out straight away. And will need several repetitions of soaking and washing. It is even more difficult because they are baby items. Where you don't want to use any chemicals or harsh detergents.
But here are three suggestions;
Option 1 – Soak in cold water overnight. This will help loosen up the dried milk. Wash as normal following the above steps. This is our favourite option as it doesn't use any chemicals.
Option 2 – Before washing, scrub gently using this mixture. 1 tablespoon of baking soda, 1 tablespoon of dishwashing liquid, and 2 cups of cold water. Place in the washing machine.
Option 3 – Soak the stained area in lemon juice or vinegar for 30 minutes. Then place it in the washing machine per the above instructions.
For more detailed instructions The Spruce has an article on how to remove breast milk and baby formula stains.
Note if you still see stains after washing don't dry the garment. Drying will make it harder to remove the stains later. Never use hot or warm water as this will set the stains in.
When to wash them
They will need to be washed regularly. But how often will depend on how many burping pads you buy. Ideally, they should be washed daily. But no later than every second day. Otherwise, mould can start to form. A damp cloth covered in spit-up, sitting at the bottom of the laundry is the perfect breeding ground for this. But if you haven't had time to wash them. Or if you don't have enough, here are some alternatives you can use as spit-up pads.
Keeping them soft and absorbent
It's best not to use any chemicals or fabric softeners when cleaning your baby's clothes. One way to keep them soft is by using half a cup of vinegar during the rinse cycle. This will break up any residue.
To keep your burping cloth absorbent it's best to dry it on a clothesline. Not in a tumble dryer.
Drying Spit-up Cloths
How you dry them will depend on what materials the burping pads are made from and the manufacturer's recommendations. For ours, there are two options;
Machine Tumble Dry – For time-poor parents, this is the best method. Your burping pads will be dry in 30 minutes and they will be softer than line-dried ones. The downside is that tumble dryers use a lot of energy. And they add wear and tear. Meaning it won't last as long. Also, machine drying makes them less absorbent. But this shouldn't be an issue as burping cloths are mainly used only in the first 6 months. After which there are many uses for burping pads.
Clothes Line – This will increase their longevity. But they may fade in the sun if in direct sunlight and they won't be as soft. Which is important for your baby's delicate skin. They will also take longer to dry. Make sure they are completely dry otherwise they can grow mould.
It is not recommended to dry clean burping cloths. This is because chemical solvents are used in this cleaning process.
Ironing
You do not need to iron these. But if you want a crisp-looking burp pad, use a cool iron setting on the reverse side. As each brand has different care instructions read the label before ironing.
Storage
Storage of your burping pads is very simple. They can be placed where you keep your other baby clothes. Or in a drawer, nappy bag or under the changing table.
We hope you have found this article on the care and maintenance of spit-up cloths helpful. If you have any questions please contact me.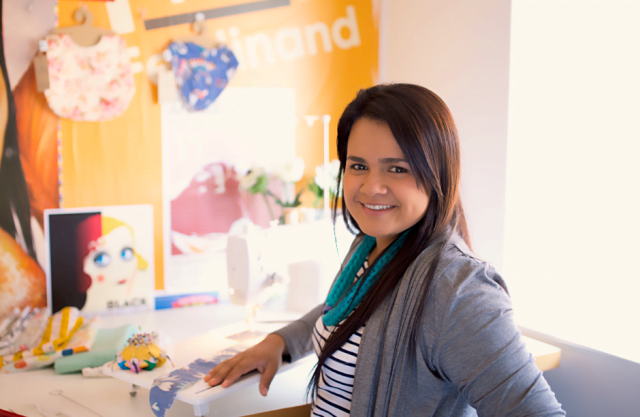 This article was written by Luisa Figueroa. She is the designer and maker of the My Little Love Heart range of burping cloths.