Whether you are choosing to buy, or make your own homemade burping pads. We outline what's the best materials to use.
The use of a spit-up cloth is to capture and absorb spit-ups, vomits or dribbles. Also, wipe your baby's face and body. Here are some of the materials used in them;
Fabrics for the front layer
Here are some suggestions on what fabrics to use for the front;
Organic Cotton – By far the most popular. Organic cotton is a favourite to use as it is all-natural. It is low maintenance and comfortable. And is absorbent which is ideal for burping pads. Most cotton fabrics are available in a selection of colours and designs for baby boys and baby girls.
Flannel – As well as being soft and warm, flannel is breathable. And it is more absorbent than any other material.
Muslin – This is an eco-friendly material that is soft and gentle on the baby's skin. Ideal for wiping away drool and spit-up. They are quick to dry but not as absorbent as cotton and flannel.
Chenille – Another versatile fabric is Chenille. It is thick and durable with a slight sheen. It's also soft to the touch and is a good multi-use fabric. Best of all it's very absorbent!
Minky – This is a type of fleece fabric that is 100% synthetic. This isn't our preferred fabric as it's not organic.
Fabrics for the back
The second layer of the burp pad is for practicality.
Bamboo – This is a versatile fabric that is good in hot weather. Which is perfect for Australian conditions. It is ultra-soft and suitable for sensitive skin. Bamboo is breathable, yet absorbent. Making it ideal for the backing.
Cotton / Bamboo Mix – We use an organic cotton-bamboo mixture. Which is both soft and absorbent. As well as eco-friendly. With this material we get the benefits of cotton and bamboo in one fabric.
What is the best fabric for burping cloths?
The best materials to use should be absorbent and soft to the touch. Good quality burp cloths will have two layers.
The first layer can be printed but should be made of cotton. This makes it look beautiful and is the first layer in absorbing dribble. The second layer should be bamboo or fleece. The main benefit of this is that it's absorbent and will capture a large amount of drool and spit up. Both these materials are soft and ideal for a baby's delicate skin.
Organic burping cloths
If you want to handmake or buy organic burp cloths. Make sure they are made from one of these eco-friendly materials;
Cotton
Bamboo
Organic-Linen
Hemp
Linen
Wool
Our preference and suggestion would be to use cotton and bamboo. Both these materials are organic and widely available.
Thread to use
If you are making your own the last item you need is the thread. Our preference is the Gutermann brand. This is because of the range of colours and its high quality.
How much fabric does it take to make a burping pad?
The size of our spit-up cloth measures 45cm long x 22.5cm wide at the widest part. So you will need fabric no less than 50cm x 30cm to make the front. While you will need another 50cm x 30cm of material to make the back. Depending on how many you would like to make. You should be able to get 3 fronts from a standard 150cm wide piece of fabric.
How many layers should they be?
The best burping cloths will have 2 layers. Both layers should be made from absorbent materials like cotton and bamboo.
We hope this article has helped with which fabric you would like for your handmade burping cloth. If you have any questions please contact me.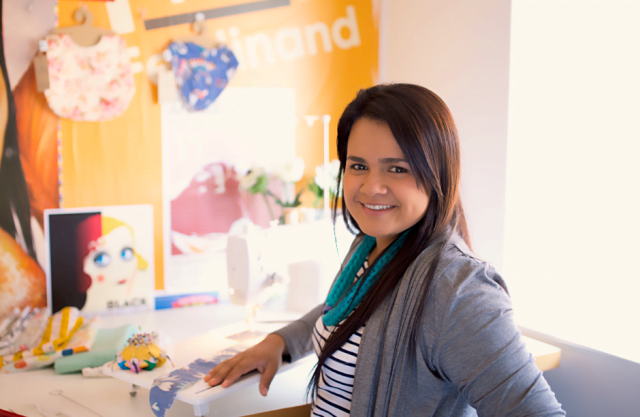 This article was written by Luisa Figueroa. She is the designer and maker of the My Little Love Heart range of homemade burping pads.