Shop our range of handmade range of Christmas baby headbands and hair accessories.
Christmas is a special time of year to spend with family and friends. But it's extra special if you are celebrating with a baby. It's a great opportunity to dress them up in various Christmas-themed outfits. This includes our Christmas hair accessories and Christmas
Bibs. Below is our range of Xmas headbands; further down, you can read more about each style.
Our range of Baby Christmas Headbands
One of the best things about our Christmas baby hair accessories is they can be used throughout the year. With four styles, the bright red and beautiful sage colours will suit any outfit. These are all handmade in Australia from premium eco-friendly materials. The four types of hair accessories include:
Newborn Bows
The smallest of our hair accessories, the Christmas bow is ideal for a newborn baby to celebrate their first Christmas. The bow is hand-stitched onto the nude colour elastic. Ensuring no glue or toxins are used in the making process. Making it eco-friendly and safe for your baby.
Baby Christmas Headband
The Christmas baby headband is our most popular hair accessory. The bright red is ideal for the festive season and all year long. The nude colour elastic is super soft on your baby's delicate skin. It is stretchy so it's suitable for newborns through to 5 years old. Like the bow, this headband is hand-stitched using quality materials.
We love these headbands so much that we have included some in our baby Christmas gift sets.
Toddler Christmas Headband
The larger headbands are suitable for newborns, toddlers, and slightly older girls. The elastic is soft and stretchy and is the same size as the newborn and baby bow while the bow itself is larger. Handmade in Australia, each bow is made with love and care as if my own daughter were to wear it.
These bows also match beautifully with our range of Christmas bibs.
Christmas Top Knots
Our top knots are a stylish hair accessory that is ideal for Christmas. They are made from cotton which is an environmentally friendly and sustainable material.
We are proud to make these Xmas headbands here in Perth, Australia. If you would like to see our complete range please visit us in our East Perth shop.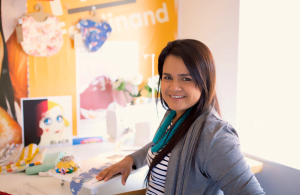 Luisa Figueroa – Owner, designer, and maker of the My Little Love Heart range of baby products. I am a mum of one daughter and have been working within the fashion industry for over 15 years and specialising in baby accessories for the last 5. My love of fashion has enabled me to work and study around the world.