We have a selection of baby's first Christmas presents that are ideal to celebrate Xmas with your baby for the first time.
Christmas gifts for babies under 1-year
We offer the following products to celebrate a baby's first Christmas.
Cards
Our hand-drawn Christmas cards for babies come in two designs. These have "Merry Christmas" and "My First Christmas" handwritten on the front. While inside it is blank for you to add your best wishes. They are made using 250gsm board and come with a Kraft brown envelope measuring 135mm x 135mm.
Gift Sets
We have compiled this gift sets that are perfect for your baby's first Christmas. We have a selection of Baby Christmas Gifts in different styles and sizes to choose from for both boys and girls.
Bibs
Our range of Christmas bibs is handmade in Perth and comes in a variety of styles and prints. They are suitable for newborns, baby's and toddlers.
Hair Accessories
We handmake a range of Christmas baby hair accessories here in Australia. Our selection includes newborn bows, baby headbands and toddler hair accessories. They are available in a range of sizes and prints.
Any of these sets would be perfect for a Christmas gift for babies under 1 year. If you would like further information please contact me.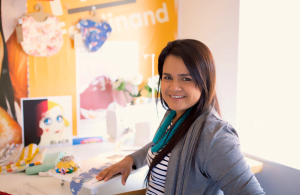 This article was written by Luisa Figueroa. She is the owner, designer and maker of the My Little Love Heart range of baby gifts and accessories.